Thattekad Tourism
Thattekad Bird Sanctuary
Rich with a wide range endemic and migratory species of birds, most of which can be spotted all year round, Thattekad 13 Km northeast of Kothamangalam along Pooyamkutty Road is a birdwatchers' haven.
Hailed as the richest bird habitat on peninsular India by renowned ornithologist Dr. Salim Ali after whom the sanctuary is named, Thattekad is a paradise for birdwatchers.
Spread across 25 square km, Thattekad is frequented by foreign tourists in good numbers. Much of Thattekad's sanctuary is off-limits for the tourists.
Also called the Cuckoo Paradise by birding enthusiasts, the sanctuary is home to the valvet fronted Nuthatch which is common here. Nuthatch flies on branches from top to bottom. The sanctuary is abundant with hornbills and the oriental white-eye which is easily identifiable because it is a perching bird that usually lives near the ground. The Malabar grey Hornbill is a frugivorous bird. The Periyar River's catchment area is home to Comorants, Pond Herons and White throated kingfishers.
The rich biodiversity of the Western Ghats is one of the reasons for the abundance of endemic bird life. Spiderhunter, Pompadour Green Pigeons, Pittas, Grey headed bulbul, fairy bluebirds, woodpeckers, sunbird, tit, Nilgiri flower pecker, orange minivet, Ashy woodswallow and purple sunbird are some of them. Great Black Woodpecker, distinguished by its egregious call, can be spotted here.
You are guaranteed to view plenty of water-birds – Greater Cormorants, Darters also known as Snakebirds, River Terns. You can also spot Black-headed oriole, Asian Opnbill and crested Honey Buzzard, there are also the most common Pond Heron and Egrets.
A trip to Thattekad would be incomplete if you fail to spot the Sri Lanka Frogmouth whose plumage resembles dried leaves making it difficult to see. The coppersmith barbet is another bird which resides in the sanctuary. The coppersmith barbet is a muti-coloured primarily frugivorous bird. It's named after its call which reminds one of a coppersmith beating a sheet of metal.
Outdoor pursuits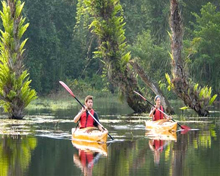 Kayaking at the Hornbill Camp
Kayaking at the Hornbill Camp, by the banks of the Periyar River is a thrilling experience. Kayaking on the Periyar River is a great way to enjoy Thattekad's natural beauty and spot the abundant bird life found here. The reservoir is home to several birds.
Side trips from Thattekad
Kochi
Located on the south-west coast of Indian peninsula, the port city of Kochi (erstwhile Cochin) in the southern state of Kerala, has been attracting tourists from far and wide for its natural beauty and commercial significance.
Aptly known as the sobriquet 'queen of the Arabian sea', Kochi and its surroundings can offer a wide array of attractions to the visitor of all stripes. What makes Kochi a compelling destination is that it is located in close proximity to the Kerala's famed backwaters.
The best way to explore places of attractions in and around Kochi is by choosing either Aluva, the nearest town on the banks of holy river Periyar, or Nedumbassery (27 km from Kochi) as their base.
Kalady
37 km from Thattekad is located Kalady which is the birthplace of Adi Shankaracharya. There are 3 shrines run by the Sringeri Mutt. The nearest railway stations are Anagamaly (10 Km) and Aluva (23 Km).
Bhoothathankettu Dam
Bhoothathankettu
8 km from Thattekad Bird Sanctuary, Bhoothathankettu: is a beautiful dam site located in a huge virgin forest. Folklore has it that the place is so named as the dam was built by 'Bhoothams' (spirits) overnight. Bhoothathankettu is 50 km from Kochi.
Alappuzha
105 km from Thattekad, Alappuzha, also known as Alleppey, was founded in 1762 by Raja Keshawadasan, Divan of Travanacore. Today the town is the administrative headquarters of the same named district in the state of Kerala. The stunning natural beauty of Alappuzha earned it the epithet of "the Venice of the East" by English Governor General Lord Curzon.
Beautiful lakes, lagoons and fresh water rivers are interspersed along the stretch of coastline at Alappuzha. The place is also home to an impressive animal and bird life. A famous backwater tourist center, Alappuzha is known for its boat races, houseboat holidays, beaches, marine products and coir industry.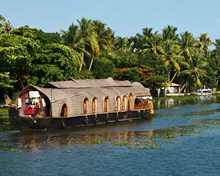 Kumarakom
Kumarakom
88km from Thattekad, Kumarakom has to be experienced rather than described. Located on the Vembanad Lake, Kumarakom has breathtaking scenery and is packed with a number of places to stay. Kumarakom is a famous backwater destination In Kerala.
116 km from Thattekad is located Guruvayur, one of the most sacred and famous pilgrimage sites of India. Located in the Thrissur district of Kerala, Guruvayur is famous for the temple dedicated to Lord Krishna (Guruvayoorappan). During the months of February or March, the famous annual Ulsavam Festival is marked by splendid elephant races (anayottam) and processions. The best elephants take part in the competition, an important part of the ten day festival.
Thattekad
With an altitude of 1,600 metres, a lovely climate throughout the year, rolling hills with tea estates, gushing waterfalls and an unhurried pace of life, it's not difficult to see what lures the visitors to the picturesque hill-station of Thattekad , located at the confluence of the Muthirappuzha, Chadavurai and Kundaly rivers and 105 km from Cochin. Tea Museum, CSI Church, Mount Carmel Church, Blossom International Park and Tea Estates are some of the attractions of Thattekad .
How to reach Thattekad
How to reach Thattekad by air: Several airlines have daily flights to Kochi from several cities across India. Kochi is about 60 km from Thattekad taxis are available in plenty from Kochi.
Birds Lagoon Village Resort
How to reach Thattekad by Rail: Aluva, 48 km from Thattekad, is also the nearest railhead.
How to Reach Thattekad By Road: Thattekad is well connected by road to different places in India.
Where to Stay in Thattekad
If one is visiting on a budget and looking for a cheap hotel or if one wants to enjoy the comforts of a luxury hotel with wonderful service, Thattekad can offer accommodation options to suit their taste.
Birds Lagoon Village Resort, Hornbill Inspection Bungalow, Periyar River Lodge, Hornbill Camp, Kothamangalam Plantation Bungalow and Mundackal Estate, are some of the accommodation options in Thattekad. Homestays inside the Thattekad sanctuary are perfect places to stay in Thattekad.