Infrastructure of Kerala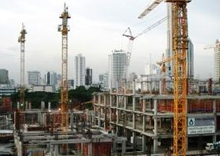 In a major fillip to the infrastructure sector, the Kerala government is preparing a Master Plan 2030 with a budget outlay of Rs 2,000 crore for various projects in 2015-16.
It was informed in the state Assembly that Kerala Infrastructure Investment Fund Act would be amended to make it a dynamic vehicle for supporting infrastructure growth.
Kerala government is hopeful of netting at least Rs 25,000 crore of investment in the infrastructure sector over the next three years.
During the course of the Budget presentation (2015-16), it was informed that funds would be raised from the market for the implementation of a suburban railway corridor, light metros in Thiruvananthapuram and Kozhikode and upgradation of the inland waterway system.
Further, plans have been drawn up to modernise airports, sea ports, water supply management and speed up pending highway projects.
The budget (2015-16) has earmarked Rs 600 crore for the Vizhinjaminternational port project and Rs 940 crore for the Kochi Metro.
Every district in Kerala will have a flagship project which will be showcased for its speedy implementation and utilitarian value.
Kerala government has identified thrust areas such as agriculture, infrastructure, health, Digital Kerala, housing, entrepreneurship and welfare for taking up growth projects on a priority basis.
A Rubber Price Stabilisation Fund with a corpus of Rs 300 crore has been set up to support the purchase of 20,000 tonnes at the market support price of Rs 150 per kg.
The government has also earmarked Rs 300 crore for paddy procurement.
Roads and highways in Kerala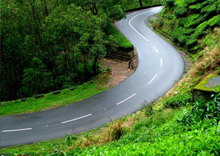 Kerala has 1,45,704 km of roads accounting for 4.2% of India's total network of roads.
With high density of population, 4.62 km of road caters to 1,000 people in Kerala compared to an average of 2.59 km in the country.
The elaborate road network includes 1,524 km of national highways (2.6% of nation's total NHs); 4,341.6 km of state highways and 18,900 km of district roads.
Most of Kerala's west coast is accessible through NH 47 and NH 17, and the eastern side is reachable through various state highways.
A hill highway has been proposed to make easy access to eastern hills.
National Highway 17 with the longest stretch of 421 km connects Edapallyin Kochi to Panvel in Raigad district of Maharashtra.
It starts from Kochi and passes through Kozhikode, Kannur, Kanhangad, Kasaragod and Uppala before entering Karnataka.
The Palakkad—Thrissur—Kochi stretch of NH 544 is a part of North-South and East-West Corridor of the Indian highway system.
Palakkad district is considered as the Gateway of Kerala due to the presence of the Palakkad Gap in the Western Ghats which connects the northern (Malabar) and southern (Travancore) parts of Kerala to rest of India through road and railways.
Palakkad's border with Coimbatore has the state's largest check post Walayar through which all the major public and commercial transportation happens to reach all other districts of Kerala.
The Department of Public Works (PWD) is responsible for maintaining and expanding the state highways system and major district roads.
The Kerala State Transport Project (KSTP), which includes the GIS-based road information and management project (RIMS), is responsible for maintaining and expanding the state highways.
Besides, KSTP is also engaged in maintaining a few major district roads that offer the last-mile connectivity to those in remote pockets of the state.
Traffic in Kerala has been growing at a rate of 10–11% every year, resulting in high traffic and load pressure on the roads.
Road density is four times the national average, thus reflecting the high population density in Kerala.
Kerala's annual road accidents were among the nation's highest. The accidents are mainly the result of the narrow roads, rash and negligent driving.
Narrow width of highways in Kerala
National Highways in Kerala are among the narrowest in the country and will remain so in the foreseeable future.
The state government has received an exemption from the Centre that allows narrow national highways.
In Kerala, the highways are just 45 meters wide.
Whereas in other states, the NHs are grade separated highways of 60 meters wide with a minimum of four lanes, as well as 6 or 8 lane access-controlled expressways.
Kerala is the only state, other than Goa, which has requested for narrower highways for transportation.
NHAI upgrades highways to a minimum 4-lane, 60-meter-wide, grade-separated highway or to even better standards across India.
But in Kerala, NHs are being upgraded to 45-meter-wide highways.
Now the state government has requested NHAI to reduce the width of NHs in state to 30-meters.
This is in sharp contrast to neighbouring Karnataka and Tamil Nadu which are upgrading their highways as 60-meters or more wider highways, with futuristic provision for 6-8 lane highway.
NHAI has threatened the Kerala government that it will give high priority to other states in road development as political commitment to better highways has been lacking from the state till now.
Although the state has one of the highest road accident rates, most of the fatal mishaps take place on state highways and district roads.
Railways network of Kerala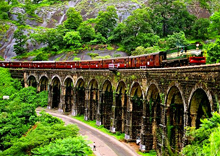 The Southern Railway (SR) line runs through the state connecting most of the major towns and cities except those in the highland districts of Idukki and Wayanad.
The railway network in the state is controlled by two out of six divisions of SR -- Thiruvananthapuram Railway division and Palakkad Railway division.
Thiruvananthapuram Central (TVC) is the busiest railway station in the state catering to a cosmopolitan set of passengers.
A railway canteen, well-maintained lodging facility, shops and other commercial outlets make TVC a most patronised railway station by the Malayalis and visitors alike.
Besides TVC, the railways have lined up its best of amenities for train passengers at Ernakulam Junction (South) (ERS), Kozhikode (CLT), ShornurJunction (SRR), Palakkad Junction (PGT), Kollam Junction (QLN), Kannur (CAN), Thrissur Railway Station (TCR), Ernakulam Town (North) (ERN), Alappuzha (ALLP), Kottayam (KTYM), Kayamkulam Junction (KYJ) and Chengannur (CNGR).
Kerala is well connected with other states and major cities like Mumbai, Delhi, Kolkata, Bengaluru and Chennai by 13 railway routes.
A number of long distance trains operate from Kerala to these locations on a daily basis.
The Railway divisions in Thiruvananthapuram, Palakkad and Madurai (Tamil Nadu) jointly carry out rail transport operations in this south-westernstate.
The railway network extends to over 1,148 km in Kerala.
Airports in Kerala
Kerala has three international airports in Thiruvananthapuram, Cochinand Calicut.
One international airport is proposed in Kannur in North Kerala.
Once the Kannur airport is completed, then Kerala will be the only state in the country to have four international airports.
Kollam airport in Kerala was the first airport in this region when it was part of the then Madras Presidency.
After the formation of Kerala in 1956, the Kollam airport was closed and the new one was inaugurated in the capital city of Kerala.
Thiruvananthapuram International Airport, the oldest existing airport in South India, is being managed by the Airport Authority of India.
While the Cochin International Airport is the busiest in the state and 7th busiest airport in the country.
CIA was the first Indian airport to be incorporated as a public limited company. It was funded by 10,000 NRIs from 30 countries.
Cochin airport is the primary hub of Air India Express and the secondary hub of Air Asia India.
Inland water transport in Kerala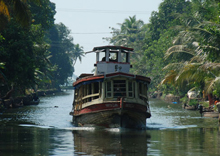 Kerala has numerous backwaters which are used for commercial inland navigation.
Transport services are mainly provided by country craft and passenger vessels.
There are 67 navigable rivers in the state with a total length of inland waterways at 1,687 km.
The main constraints to the expansion of inland navigation are lack of depth in waterways caused by silting, lack of maintenance of navigationchannels and bank protection.
Moreover, the waterways are affected by the increasing growth of hyacinth, lack of modern terminals for vessels and lack of a cargo handling system.
A 205 km long canal, National Waterway 3, runs between Kottapuram and Kollam.