About Kerala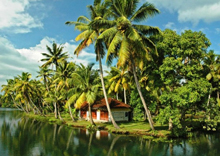 Kerala has found place in the top five states in the five out of ten categories. It is the number one state in the category of being Safest, Healthiest and most Environment friendly state in the country. It ranks second in terms of education and agriculture.
Law and Order
Violent crimes are only 4 percent in the state and remain one the lowest in the country.
Health
Infant mortality in Kerala is the lowest with 12 per thousand live births against all India average of 30. 99.7 births are assisted by trained personals, the highest in the country. The state spends Rs 1,250 per person on health. Nearly some 3 million people are covered under health insurance. Kerala has the best male to female ratio 1,098 male there 1000 females.
Education
Spending on education has increased by 25 per cent about 4 per cent higher than all India mark.
Environment
Tree cover area outside the forest has increased from 7.09 percent to 7.59 per cent in Kerala. RSPM or Respirable Suspended Particular Matter concentration is one the lowest in the state.
A state on the south-western region of India with abundance of beauty is also called the Venice of India because of its chain of lagoons and backwaters that dot its scenic coastal strip.
Kerala is epitomised as 'God's own country' by the Malayalees, the native people who consider it their privilege to be born in this coastal state along the Arabian Sea.
It is a small state constituting just about 1% of the total area of the country.
Kerala stretches for about 580 km along the Malabar Coast varying in width from roughly 30-120 km.
The state is flanked by Karnataka in the north, Tamil Nadu to the east and the Arabian Sea to the south and west.
Kerala has an enclave called Mahe, a territory of Puducherry state, on the north-western coast. The state capital is Thiruvananthapuram (Trivandrum).
Although a bit isolated from the Indian interior by the mountainous belt of the Western Ghats, Kerala is much integrated into the national mainstream with its people showing enterprise and excelling in various professional fields.
Kerala is spread over an area of 38,863 sq km with a population of 33.3 million Malayalees (speakers of native language Malayalam).
However, the number of Malayalees living in the Gulf and rest of India is much more than those living in their home state.
Kerala was formed in 1956 during states reorganisation process by merging the Malabar district (from then Madras presidency), Travancore-Cochin dynasties (excluding four southern taluks), and the taluk of Kasargod (from south Kanara).
In effect, all Malayalam-speaking areas were clubbed together to form this coastal state in the south-western part of India.
With a vast coastline, serene backwaters and a friendly Malayalees known for their hospitality, foreigners visit this beautiful strip of land to experience its surreal pleasures.
Unique demography of Kerala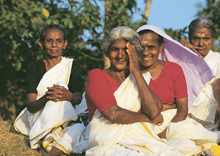 Most of Kerala's 33.3 million people are Malayalees, that is, speaking the native language of Malayalam.
Keralites derive their ancestry from Dravidian and Aryan communities that settled in this region and intermixed with each other and existing populations.
Additional ancestries derive from several centuries of contact with non-Indian lands, whereby people of Arab, Jewish, and other ethnicities settled in Kerala.
Many of these immigrants intermarried with native Malayalam speakers.
A tiny amount of Muslims thus take lineage from Arab settlers mixed with local population.
Malayalam is Kerala's official language and is spoken by at least 96% of the people of Kerala.
The next most common language is Tamil, spoken mainly by workers and labourers from the neighbouring state of Tamil Nadu.
Also, the Kerala Iyers (Brahmins from TN) who had migrated to the state in 18-19th century for religious vocations also speak Tamil.
Tulu and Kannada is spoken in some parts of the northern districts of Kasargod, adjoining Karnataka.
In addition, Kerala is home to 3.21 lakh indigenous tribal Adivasis constituting 1.10% of the populace.
Some 63% of tribals reside in the eastern districts of Wayanad, Palakkad and Idukki. These groups including the Irulars, Kurumbars and Mudugars speak their own native languages.
Cholanaikkan tribe in the Silent Valley National Park were contacted only in the 1970s and they are the most isolated tribe in the state.
Densely populated state
Kerala is home to 2.76% of India's population and at 859 persons per sq. km; its land is three times as densely settled as the rest of India.
The state's population growth rate is far lower than the national average.
While its population more than doubled between 1951 and 1991 — adding 15.6 million people to reach a total of 29.1 million residents in 1991 — the headcount stood at 31.8 million by 2001 and 33.3 million in 2011.
Kerala's people are most densely settled in the coastal region, leaving the eastern hills and mountains sparsely populated.
Origin of 'Kerala' word
Keralam may stem from the classical Tamil 'cherive-alam' ("declivity of a hill or a mountain slope") or 'chera alam' ("Land of the Cheras").
Kerala may represent an imperfect Malayalam portmanteau fusing 'kera' (coconut palm tree) and 'alam' (land or location).
"Kerala" can also be derived from the word "Cheral" that refers to the oldest known dynasty of Kerala kings. In turn the word "Cheral" is derived from the Proto-Tamil-Malayalam word for "lake".
The earliest Sanskrit text to mention Kerala is the Aitareya Aranyaka of the Rigveda.
It is also mentioned in the Ramayana and the Mahabharata, the two Hindu epics.
The word "Kerala" is first recorded as "Keralaputra" (son of Kerala land) referring to 'Cherathala makan' or 'Cheraman' in a 3rd-century BCE rock inscription left by the Maurya emperor Ashoka (274–237 BCE).
The rock inscription refers to the local ruler as Keralaputra ("son of Kerala"; or "son of Cheras").
This is contradictory to a popular theory that etymology derives "Kerala" from "Kera", that is, coconut tree in Malayalam.
At that time, one of three states in the region was called Cheralam in classical Tamil: 'Chera' and 'Kera' are variants of the same word.
The Greco-Roman trade map Periplus Maris Erythraei refers to this Keralaputra as Celobotra.
Agriculture
Food grains yield up by 11.7 per cent. Yield has improved from 2.530 kg per hector 2012/13 to 2.826 kg per hector in 2013/14.l
Education
Spending on education has increased by 25 per cent about 4 per cent higher than all India mark. Students to teacher ratio improved from 18 in 2012/13 to 15 in 2013/14.