Traffic in Kerala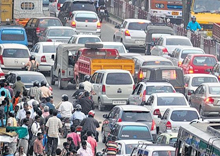 Road accidents due to rash driving and violation of traffic norms have become a big worry to daily commuters in Kerala.
Both Cochin (the commercial hub of Kerala) and state capital Thiruvananthapuram have to contend with a rising number of vehicles on roads, most of which are narrow and encroached upon by vendors.
While there are limitations in widening the roads due to existence of heritage buildings, commercial complexes and residential quarters, motorists need to be made aware of traffic norms to avoid fatal mishaps.
Especially the youth who ride high-speed two-wheelers on busy roads have to be cautioned with timely education on the need to observe traffic norms.
Keralites are being made aware of traffic rules so that they can have a safe journey on roads.
In the wake of the increasing number of human casualties in road mishaps, traffic rules are being implemented strictly by police.
Subha Yatra (safe journey) campaign has been kicked off in major cities of Kerala to check road accidents by educating the motorists on road norms and traffic rules.
CCTVs are installed at busy thoroughfares to check speeding and levy spot fines.
A number of NGOs are also being roped in by the government to bolster its Subha Yatra initiative.
The traffic police are being given high-tech gadgetry to enforce traffic rules.
Speed radars are also being provided at all police stations to monitor the flow of vehicles.
Rising road fatalities
The tiny state of Kerala stands third in India in terms of road accidents with 4,000 deaths and 40,000 injuries every year.
The state accounting for only around 3% of the Indian population, however, contributed 10% of road accidents in the country.
Kerala was behind large states like Maharashtra and Tamil Nadu when it comes to road crashes and casualties.
Road accident was the third major cause of death and disability in Kerala.
It was pointed out that 84% of those killed and 82% of those who suffer injuries in road accident were male.
With Malayali youth enjoying affluence and easy cash, there is anexponential growth in the number of vehicles on Kerala roads, especially those owned by teenagers.
However, there is very little improvement in the road infrastructure in Kerala due to limitations on space.
Even the national highways in the state have not more than 35 metre-width and they don't have grade separators that serve as crash barriers.
It is felt the growth of road infrastructure is too little as compared to rapid motorisation of Kerala highways.
Every day in Kerala around eleven people die and 150 get injured in road accidents.
There were about 8.5 million registered vehicles, out of which around 63% are two wheelers as in July 2015.
About 45% accidents take place in national highways and state highways, which results in 55% of road fatalities.
Pedestrians and bike users account for around 80% of road accident deaths in Kerala.
Mobile app to regulate traffic
In yet another high-tech move, the Kochi police is planning to rope in a software firm to develop a mobile app to help them decongest roads and streamline traffic.
The department is awaiting the nod from police headquarters in Thiruvananthapuram to take the proposal forward.
Kochi has 140 traffic police stations under is territorial limit.
Kochi police has formulated an elaborate plan to develop an app that will streamline traffic.
Policemen in each station will be given a device that can detect and record the flow of traffic round the clock.
There will be three blinker lights on this device to mark high, medium and low traffic. If the traffic in an area is low, a specific light will blink with a beep.
Signals and messages from all traffic junctions would be sent to a centralised control room.
Commuters can access real-time information on the traffic flow using the mobile app.
People can adjust their travel time or take diversion based on information of traffic in each area.
Police can also divert traffic accordingly once the mobile app became operational.
During VVIP visits, the mobile app will be of great help to traffic police to regulate the flow of vehicles on busy roads.
| | |
| --- | --- |
| No. of road accidents in Kerala in 2013 | No. of persons died in accidents in 2013 |
| 35,215 | 4,258 |
| No. of road accidents in Kerala in 2014 | No. of persons died in accidents in 2014 |
| 36,282 | 4,049 |