Kochi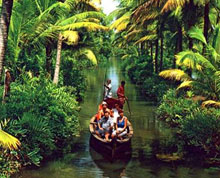 Kochi - Queen of the Arabian Sea
Located on the south-west coast of Indian peninsula, the port city of Kochi (erstwhile Cochin) in the southern state of Kerala, has been attracting tourists from far and wide for its natural beauty and commercial significance. Aptly known as the sobriquet 'Queen of the Arabian Sea', Kochi and its surroundings can offer a wide array of attractions to the visitor of all stripes. What makes Kochi a compelling destination is that it is located in close proximity to the Kerala's famed backwaters.
The best way to explore places of attractions in and around Kochi is by choosing either Aluva, the nearest town on the banks of holy river Periyar, or Nedumbassery (27 km from Kochi) as their base.
Places of Interest in Kochi
Mattancherry Palace
Also known as the Dutch Palace, Mattancherry Palace of Cochin makes justified demand on your time. Originally built in the 16th century by the Portuguese who presented the palace to the ruler of Kochi for granting them the trading rights, the palace is a magnificent two -story building with its vividly executed vibrant murals.
When Cochin fell to the Dutch in 1663 AD, the palace came under their control who gave this beautiful architecture a makeover.
Billed as one of the Cochin's top attractions, Mattancherry Palace is known for having erotic scene of the divine lover, Krishna, surrounded by enraptured female figures.
Cheraman Perumal Mosque
Situated at a distance of 25km from Aluva, the mosque at Kodungalloor is believed to have been built in 628 AD by the followers of Cheraman perumal, who ruled over the land and embraced Islam later. Built in typical Hindu architectural style, this is believed to be the first mosque to be built in India.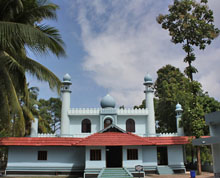 Cheraman Perumal Mosque
Cherai Beach
Bordering Vypeen Island, the 10 km long Cherai Beach is one of the most beautiful beaches of Kerala. The best part of it is that you enjoy a good swim here as the sea is generally calm here. The golden sand on the beach is ideal for sporting activities including beach volleyball. You have a good chance of spotting dolphins. The rustic village atmosphere of Cherai is also an added attraction of the place.
From traditional Kerala oonu to international cuisines, there are several restaurants in and around Cherai for food lovers to explore. For sea-food lovers, the place is virtually a heaven. You can also sample the local liquor, toddy made of coconut sap to quench your thirst.
Fort Kochi
About 20 km from Cherai Beach, you can reach Fort Kochi by crossing over to the Vypeen island in a ferry. Fort Kochi is abounding with history dating back the colonial period. The Chinese fishing nets are distinctly unique to Fort Kochi. An evening stroll along the Fort Kochi beach, with the Chinese fishing nets (Cheenavala) and sailing ships in the background, is a unique experience. The St. Francis Church at Fort Kochi is the oldest Church to be built by Europeans in India and Portuguese explorer Vasco Da Gama was also buried here. His mortal remains were taken to Lisbon later. Here you can also spot the Vasco house, where he is believed to have lived in the 15th century.
Jew Town of Kochi
When at Fort Kochi, don't forget to check out the majestic Santa Cruz Basilica, built by Portuguese in the 16th century. Nearby Mattanchery is another important destination for lovers of history. The famous Jew town of Kochi and the Jewish synagogue is here. The buildings around these islands reflect the influence of the colonial past and the architecture of those times. Willingdon island, Bolgatty palace in Bolghatty island, Dutch Palace at Mattanchery are some places of interest.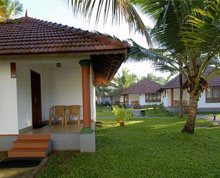 Kumbalango Eco Tourism Village
Cursing along Kumbalango Tourism village
Tourists have the option to go for a boat ride through the backwaters of Kochi or to visit the first ecotourism village in India at Kumbalango at any fishing village in the western part of the city. A kalagramam or 'a village of art' displays the traditional fishing techniques and equipments. Tourists can also indulge in bait fishing here.
As you head back after a day of exploring Kochi, feast at any one of the innumerable good hygienic eating places where one can stop by and grab a bite. You ca chose anything from south Indian French, Chinese ad Mediterranean options.
Iringole Kavu and Kallil Cave temple
Situated at a distance of about 22 km from Kochi international airport on Aluva-Munar route, Iringole is famous for a temple right in the middle of a tropical forest, which is an adobe of rare flora and fauna. Some trees in this forest are as much as 500 years old. The ancient Bhagavati temple inside the forest also beckons pilgrims from far and wide to this place. Nearby Kallil temple is 9th century Jain temple built by cutting a huge rock, and is perhaps the only temple of its kind in the country. This temple, located on a 30 acre hill, is cut from a huge rock and a steep climb of 120 steps is required to reach the sanctum sanctorum.
Kodanadu
Set on the southern banks of the Periyar river, Kodanadu is one of the largest elephant training centres in Kerala. Managed by the forest department of Kerala government, the stranded elephant from the forests are trained in the elephants Kraals. Baby elephants at the kraal are a delightful site to watch here.
Kalady
Situated on the banks of river Periyar about 10 km from the airport Kalady is famous as the birth place of spiritual teacher Adi Shankaracharya. Apart from Shankara Stupa dedicated to him, there are quite a lot of temples in the town, most popular among them being the ones dedicated to Shankaracharya, Sarada Devi, Ramkrishna and Lord Krishna. There's also a Sanskrit University dedicated to Adi Shankaracharya at Kalady.
Athirappilly Water Falls
Athirappilly
There are quite many restaurants at Athirappilly including Kerala tourism development Corporation (KTDC) operated motel. You can sample complete south Indian platter including doasa, oppams, with chicken stew, idlis and the tangy sambar.
Athirappilly Water Fall
Although in Trichur district of Kerala, Athirappilly waterfall is easily accessible from Kochi. Situated at a distance of 40 km from Kochi, this scenic water fall on the Chalakudy river of the Sholayar Forests range is a paradise for any nature lover. Small streams originating from the Western Ghats fall into Chalakudy river from a height of almost 80 m at Athirappilly. The rocky areas, just before the waterfall, are a favourite hangout for people of all ages.
Shopping at Chalakudy
If you are looking for some shopping on you way back from Athirappilly, Chalakudy is a well developed town on the national Highway. For those who like to unwind after a day –long travel, there are quite a number of pubs, hotels and restaurants in the town area.
How to reach Kochi
Kochi is one of the most visited destinations by both domestic and International tourists. Cochin International Airport is 30 km from the city. Pre-paid taxis are available.
Where to Stay in Kochi
There are good numbers of hotels around airport, including best Western Maricker Hotels & suites and Abad Airport Hotel. For a budget traveler, the government rest house at Aluva is a good option. Keys Hotels has recently opened Keys Kochi, its second property in Kerala and 16th in India.