Employment Level in Maharashtra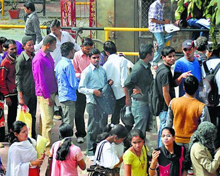 Reducing unemployment has been one of the primary challenges being faced by the state government.
To tackle joblessness, skill development of youth is given utmost importance across the districts with government institutes offering demand-based training to educated people.
At present, nearly 10% of the state population has got vocational skills, but the government has recognised the need to create employment-driven training to youth.
The government considers the expenditure on 'employable education' (vocational skillsets) is an investment to reap the benefits of the demographic dividend.
Maharashtra has envisaged a target of providing employable skills to 45 million people by 2022 as part of the overall plan of the central government.
The state government has forged partnerships with industry, academic institutes and NGOs to take forward the idea of imparting employable skills to the youth.
Industry body CII has successfully implemented the skilling agenda with "Finishing School" concept across Pune district.
These schools provide soft skills training to the final year ITI / Polytechnic students, improving their employability and orienting them to the organisational requirements from the very start and thus making them industry ready.
Over 3,000 students from the Finishing School batches in Pune at ITIs and government polytechnic had benefitted from this CII initiative.
Cooperative sector : A big relief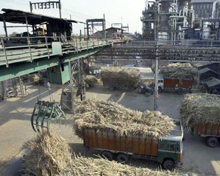 In Maharashtra, cooperative sector plays a pivotal role in safeguarding interests of the people engaged in various economic and social activities.
The state is a pioneer in the co-operative society which has made significant contribution to the socio-economic development, particularly in employment generation and social integration.
Initially, the movement was confined mainly to the field of agriculturalcredit, but later spread rapidly in other sectors.
However, after globalisation, the cooperative society is facing serious challenges like competition from MNCs, resource constraints and lack of professionalism.
As on 31 March 2014, there were about 2.30 lakh co-operative societies in the state with about 509 lakh members.
Creating livelihood sources of Maharashtra
It has been found that adequate livelihood opportunities need to be created for inclusive growth.
Only through this process, more employment can be added for the benefit of a growing labour force in Maharashtra.
As per census 2011, nearly one fifth population of the state belongs to youth group (age 15-24 years), which will be the future labour force.
The workforce not only needs to be trained to meet the requirements of all sectors and all kinds of jobs but also to link them to job opportunities and market requirements.
A well-nurtured and productive workforce contributes to a dynamic economy.
Plan strategies and programmes are being designed to bring a special focus on employment generation as a specific objective.
Labour force, factories in Maharashtra
As per the population census 2011, there were 4.94 crore workers in the state, of which 3.26 crore were male.
The work participation rate (WPR) for state was 44.0 as against 39.1 for all-India.
Maharashtra has 61.3 lakh establishments that employed 143.8 lakh people, according to the provisional estimates of sixth Economic Census 2013.
The state ranks first in employment among all states.
The number of establishments and employment in the state has increased by 47.5% and 36.5% respectively as compared to fifth Economic Census 2005.
Of the total 61.3 lakh establishments, 42.7% were in urban areas with 54.1% share in employment.
The corresponding figures at all-India level are 41.7% and 34.4% respectively.
Out of total 143.8 lakh workers in the State, hired workers accounted for 49.8%.
During 2012, the average daily employment in 37,339 working factoriesregistered under Factory Act, 1948 was about 20.6 lakh.
This showed a growth of 4.1% in the number of factories and 13.3% in employment over corresponding figures for the year 2011.
Of the total working factories in 2012, about 23% had 50 or more workers.
Maximum workers were employed in the "manufacture of basic metal and metal products" (17.6%), followed by "machinery and equipment (other than transport equipment) (13%) factories.
Employment market information
Employment market information programme (EMIP) is a centrally sponsoredprogramme implemented in the state.
The main objective of EMIP is to provide information about the structure of employment in the public and private sectors to monitor the changes in the level of employment.
Under EMIP, data is collected on quarterly basis.
The programme covers all establishments in the public sector irrespective of their size and non-agricultural outlets in the private sector employing 10 or more persons.
However, in Greater Mumbai only those non-agricultural units which are employing 25 or more employees are covered.
Total employment in the state at the end of December 2014 was59.32 lakh, of which 22.41 lakh (37.8%) was in public sector.
Of the total employment, 31% were female employees.
Employment guidance centres
Employment and Self-Employment Guidance Centres (ESGC) have been set up in every district for registration for seeking employment and to provide guidance to unemployed youths for self-employment.
There are 35 district ESGCs, six university ESGCs, eight coaching-cum-guidance centres for ST and one special ESGC for disabled persons functioning in the state.
The number of persons on the live register of ESGC as on 31 December 2014 was 35.71 lakh.
During 2014, number of persons registered with ESGC was 5.36 lakh.
About 85,000 persons were placed against 8.41 lakh notified vacancies during 2014.