Business in Maharashtra
Can I start business in Maharashtra
In terms of investments and GDP output, Maharashtra leads all other states with a strong industrial prowess aided by infrastructure capabilities.
With an aim to encourage the dispersal of industries to the less developed areas of the state, the government has been giving a package of incentives to new and expanding units being set up in the backward areas since 1964.
Called generally as the 'Package Scheme of Incentives (PSI)', this set of regulations is being amended from time to time and is valid for five consecutive years.
The last amended scheme commonly known as the '2013 Scheme' was operative from the 1 April 2013 to 31 March 2018.
The state has declared the new Industrial, Investment and Infrastructure Policy 2013 to ensure sustained economic growth through innovative measures.
The policy envisages grant of fiscal incentives to achieve higher and sustainable economic growth with emphasis on balanced regional development and employment generation through greater private and public investment in industrial projects.
Make in Maharashtra
The main objective of the government initiatives is to create business friendly atmosphere in Maharashtra by increasing the ease of doing business as much as possible.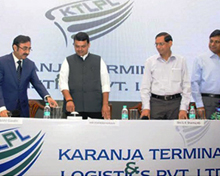 One of the focus areas is to increase the FDIs (foreign direct investments) and local investments to further spur industrial growth in Maharashtra.
The government is eyeing at least Rs 5 lakh crore industrial investmentsacross the state between 2014-2019 period as part of 'Make in Maharashtra' initiative.
Moreover, under the MIM brand strategy, at least 20 lakh jobs are expected to be generated in the next four years (till 2019).
Jurgen Tinggren, a top executive of Switzerland-based Schindler group, said during World Economic Forum in Davos in 2015 that "ease of doing business in Maharashtra is as fast as China."
E-platform interface
The Maharashtra government has created an "e-platform" to monitor the movement of files related to setting up of new industries and investment in the state.
The digital interface will facilitate quick approval of applications for setting up industries in an effective and transparent manner.
Those investing more than Rs 100 crore will have the facility of one window clearance under the 'MAITRI'(Maharashtra Industry, Trade and Investment Facilitation Cell) scheme to give all the approvals required for new industries within 30 days.
Maharashtra pips Gujarat
According to industry body Assocham, Maharashtra has overtaken Gujarat in terms of doing business.
The state continues to focus on creating opportunities for global businesses to invest in its districts for even spread of industries.
At the same time, Maharashtra continues to strive for higher standards of business-friendly policies and approval processes.
As per the India State Competitive Report, "Maharashtra scores high on supplier and sophistication conditions and diversity of firms and innovation."
Further, the Assocham report mentions, "The state's focus on development of industrial centres in tier-II and tier-III cities is making it the preferred choice of investments especially for the Indian and global service sector firms."
Some of the initiatives that have been undertaken to improve the business friendliness of the state are as follows:
Move towards reduction in number of approvals from 76 to 25 for starting a business.
Special thrust on time bound approvals.
Shifting the entire approval process online to the ebiz platform.
Reforms in labour laws.
Thrust areas identified in Mumbai
Maharashtra has identified thrust areas where it is looking for the most qualified investors.
Infrastructure - Metro rail in key cities, costal roads
Manufacturing - Auto, industrial, pharma, defence
IT/ITeS - in and around Navi Mumbai and Pune region
Electronic System & Design Manufacturing (ESDM-Fab units), upstream and downstream components
R&D labs
Logistic hub in Nagpur which has the strategic and geographical advantage.
Smart cities (greenfield) as a part of the DMIC corridor at Shendranear Aurangabad and Dighi in Raigad district.
FDI investment eased
One of the significant reforms announced in the first budget of the BJP government is raising the FDI ceiling in the insurance and defence sectors.
This was a necessary step to boost the sentiment of foreign investors and increase the competitiveness in these sectors.
Accordingly, the FDI cap for global investors in the insurance and defence sectors was raised from 26% to 49%.
It was informed that 100% FDI is allowed in defence sector for modern and state-of-art technologies on case to case basis.
Portfolio investment in defence sector permitted up to 24% under the automatic route.
The raising of FDI ceiling will infuse funds for the expansion of infrastructure in the state.
Further, the liberalised FDI regime will stimulate India's technology and manufacturing capabilities.
Welcoming foreign equities in defence sector will promote indigenous development of weapons and war platforms which will ensure the country's security.