Dhokla Recipe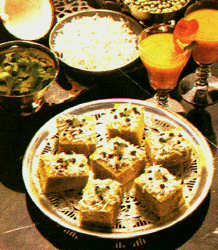 Dhokla is one among the important steamed food-stuff that is caringly cooked in many parts of India. Khatta Dhokla, Khaman Dhokla, Rasia Dhokla, Cheese Dhokla are different varieties of Dhokla prepared by Gujarati housewives and are now-a-days locally available in sweatmeat shops all over India.
Dhokla Ingredients
1 cup of rice
¼ cup of black gram skinless (Urad dal)
¼ cup of yogurt
1 ½ cup of warm water
Salt to taste
1 one-inch piece ginger
4 green chillies
½ tspn of soda bi-carbonate (baking soda)
1 tblspn of lemon juice
2 tblspns of oil
2 tblspns of coriander leaves
Dhokla Method
Dry roast the rice and the dal on medium heat for four to five minutes. Cool and grind into a semi-coarse powder.Put the powder in a bowl. Add yogurt which should be a little sour and to this add warm water. Mix thoroughly so that no lumps are formed and the batter is of pouring consistency. Add salt and let it ferment for eight to ten hours. Make a paste of ginger and green chillies. Once fermented, mix the ginger, green chilli paste with the batter. Grease the dhokla platter or a thali. Boil water in the steamer/boiler.Pour half of the batter in another vessel. In a small bowl, add one-fourth tspn soda bi-carbonate, half tsp oil and half tsp lemon juice. Add this to the batter and mix well. Repeat this for the remaining batter just before putting it in the steamer. Pour this onto the greased platter and keep it in the steamer to steam for eight to ten minutes. Check with a knife. If the knife comes out clean, it is cooked. Sprinkle some finely chopped coriander leaves and serve hot with green chutney.
By- Neela Anand