Healthy starter for parties: corn capsicum sandwich
Sandwiches are delicious snacks for parities as well as people can eat at home. Sweet corn capsicum sandwich is very simple to prepare.
Ingredients:
Important: (Measurement: 1 cup = 250 ml)
1 cup steamed or boiled sweet corn kernels
1/2 cup finely chopped bell pepper or 85 grams bell pepper, finely chopped
1/2 teaspoon black pepper, crushed or 1 tsp crushed black pepper
1 tablespoon chopped parsley leaves or 2 tablespoons chopped coriander leaves or add fresh herbs of your choice
1/4 cup grated cheese, 25 grams, processed cheese or cheddar cheese
2 to 3 tablespoon cream or white sauce (optional)
10 to 12 bread slices
Butter as required
Salt as required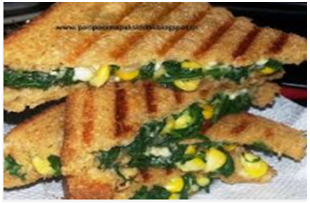 Procedure:
To make this capsicum corn sandwich, first step is to boiled corn kernels and capsicum are sauteed in little olive oil with Italian herb.
If using white sauce, then thick, creamy white sauce is made and mixed with corn-capsicum mixture.
In a bowl, mix all the ingredients except butter and bread.
Spread some butter on bread slices.
Evenly spread the corn capsicum stuffing on the bread slice. Cover with a second buttered slice.
Then place the sandwich in a preheated sandwich maker.
Grill for a few minutes, till the sandwiches become crisp and golden. We can also toast these sandwiches in a hand held stove top toaster or in the oven.
Remove and slice them.
Serve sweet corn capsicum sandwich hot or warm with tomato ketchup.
These sandwiches are nutritious as well as tasty and suitable for all age groups.