Justice at Last : Shanti Mukund Hospital rape case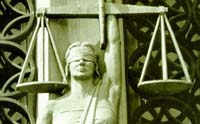 The conviction of Bhura the accused in Shanti Mukund Hospital rape case to life imprisonment has won victory for 21 year old victim who has undergone pain, suffering and depression over the last three years. The positive public opinion was mounted in the favour of victim ensuring speedy conviction considering that such cases usually take many years when the victim lose all hope of getting justice.

However the last minute court acceptance of accused's application offering to marry the victim to escape punishment reflects on the status of women and insensitivity towards such crimes committed against them. The judge even considered it fit to ask the victim to appear in the court to respond to such outrageous offer is an insult to the woman who has shown so much courage in the face of adversity. The court's action has ignored the brutal violence which nearly blinded and scarred her for life. It is important for the judiciary to take into account the victim's trauma and not to make the mockery of laws. The public outrage against the crime and support for the victim shows that the we are still very far away from dealing with, let alone punishing crimes against women.