Employment Level in Rajasthan
Creating jobs for growing number of educated youths is a daunting task as their skillsets must match the requirements of the industry in the state. However, Rajasthan CM Vasundhara Raje has roped in private players to set up skill training centres which will go a long way in providing jobs to the educated rural youth.
Her government had set a target of providing employment to 15 lakh youth in the next 5-6 years. The skill development centres are being opened across the state for the youth to get employment in a productive manner. Rajasthan has created vast infrastructure under education sector for schools, colleges and technical institutions.
RSLDC of Rajasthan
The initiative is undertaken to enhance competiveness of manpower as per global standards. The government is determined to bridge the gap between education and industry skills requirement. The state has also taken steps by making certain amendments in Rules and Acts that will brighten the prospects for job creation.
Rajasthan has also come up with initiatives for enhancing employability quotient. Rajasthan Skill and Livelihoods Development Corporation (RSLDC) is the main agency for skill development across state. Similarly Rajasthan Knowledge Corporation has been established to develop a new educational framework which can plan, implement, supervise and regulate the developing needs for IT skills.
6,000 youths to be skilled
At least 6,000 unemployed youths having academic qualification will be 'skilled' in their respective fields of choice by 2016-end under a joint collaboration with the Rajasthan government.
Virtual Global Education Ltd (VGEL) has taken up the challenge of skilling the youth under a livelihood programme for the unemployed people in Rajasthan. The online courses began on September 30 2015 and a toll free number is given for registration on 1800-200-6168. Registration fee of Rs 600 for general category students and Rs 300 for reserved category students are charged for 2-3 months of skill training by VGEL.
The first phase includes training for BPO, nursing,telecom, accounting, and renewable/solar energy branches. This skill training task was taken as per the Modi government's Skill India programme and the MoU with the Rajasthan government's Employment Skill Training Programme was singed on December 24 2014. Certain labour intensive sectors like agriculture, small industries and tourism are being promoted to create additional jobs opportunities.
State government is making efforts to promote the setting up of technical and vocational training institutions to hone the skills of youth as per industry needs. At the same time, there are steps to equip the existing ITIs, polytechnic, engineering and degree colleges with training capacities to raise the workforce employability.
It is noteworthy to mention here that the informal sector contributes more to employment in Rajasthan. Small scale industry forms the backbone of industrial activity and employment generation in Rajasthan. In fact, the MSME sector generates more employment than its large and medium counterparts.
Intensive field work, survey
The employment department in Rajasthan is striving hard to meet the objectives of the state government. A number of critical field works like the collection of market data, offering guidance for self-employment to job seekers, counselling on various courses and training facilities to job seekers are being taken care of the employment department.
Moreover, the government regularly submits the list of job seekers to prospective employers. The number of jobless people is duly registered at the employment exchanges in the districts. Apart from this, fortnightly paper 'Rajasthan Rozgar Sandesh' is being brought out regularly to inform the job seekers about employment news and'Rozgar Melas' are being organised to facilitate employer–employee meet.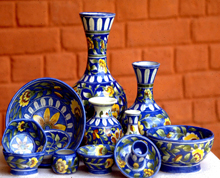 Self employment in Handicrafts
The emphasis is on creating job opportunities for the Scheduled Castes, Scheduled Tribes, other backward castes (OBCs) and specially abled persons with right academic background.
Unemployment allowance
The government is implementing an unemployment allowance scheme for educated youth registered with any employment exchange of the state for more than a year. It provides for an allowance of Rs 500 a month to the eligible candidates, who are graduates, while the disabled youth get Rs 600. The upper age limit for the general beneficiaries will be 30 years. While women, SC, ST and specially abled candidates can apply till the age of 35 years.
Over 28,618 candidates have been benefitted under the scheme from December 2013 to October 2014.
Rozgar Sahayeta Shivir
With a view to render assistance to the unemployed, 'Rozgar Sahayeta Shivirs' are being organised by the government. In an effort to generate job opportunities for the unemployed youth in private sector, Rozgar Sahayeta Shivirs are being organized to provide a platform to the unemployed youth and employers.
The unemployed youth are invited in these employment camps in order to provide maximum job opportunities to them in private sector by developing their skills according to the vacancies provided by the private employers.
As per the policy document, the employment department shall organise two Rozgar Sahayeta Shivirs in each district during a financial year. Over 10,987 candidates have benefitted through 7 general and 15 SC/ST RSS camps during April to October 2014.
Modern career centres
CM Vasundhara Raje has announced that old structured employment exchanges will be converted in the new improved career centres. In the first phase, all employment exchanges at divisional headquarters will be converted in the career centres.
Plan for the conversion has already been approved at the government level and execution of the conversion is under process.Two employment exchanges in Jaipur and Kota have been identified which will be converted into model career centres for which proposal has been sent to the Central government. The state finance department has agreed to provide Rs 475.19 lakh for the conversion of Jaipur, Kota, Bikaner and Bharatpur in the coming financial years.
Skill development project
Rajasthan has launched in July 2014 the country's first and biggest skill development project aimed at creating employment opportunities for the young people of the state. The Union government which selected Rajasthan as the first state for this project has proposed Rs 398 crore for it. Modern skills would be imparted as part of industrial training to one lakh rural youths under this project.
The beneficiaries would be offered jobs in collaboration with the Union rural development ministry. Rajasthan Skill and Livelihood Development Corporation (RSLDC) has signed agreements with officials of 22 organisations selected as "project implementation agencies" for skill training.
The agencies would provide skill development training to one lakh rural youth including 34,000 women in all 33 districts of the state. The skill training will cover 19 sectors such as garment marketing, retail, beauty culture, hospitality, banking and accounting. The state government has made amendments in the Labour Act, Factories Act and Industrial Dispute Acts, among others, to make Rajasthan a suitable habitat for creation of jobs.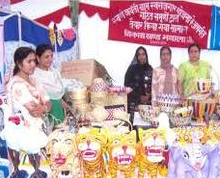 SwarnJayanti Gram Swarozgar yojana
Special focus on women
The state government is making special efforts to provide employment to the women to make them self-reliant. Under Swavlamban Yojana, poor widows, deserted and rural women are being provided training through public enterprises, nigams, NGOs and self-help groups to improve their living standard through self-employment.
Self-help groups are being provided financial assistance to empower women. While agriculture continues to be a major source of livelihood for rural population, the youth is eagerly turning towards alternative sources of employment.
The present generation of rural youths is keen to obtain an education and skills for their livelihood. Efforts are being made to educate, motivate and develop skills of these youths for gainful employment.
Apart from the state-level initiatives, the central schemes like MGNREGA and SwarnJayanti Gram Swarozgar yojana are being implemented to provide jobs in the rural and urban segments. MNREGA is enhancing the livelihood security of the rural households by providing at least 100 days of guaranteed wage employment to every registered houses whose adult members volunteer to do unskilled manual work.
Caterpillar, Cairn roped in
Global firm Caterpillar will set up a Centre of Excellence on ITI, Jhalawar campus for training and skill activities related to operation and maintenance of earth moving equipment used in construction and mining industry.
The centre will run activities like skill training programmes, career counselling and job fairs to guide the youth. Cairn India will provide training regarding basic and advanced welding, basic automobile, windmill and PV installation at its Centre of Excellence in Jodhpur.
The training will be provided with the help of modern techniques and equipment. Cairn India has tied up with TUV Rheinland to provide training. The government has signed MoU with Caterpillar and Cairn India through RSLDC which is the executing arm for creating and monitoring the skill development centres in Rajasthan.