Demography Of Meghalaya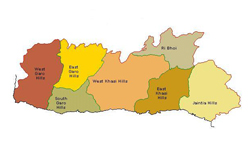 As of Census 2011, has a total population of 2.97 million. Of the total population in the state, 1.49 million were males and 1.48 million were females in 2011. The sex ratio (females per 1,000 males) of Meghalaya is 989 which is higher than the national average of 940.
The literacy rate of Meghalaya in 2011 was 74.4 per cent.
The population density of Meghalaya is 132 people per sq km. Majority of the state's population are tribal. The Khasis are the ethni largest group, followed by Garos and Jaintias.