Industrial Scenario Of Karnataka
Over 2,160 IT companies are operating in Karnataka, employing about 550,000 professionals or 1/3rd of the total IT professionals in the country in 2014-15. The state is home to 47 IT/ITeS SEZs and dedicated IT investment regions.
Engineering
Karnataka has many attributes that favour the development of the engineering industry. The export value of engineering products from the state has increased from US$ 1,605 million in 2010-11 to US$ 3,476.8 million in 2014-15. The engineering segment is the state's fastest growing sector, which grew at a CAGR of 21.3% during 2010-11 and 2014-15.
Bharat Heavy Electricals Limited, Hindustan Machine Tools Limited and Bharat Earth Movers Limited are some of the important companies in the engineering sector in the state.
Telecommunications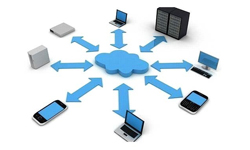 Karnataka is a leading state of India in telecommunication. 140 of 170 towns are connected by Optic Fibre Cables (OFC) network. Bengaluru district is the major hub of telecommunications industries. The state is home to global telco giants such as AT&T, Sanyo, Siemens, GE, Sony, Motorola and Alcatel.
Textiles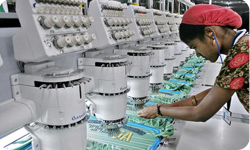 Karnataka is a leading producer of cotton and silk. Textile is one of the largest sectors in the state. The cotton production in the state has grown from 23 lakh bales in 2013-14 to 28.0 lakh bales in 2014-15. The state accounts for 33.59 per cent of India's total silk production. Karnataka has about 0.38 million manufacturing units engaged in the textiles and garments sector at the organized and unorganised level.
Aerospace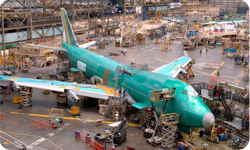 Karnataka is the first Indian state which announced the aerospace policy. The policy has identified an investment potential of US$ 12.5 billion in the aerospace sector during 2013–23 and intends to develop aerospace clusters in various regions of the state. Bangalore is fast emerging as the Aerospace hub of India. India's only aircraft manufacturer • Hindustan Aeronautics Limited (HAL) is located in Bengaluru and four of its six R&D centres are in located in Bangalore Urban District. Occupying an area of 250 acres, an Aerospace SEZ has been set up near Bengaluru International Airport.
Coffee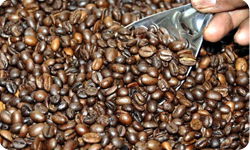 Karnataka is the largest coffee growing state in India, and accounts for about 71.3 per cent of India's coffee production during 2014-15. The total coffee production in Karnataka increased from 211,100 metric tonnes (MT) in 2013-14 to 233,230 MT in 2014-15 and is expected to reach to 256,500 MT by 2015-16. Coffee plantations are carried out in Bababudangiris, Chikmagalur, Coorg, Kodagu, Hassan and Manjarabad. The export of coffee in the state grew at a CAGR of 14.23 per cent between 2007-08 and 2014-15. The export value has increased from US$ 325 million in 2007-08 to US$ 825 million in 2014-15.