Culture of Karnataka
The culture of Karnataka is a "wide spectrum" of different customs and traditions. Kannadigas, contribute towards the rich cultural heritage. Karnataka's culture proves to be a true delight to every native and tourist. Unparalleled diversity, never proves to be a hinderance to Karnataka's culture. Culture can be classified into faith and festivals, art and architecture, music and dance and cuisine. Culture remains is the backbone and strength in bonding the people together in peace and harmony.
Kannada, the state language is widely spoken accompanied by many others like Kodava Takk, Konkani and Tuli. The traditional attire of the people is sari for women and Dhoti with peta(head gear) for men. The women of Madikeri(Coorg) have a different style of draping the sari. In cities like Bangalore, Mangalore, Manipal the modern generation is well versed with the latest trends in the fashion scenario. Bangalore is acclaimed as the fashion hub of south India.
Faith and Festivals: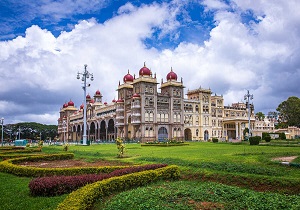 The state is home to different faiths like Hinduism, Jainism, Islam and Christianity. The people of Karnataka are very tolerant towards different faiths irrespective of what you may have heard or seen through the media. Festivals are celebrated with great fervour and zeal.
Some of the prominent Hindu festivals include Dussehra, Ram navami, Makar Sankranti, Ugadi and Diwali. Festivals provide an opportunity for the people to get together with their friends and family and celebrate. In Mysore, Dussehra is celebrated as a grand event accompanied by 10 days of celebration. This tradition has been carried on from the regime of the Wodeyars of Mysore. On the final day Goddess Buvaneswari is taken out in a procession on the elephant. The Mysore Palace is well lighted and decorated as part of this glorious celebration. Makar sankranthi marks the beginning of the harvest season as a tribute to Sun God. Ugadi is celebrated as New Year day, with Ugadi pachadi as the main preparation.
Jainism has a substantial foothold in Karnataka. Jain festivals are celebrated with great enthusiasm. The "Mahamastabishekam" of Gomateswara at Shravanabalegola draws huge crowds. Muslims celebrate Id-ul-Fitr, Id-ul-Adha, Milad- un-nabi with great devotion and zeal.
Art and Architecture: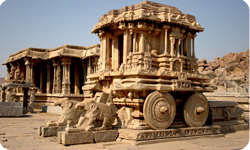 Architecture has been a highlight in the culture of Karnataka from time immemorial. The monuments at Hampi are proposed as UNESCO World Heritage sites. Dynasties that ruled Karnataka contributed extensively towards architecture. Different dynasties portrayed different styles of architecture.
The structural temples at Pattadakal are a great testimony of Badami Chalukyan's architectural style. The other noteworthy contribution includes rock-cut cave temples at Aihole and the Virupaksha temples. Another major contributor includes the Hoysalas. Masterpieces of Hoysalan architecture are Chennakesava temples at Belur and Hoysaleswara temple at Halebidu. Vijayanagara kings were never behind in their contribution towards architecture. King Krishnadevaraya built innumerable temples of Vaishnava and Saiva faiths decked with intricate craftsmanship.
The Mysore palace is a perfect testimony to the love towards architecture. The palace is renowned, for its workmanship by architects of the kings of Mysore. Mysore the cultural capital of Karnataka, speaks volumes of the affinity towards art and architecture.
Music and Dance: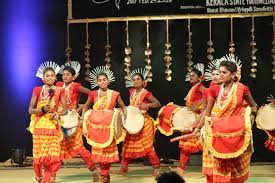 Karnataka is renowned all over the world for being a pioneer of "Carnatic music". The great saint poets Kanakadasa and Purandaradasa had composed devotional compositions. These compositions are cherished for their simplicity and spirituality.
The musical instrument veena, was innovated by the musicians of the Mysore Maharajas. Karnataka is home to legends like Veena Seshanna and Veena Doraiswamy Iyengar. "Vachana" and "Sangatya" are the lyrical styles of Carnatic music. Renowned musicians like Gangubai Hangal, Bhimsen Joshi Rajguru have played a vital role in the field of music.
Dance has been an integral part of Karnataka's culture. "Kunitha" is the major form of folk dance with many variants. The shepherd community was the pioneer of this form of dance. The variants include Dollu Kunitha, Pata Kunitha and many more. The variants relate to different deities worshipped during rituals.
In Uttara Karnataka "Yakshagana(celestial dance) ", Bhootha Aradhana(devil worship) are major forms of folk dance in Karnataka. Another noteworthy form is Puppet theatre. Bayalatta, Bhagavathara atta and Dashavathara atta are few forms of musical dance compositions. Folk dance forms are still practiced all over the state by the rural population.
Cuisine:
Karnataka is the perfect destination of culinary extravaganza. The cuisine is exquisite and extensive. Different regions provide delicacies pertaining to their culture. The inner regions and coastal regions offer vegetarian and non-vegetarian cuisine. The people of Malnad(hill region) have a different style of preparation using bamboo shoots. Coorg is well known for its Pandi(pork) curry and other meat dishes using vinegar(home made).
Kannadigas are well versed in the art of cooking using spices and other ingredients in the right proportion. The main delicacies include Bisibela bath, Vangi bath, Mysore dosa, Kosambari, Ragi attu, Neer dosa, Mysore bonda. The famous sweetmeats are MysorePak, Dharwad peda, Mangalore Poli and different variants of payasams. The cuisine of Karnataka is very relishing and delightful.
The culture of Karnataka is vibrant, colorful and so enduring that it provides the foundation of a jubilant and peaceful lifestyle.