Infrastructure Of Jharkhand
Improvement of infrastructure is crucial for attracting investment in Jharkhand. Jharkhand is well connected to its five neighbouring states and other parts of India through 15 national highways that run through the state. Jharkhand is well connected to other parts of the country through the railways. The state has a railway network of 2,181.93 km.
Jharkhand has a total road length of around 299,209 km. There are 15 National Highways (NH) running through Jharkhand. While the total length of the National Highways is 2,374 km, state highways measures around 6,880 km.
In 2014-15, Jharkhand government announced plans to construct 890 km of roads and 30 bridges. As of March 2015, 700 km of road and 15 bridges has been completed. Under the agreement with the Asian Development Bank, the state government has undertaken the construction of a two-lane road project, covering 311 km between Sahebganj and Govindpur (near Dhanbad). As of May 2015, around 2/5th of the physical work was completed.
The Union Road Ministry of India has announced plans to expand highways in Jharkhand under the Public-Private Partnerships (PPP) model with an estimated investment of US$ 890 million. In early 2014, the Union Rural Development Ministry has approved 483 new road projects covering 1,562.85 km length under the Pradhan Mantri Gram Sadak Yojna.
Railways
Jharkhand is well connected through the railway network. The total length of railways in the state is 2,181.93 km. Dhanbad, Chakradharpur, Hatia are the main railway junctions in Jharkhand.
Apart from having ore-loading facilities at Lohardaga, Kiriburu and all Central Coalfields Ltd (CCL) coal mines, Jharkhand is home to extensive goods-handling facilities at Ranchi, Dhanbad, Bokaro and Jamshedpur railway stations.
Eastern Corridor Extension to Kolkata under the Dedicated Freight Corridor Corporation of India, which is expected to be completed by 2018, will pass through Jharkhand and will be beneficial to the promotion of the industrial activities.
Under the 12th Five Year Plan, valid from 2012 to 17, Jharkhand has proposed to invest up to US$ 195.7 million for developing new rail links.
Airports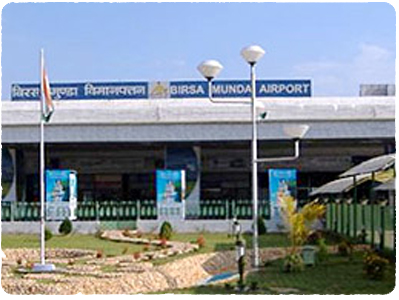 Jharkhand has one domestic airport at its capital Ranchi which is well connected with the major cities such as Delhi, Kolkata, Patna and Mumbai.
Bokaro, Daltonganj, Deoghar, Dhanbad, Dumka, Giridih, Hazaribagh, Jamshedpur and Noamundi have airstrips. Chartered flights also connect Kolkata and the steel city of Jamshedpur. Aircraft movement at the Ranchi airport has increased from 6,587 in 2013-14 to 7,642 in 2014-15. During the same period, Cargo handled by the Ranchi airport has increased from 2,491 tonnes in 2013-14 to 3,496 tonnes in 2014-15. Passenger traffic in the airport has increased from 517,006 in 2013-14 to 653,832 in 2014-15.
Jharkahnd's Civil Aviation Department had proposed to acquire land to develop airstrips in the districts of Chatra, Garhwa, Godda, Khunti, Koderma, Jamtara, Latehar, Pakur, Simdega, Lohardaga, Sahebganj and Saraikela.
Power
As of June 2015, Jharkhand had a total installed power generation capacity of 2,625.91 MW; of which 1,324.05 MW was under state utilities; 916.00 MW was under the private sector and 385.86 MW was under central utilities.
Of the total installed power capacity, 2,404.93 MW was contributed by thermal power, 200.9 MW by hydropower and 20.05 MW by renewable power sources. The contribution of the thermal power is large due to the large coal reserves in the state.
As of March 2015, the state's average per capita power consumption in Jharkhand stood at around 650 kWh.
Telecom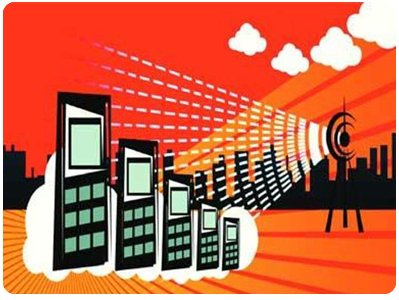 According to the figures reveled by Telecom Regulatory Authority of India (TRAI), as of May 2015 Jharkhand had 71.6 million wireless connections and 347,309 wire-line subscribers. At that time 97.9 per cent of the villages in the state had direct access to telecom facilities. The number of broadband subscribers till March 2014 is 2,300,000.
As of March 2014, the state had 441 telephone exchanges. About 97.9 per cent of the villages in the state had direct access to telecom facilities as of March 2015. As of March 2014, the state had.
Jharkhand had 3,124 post offices as of May 2015.