Designer Rajasthani costumes for special occasions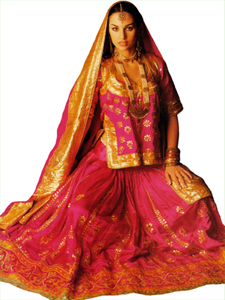 Rajasthan has a rich culture and a collection of traditional dresses that appeal to people of India as well as the whole world. Rajasthani inhabitants wear gorgeous costumes that are the magnificent amalgamation of cultural ancestry and special designs that reflect the customs and liking of the people.
Rajasthani dresses are awfully vivacious and represent the peculiar attributes of their mores. These costumes are designed and modified according to the climatic conditions of the region so that native people feel comfortable whenever there is a function at home or when they go out for grand ceremonies.
The well-liked Rajasthani clothing that are worn by the native people on special occasions or for normal routine are Dhoti, Jodhpuri Suits, Rajasthani Party wear Suits, Rajasthani Sherwani, Rajasthani Lehenga Choli, Embroidered and well decorated kurta and choodidar, Rajasthani Ghagra Choli. Rajasthani Saris are especially embroidered with many decorative items like small mirrors and resham threads.
Extensively embroidered odhnis are normally called Lugri, Kanchli or Kunchuki. Rajasthani ladies wear cotton or silk saris that are heavily embroidered with colour stones, tinsels and silken threads on various occasions.
These clothes used to be suitable to the weather of their regions. Today, these saris are available in a fusion of other fabrics to make it more attractive for customers.
Designer suits for girls are made up with elegant floral patterns and customary motifs that give a stylish look. Since weather conditions are warm, therefore costumes and designer dresses are made loose, flowing clothes and cut out to cover the whole body to prevent from intense heat when females go out.
For special occasions, designers create stunning designs for saris and silver threads are used to embroider and decorate Ghagras and Lehengas for a rich look. Artificial shiny threads and semi precious stones and gems are also used in these costumes to magnetize customers.
Another major shopping attraction of dresses of Rajasthan is tie and dies pattern dresses. These costumes are traditional and reflect the culture of Rajasthan.
These costumes were admired by people all over India and they used to come to purchase these from Rajasthan. However, these days all these dresses are flooded in the market everywhere in India.
Therefore, if ladies are planning for some important occasions like marriage, they can make a choice of buying Rajasthani designer outfits and leave a good impression in the gathering.
But it is important to thoroughly check the fabric or dress material before buying such expensive dresses as there are many duplicate varieties available and customers may get cheated in the market.
Articles
Selection of engagement rings for spouse
[New] |
Tips for Choosing Men´s Shirts
[New] |
Designer Rajasthani costumes for special occasions
|
Good selection of men's luxury watches
|
Useful tips for care of neck
|
Stylish handbags to match with outfits
|
Men's dashing outfits for Party
|
Accessories for your babys first birthday
|
Kids Fashion
|
Student Farewell trendy outfits
|
Unearthing Teens Newest Fashion
|
Breezy look of the year
|
Care for Colored Hair
|
Lakme Fashion Week
|
Teens Indo-western dresses for grand ceremonies