Try the Breezy look of the year
Scorching summer months are here again and you want to look your best without being loud or greasy! So what are the colours that you should pick to attract attention? What will be the silhouettes that will turn you into fashionist and at the same time making you comfortable? Very confusing!
From interesting office wear to the options for a night out, the sky is the limit. Only you have to decide what looks good on you. So go ahead and try out! The trend this summer is the trendy and yet comfortable look.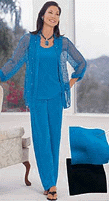 We would recommend chiffons, georgettes and crepes. Try linen for the cool look as it is a very breathable fabric, perfect for the hot months ahead. Pick the whites, the earthy tones, pinks and pastel shades for the mornings, while fuschias, emerald greens and the classic black would be perfect for the evenings.
Office wear would be no fuss, no-nonsense attire. You can try knee length straight skirts, white shirts or kurtis with minimal embroidery with pants. The clothes should reflect your personality and keep you looking fresh.
Go for the natural but feminine look with emphasis on subdued glamour. The leading designers recommend flowing clothes with layers and textures in asymmetric lengths.
Payal Jain recommends pants with breaches, asymmetric skirts and kurtis that are slender, slimmer and longer down to the knee. Also blousy tops with interesting necklines and sleeves would be in this summer. Big floral prints, minimal embroidery, intricate chikankari and embellishments would be in great demand.
For Anjana Bhargav there should be a very graceful feel to the mood. Kurtas in layers with churidars without dupattas would be a craze. Girls can go for skirts in several layers, calf length or midlength for a free and happy look. She recommends tones of white and off whites, pale pink, pale yellow colours that suit the Indian complexion to be a rage this summer.
Crush proof fabrics, pure cotton and a little synthetic mix with cotton are the fabrics that will see you through the day. For accessories she recommends big belts with chunky buckles. Bags and shoes to be paired with dresses but in a subtle manner.
From : Yuman
Articles
Selection of engagement rings for spouse
[New] |
Tips for Choosing Men´s Shirts
[New] |
Designer Rajasthani costumes for special occasions
|
Good selection of men's luxury watches
|
Useful tips for care of neck
|
Stylish handbags to match with outfits
|
Men's dashing outfits for Party
|
Accessories for your babys first birthday
|
Kids Fashion
|
Student Farewell trendy outfits
|
Unearthing Teens Newest Fashion
|
Breezy look of the year
|
Care for Colored Hair
|
Lakme Fashion Week
|
Teens Indo-western dresses for grand ceremonies