Good selection of men's luxury watches
Watches are one of the important accessories for men that enhance personality.
Though in modern times, many technical gadgets like mobile phones are used by people for timekeeping, wrist watches still have great significance.
Since ages, watches have been considered as fashion accessories for men and reflect their style.
Whenever, a person wants to purchase a wrist watch; whether he wants to replace the old one or to buy a new time piece, it is necessary to gather adequate information about the latest style and strong brands.
There are many varieties available in the market but brand recognition and its reputation in the market must be assessed when planning to buy watches.
Watchmakers continuously develop fashionable and functional watches that suit every man's requirement. They apply latest technology and trendy design to attract customers.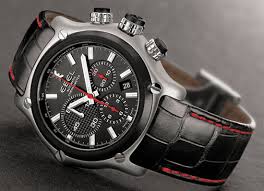 There are many factors involved when purchasing a good watch that fits a man's personality.
The first and most important factor is the price. Customers must limit their budget after research of many brands and fashionably styled watches available in market.
Some varieties include mechanical watches, precious metals such as gold-plated and platinum watches or formal and designer watches.
One of the popular categories of luxury watches is Vintage watch styles. Among other brands the Swiss watchmakers seem to lead the pack.
A watch must be chosen according to one's lifestyle. Men can buy a watch that suits his personality and gives a smart look in the office. Watches must also be durable for outdoor activities. The third factor is the kind of watch that entails whether a person likes to purchase gold material, plain and thin case, thick markings and hands with lots of tritium etc etc.
Designer watches are developed with publicized designer's look. Sports watches are normally large, bezels with outstanding markings, water-resistant up to some extent, have thick, glowing hands and markings.
It is advised by market experts that watches must be purchased through authorized retailers. To select a desirable time piece, the shopper can search internet watch catalogues and decide what type of watch he can wear and only then visit the retailers to buy it.
Other important things that should be checked when purchasing a watch is that it should be of correct size, water resistance and easy on maintenance. For example, Mechanical watches are maintained according to the manufacturer's manual instructions.
Quartz watches should be serviced when the battery is replaced. Its battery life is 2-5 years. Watch selection is very important so people must spend time when they plan to shop for fashionable and durable watches. They must be sure before purchasing watches that it perfectly suits and matches their personality.
Articles
Selection of engagement rings for spouse
[New] |
Tips for Choosing Men´s Shirts
[New] |
Designer Rajasthani costumes for special occasions
|
Good selection of men's luxury watches
|
Useful tips for care of neck
|
Stylish handbags to match with outfits
|
Men's dashing outfits for Party
|
Accessories for your babys first birthday
|
Kids Fashion
|
Student Farewell trendy outfits
|
Unearthing Teens Newest Fashion
|
Breezy look of the year
|
Care for Colored Hair
|
Lakme Fashion Week
|
Teens Indo-western dresses for grand ceremonies