Men dashing outfits for parties
Men have limited choice for dresses to attend a party. But we have to do the best as Personality is enhanced greatly by clothing. People form impression of a person on the basis of his dressing style. In corporate parties, the dress code is usually a suit.
Men generally choose suits of different varieties in grey, black and dark blue colours. Men's suit cloth comes in high quality fabrics with muffled patterns. It is highly important that suits must have a good fit.
Men are advised to choose such suits that require minimum couture. Men suits are of different styles such as Men's Single Breasted Suit, Men's Double Breasted Suit, Men's Double Breasted Tuxedo Suit, Men's Tuxedo Suit, Men's Three Piece Vested Suit.
When selecting suits for any party, it is necessary to purchase shirts that match with the colour of suits. Men can buy contrasting coloured shirt and necktie to look handsome and attract the attention of people at a social gathering. Ties selection should be made on the basis of conservative style and in natural materials. Generally, men prefer to buy silk ties for special occasions.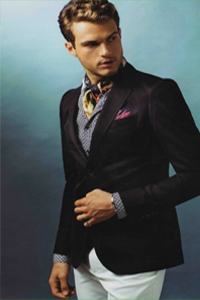 The colour of a tie should complement the suit and the shirt. People must pay attention to the length the tie should reach; the belt level is a good idea. It is exciting to learn various and different ways to knot the tie because the way a tie is put together reflects a man's persona.
The colours in demand for men are light blue and white. A summer jacket is the common choice of men for the occasion of weddings, outdoor parties, and other events in the summer season. Cotton is the best summer jacket fabric.
Gents pants are also available in different styles therefore when planning to buy pants, the important thing is to check whether it is the best fit or not. Today designers stitch stylish pants by adding many pockets, buttons and flaps.
It is necessary to thoroughly check that the pants are comfortable so that the person wearing the dress feels relaxed. It must not appear loose or shapeless. Sometimes, men tend to think that pants should be loose so that it can be used later when they will become fatter.
But this viewpoint is not good for people who want to look smart and especially when they are going to attend some important occasion. If they purchase too long or very short length pants, their personality will appear dull, and disorganized. Another point to be noted while purchasing pants is that men should choose bold colours so that it will enhance their overall look.
When planning for special occasions, gentlemen must buy quality garments that have good styles that match their age. Stylish suits are best fit for these occasions. Men can either buy dress material for suit and get it stitched or carefully buy readymade outfits for ceremonies.
But they must go for a trial before the final purchase and if any alteration is required, it can be done at that time. Whether it is a marriage party or an official get together, men also have to focus on dresses that are branded and best fit to them.
Articles
Selection of engagement rings for spouse
[New] |
Tips for Choosing Men´s Shirts
[New] |
Designer Rajasthani costumes for special occasions
|
Good selection of men's luxury watches
|
Useful tips for care of neck
|
Stylish handbags to match with outfits
|
Men's dashing outfits for Party
|
Accessories for your babys first birthday
|
Kids Fashion
|
Student Farewell trendy outfits
|
Unearthing Teens Newest Fashion
|
Breezy look of the year
|
Care for Colored Hair
|
Lakme Fashion Week
|
Teens Indo-western dresses for grand ceremonies