Chennai Sports
Cricket is the most popular sport in Chennai. The M. A. Chidambaram Stadium (formerly known as Madras Cricket Club ground or Chepauk Stadium) in Chepauk is the oldest cricket stadium built in 1916. It seats 50,000 and is home to the Tamil Nadu cricket team. This stadium is where the Indian cricket team won its first ever test victory here in 1952 against England. The Chemplast Cricket Ground in the IIT Madras campus is another important cricket venue.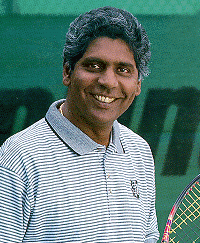 Tennis is another popular game in Chennai. Popular Indian tennis stars like Vijay Amritraj, Ramanathan Krishnan, Ramesh Krishnan etc., hail from Chennai. The SDAT Tennis Stadium in Nungambakkam seats 7,000 spectators and has six synthetic surface courts. The stadium also hosts India's only ATP event, the Chennai Open.
Dr. Radhakrishnan Stadium is the venue for hockey matches and seats 4,000. The Chennai Veerans, a Premiere Hockey League team hails from Chennai.
The Jawaharlal Nehru Stadium seats 40,000 and hosts football (soccer), athletic and volleyball competitions. The Aquatic Complex in Velachery seats 4,000 and hosts water sports. Chennai has also hosted the South Asian Federation Games 1995.
The Guindy Race Course for horse racing was set up in 1777. Motor racing events are held at the Sriperumpudur (Thirupperumpudur) track for cars, and the Sholavaram track for motorcycles. The Madras Boat Club was set up in 1867 at the Basin Ridge and hosts rowing races. The city has three 18-hole golf courses: the Cosmopolitan Club, the Gymkhana Club golf course, and the Guindy Links. All three clubs were established in the late 19th century.