Commonwealth Games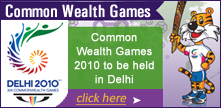 Delhi is all geared up for the Commonwealth Games. Recently they have been recieving a lot of flack, but just in time, we have risen to the occassion and are in the process of putting up a fabulous extravaganza, showcasing India like never before. We are sure the games will be a great success, as we will all take it in the spirit of sports and let go of our hangups. For immediate updates on the games, visit our news section on the CWG page.
History of the Commonwealth Games
Common Wealth Games are scheduled and organized every four years. India is hosting this prestigious multi-sport event for the first time. Commonwealth Games 2014 will be held in Delhi from the third day of October and will last till fourteenth day of the month. Eighteen other countries have earlier hosted the event. This is the ninth time this event is coming up with the name commonwealth. The Delhi Commonwealth 2014 are the nineteenth Common Wealth Games. No such event with many sports has been conducted in the Indian history till now.
The estimated budget for the event has come up to around US$ 1.6 Billion. This budget does not include external developments like the construction of roads, airports and other structures. A recent survey reported that Commonwealth Games 2014 would be the most expensive event to be ever held in the history of Commonwealth Games. The first glimpse of this event will come alive from Jawaharlal Nehru Stadium where the opening and closing ceremonies are scheduled to take place. The event covers many aquatic events such as swimming, outdoor events such as tennis and badminton, indoor events like squash and table tennis are also included, athletic events like 400m dash and 800m dash are also there in the event list. These events are scheduled at venues like Dhyan Chand stadium, Indira Gandhi and many other stadiums.
Though the preparations are in full swing, the recent news reveals a complete lack of coordination among the various authorities and a slow progress in the final handing over of various venues that may eventually cause a serious threat to the successful handling of the event. Surrounded by countless controversies the Delhi Commonwealth Games 2014 seem to be heading towards chaos and ultimately embarrassment for one and all. Though these problems, namely, money transfer issues, slow infrastructure development etc have been recognized and efforts are being made to remove the glitches we still need to keep our fingers crossed for the same.
The entire nation has pinned its hope to the success of the Delhi Commonwealth Games 2014 as it will serve as a window to showcase India as a country that can host other multi sports events like Olympics in the future.
The Common Wealth Games are organised by the Commonwealth Games Federation (CGF), a union of around 70 countries lying in the major continents: Asia, Africa, America, Europe, Carribean and Oceania. The CGF was formed in the year 1930 by Bobby Robbinson with a firm will of promoting and celebrating an atmosphere of unique, friendly, world class Games in these member countries and also strengthening the harmonious mutual relations between the Commonwealth countries. The three foundation principles of the Common Wealth Games Federation are: Humanity, Equality and Destiny! These are the parameters held responsible by the Commonwealth Games Federation for every momentous decision taken within the federation.
To improve the standard of living of the residents and the societal norms; the Commonwealth Games Federation is also a staunch supporter of education and awareness via sports and recreation. The distinguishing feature of the Common Wealth Games is, its formation based on history, as compared to the geographic and climatic factors responsible for the formation of other world sport associations. It also bags the honour of being the only Games Federation that has a common language for conversation i.e. English. For this reason, the Commonwealth Games have also been coined as "Friendly Games", and thus; have been a source of inspiration amongst the Youth of the Commonwealth Nations, to excel in games and sports.
After its conception in 1930, the Commonwealth Games were known as the British Empire Games, followed by other titles like the British Empire and British Common Wealth Games. In 1978, the Commonwealth member nations took a unanimous decision to call them "The Commonwealth Games". The first Common Wealth Games (1930) were held in Hamilton, Ontario, Canada. Since then, the Common Wealth Games are held in every four years except in 1942 and 1946 due to World War II. Conducted in many other Commonwealth Nations like London, Sydney, Aukland and Kuala Lumpur; the latest Commonwealth Games were organised at Manchester, London in 2002.
The last or recent Commonwealth Games were conducted between 15-26 March 2006; in Melbourne, Australia, the capital of Victioria state and the second largest city of the Kangaru Continent. India will also be hosting the Common Wealth Games for the first time and Asia for the second time; in 2014, in Delhi, the capital city of India. The sports that will comprise of these Common Wealth Games are Cycling, Netball, Rugby, Weightlifting, Shooting, Squash, Table Tennis, Aquatics, Athletics, Gymnastics, Hockey, Badminton, Basketball, Bowls, Boxing and Triathlon.
Host of Commonwealth Games | News of Commonwealth Games | Medal Tally of Commonwealth Games
Other Commonwealth Games Websites
Official site for CommonWealth Games Federation
Melbourne 2006 Commonwealth Games
2015 Olympic Schedule
|
Commonwealth Games
|
Asian Games
|
History Of Olympics
|
SAF Games
|
Sports News
|
Olympic Medal Tally 2015

Updated On :
Jan 29,2019 4:34 pm
Paro (Bhutan), Jan 29 (IANS) The picturesque valley town of Paro, dotted with Bhutan's historical and sacred monasteries like Tiger's Nest that clings to a vertical rock cliff with a 200-foot majestic waterfall in its vicinity and wrapped in prayer flags fluttering with fresh cool breeze is far from the madding crowd - literally. View More..

Updated On :
Oct 23,2018 11:00 am
Macao (China), Oct 23 (IANS) Macao is not only about gambling, casinos and luxury entertainment. Its Portuguese past mingles with the present to create a unique architecture, history and culture that is mesmerising. View More..

Updated On :
Sep 09,2018 11:32 am
Koktebel (Crimea), Sep 9 (IANS) Jazz -- a genre with the ability to embrace varied cultures -- has evolved exponentially in the past century-and-a-half and is today a major form of musical expression. But what is it that exactly gives a "jazzy characteristic" to a musical note? View More..

Updated On :
Aug 06,2018 4:48 pm
New Delhi, Aug 6 (IANS) A progressive writer, visionary, a social thinker, a philosopher, an educationist - Rabindranath Tagore was a polymath. And it is this vastness that fascinated author Radha Chakravarty to take translate Tagore's writings from Bengali to English. View More..

Updated On :
Dec 30,2016 11:36 am
International/Diplomacy/Terrorism/2016 in Retrospect View More..

Updated On :
Dec 18,2016 12:02 pm
Washington, Dec 18 (IANS) Donald Trump rewrote history with an incredible presidential run that made him Time's Person of the Year and catapulted him to the second spot on Forbes list of the world's most powerful. View More..

Updated On :
Dec 31,2015 1:54 pm
New Delhi, Dec 31 (IANS) The year just ending has been a gastronomic delight for food lovers. Food festivals, street food, regional cuisine, TV food shows, pubs, cafes and the year-ending blessing - the return of Maggi. It's been a 'foodilicious' year! View More..

Updated On :
Dec 30,2015 12:02 pm
Bengaluru, Dec 30 (IANS) Technology-driven e-tailers from the virtual world are giving a run for the money to retailers in the real world, as they lure away smart buyers with lower prices, heavy discounts and door-step delivery. View More..

Updated On :
Dec 30,2015 10:02 am
New Delhi, Dec 30 (IANS) The Nobel Prize in Literature brought another talented author to the world's attention, a gifted Indian-origin writer came tantalisingly close to the Booker Prize, an iconic character seemed to have lost his heroic sheen in the second work by his reclusive author coming over five decades hence - and the world of books bid adieu to nearly a dozen of its most glittering stars in 2015. View More..

Updated On :
Dec 29,2015 12:50 pm
New Delhi, Dec 29 (IANS) Prime Minister Narendra Modi's sartorial taste continued to create waves as multiple designers made a splash in the growing segment of menswear and 2015 turned out to be a year for the style-conscious male to rejoice. View More..

Updated On :
Dec 29,2015 11:08 am
Chennai, Dec 29 (IANS) Of the over 200 Tamil films released this year, there were a few that may not have necessarily created an impact at the box office but they appealed to a mixed audience with their unique storylines, talent and formats. View More..

Updated On :
Dec 28,2015 1:58 pm
New Delhi, Dec 28 (IANS) No matter how much Delhiites groove to the tunes of international Disc Jockeys (DJ) like Tiesto and David Guetta, when it comes to a hardcore party, nothing gets them moving like the Bollywood and Punjabi songs do, say owners and DJs at nightclubs here. View More..

Updated On :
Dec 28,2015 11:32 am
New Delhi, Dec 28 (IANS) The AAP's dramatic rise and the comeback of Lalu Prasad and Nitish Kumar in Bihar marked the first full year of Prime Minister Narendra Modi, who analysts say is still going strong though his earlier sheen has worn off. View More..

Updated On :
Dec 27,2015 12:34 pm
New Delhi, Dec 27 (IANS) A dramatic stopover in Lahore by the Indian prime minister on his way home from Afghanistan to meet his Pakistani counterpart on Christmas day has become the showstopper of Indian foreign policy initiatives in 2015. View More..

Updated On :
Dec 27,2015 12:34 pm
Kolkata, Dec 27 (IANS) A watershed year for West Bengal, 2015 saw the painful stateless existence of around 51,000 enclave dwellers come to a happy end, while after a long wait, 64 files on legendary freedom fighter Netaji Subhas Chandra Bose were declassified, even as the ruling Trinamool Congress continued its dominance despite the CBI's Saradha scam probe reaching some of its leaders. View More..

Updated On :
Dec 26,2015 12:22 pm
Hyderabad, Dec 26 (IANS) The first full calendar year for the newly-created state of Telangana was an eventful one as, despite teething problems, the TRS government launched many initiatives and sustained the Telangana sentiment. View More..

Updated On :
Dec 25,2015 12:00 pm
New Delhi, Dec 25 (IANS) Ban this, ban that; censor this, censor that; protest over this, and that -- the cinematic, art and creative worlds went through much unrest in 2015, with political and moralistic interventions. So much so that one began to wonder if politics is hampering people's freedom to express. It is, assert prominent personalities of the film industry. View More..

Updated On :
Dec 25,2015 11:54 am
New Delhi, Dec 25 (IANS) The year just ending would go as one of reaffirmation by the supreme court of its primacy in judicial appointments that was sought to be taken away by the government scrapping the collegium system - in place since 1993 - and replacing it with a National Judicial Appointments Commission (NJAC). View More..

Updated On :
Dec 25,2015 11:50 am
Chennai, Dec 25 (IANS) The year 2015 could be said as the one of strengthening the foundation for increased foreign participation in the domestic nuclear sector by clearing doubts on nuclear liability, signing a uranium souring agreement, civil nuclear cooperation agreements with a couple of countries. View More..

Updated On :
Dec 24,2015 12:04 pm
New Delhi, Dec 24 (IANS) Looking bright and rejuvenated seemed to be the people's priority in 2015. Whether it was skin-brightening or hydration services, there has been a rise in the demand for solution-specific beauty services in the country, with several anti-ageing and rejuvenation treatments topping the favourite salon service list, say the experts. View More..