More About Delhi
Delhi is a term that refers to either the State of Delhi or the National Capital Territory (NCT) of the Republic of India. In popular use, the term NCT includes several neighbouring areas in the adjoining states of Haryana and Uttar Pradesh.
The name Delhi may originate from the Urdu/Hindustani word Dahleez (English: threshold, or frontier) or from the name of a Mauryan king, Raja Dhillu. The people of Delhi are known as Delhiites or "Dilliwaalay". The latter is a historical and cultural term describing people of the old city and the associated diaspora. There are, for example, communities (often living in neighbourhoods dominated and named after them) of Dilliwaalay in major Pakistani cities who still identify their clan with neighbourhoods in the Old City of Delhi. The Persianized surname Dahelvi is also related to residents of Delhi.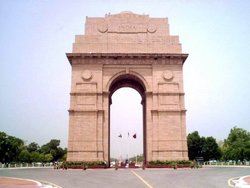 Delhi has the most vibrant history of any of the more prominent cities or towns of India. It has been the "capital of seven empires" in Indian history and as per the Archaeological Survey of India, has over 60,000 recognized monuments built over several millennia. Delhi was first referenced in the Indian epic Mahabharata as Indraprastha.
Economically, Delhi is one of the most affluent urban centres in India and is at the heart of India's largest consumer belt. As an indicator, Delhi has more cars plying its roads than India's other four 'metros', Bangalore, Calcutta, Madras and Bombay combined and is widely considered to have the best transport and utilities infrastructure in the country. It has in recent years emerged as an entrepôt for multi-nationals and is the primary destination for FDI in India, particularly with the emergence of its suburbs Noida and Gurgaon as commercial and industrial centres in their own right. The nation's automobile, media and consumer goods industries have facilities in and around Delhi. There is also a strong showing by key knowledge-based industries in Delhi, particularly in the life sciences, telecom and the information technology arena. A preferred destination due to the quantity and high calibre of English speakers, Delhi and its suburbs account for over 30% of India's IT and IT-enabled services (ITeS) exports--the second largest in the country (Bangalore accounts for 35%).
Delhi is a very cosmopolitan city due to the multi-ethnic and multi-cultural presence of the vast Indian bureaucracy and political system. From an international perspective, there are more than 160 embassies present and an ever increasing expatriate population.
Delhi derives its historic importance from its position in northern India, occupying a location between the Aravalli Hills to the southwest and the Yamuna river on whose western banks it stands. This enabled it to dominate the old trade routes from northwest India to the plains of the Ganges. As a result, it has always been an important cultural and intellectual centre.
With a steadily increasing quality of life, a booming economy and consumer market and by virtue of the fact that it is the nation's capital, cultural and intellectual life in Delhi are burgeoning as well. Delhi also has a high standard in education. It is the home of many major educational institutions in India--namely the Indraprastha University,Indian Institute of Technology, Delhi, Jawaharlal Nehru University and Delhi University, and All India Institute of Medical Sciences. Delhi also boasts of a great number of quality schools. Delhi is also home to a number of think tanks, museums, art galleries, parks and theatres.
Strictly defining Delhi's borders, it occupies an area of some 1,483 square kilometres (572 square miles) with a population of approximately 14 million (though with its suburbs it crosses well over 23 million). The principal spoken language is Hindustani, an amalgam of Hindi and Urdu. Influence of Urdu is because of Muslim rulers and great Urdu poets of 18th and 19th century like Ghalib. Other common languages spoken are English and Punjabi.
Telangana History | kerala History | Chhattisgarh History | Gujarat History | Himachal Pradesh History | Jharkhand History | Madhya Pradesh History | Manipur History | Karnataka History | orissa History | Punjab History | Rajasthan History | Sikkim History | Tamil Nadu History | Uttarakhand History | Uttarpradesh History | Tripura History | Meghalaya History | West Bengal History
Hospitals in Delhi | Coffee in Delhi | Map Of Delhi. | Delhi Climate | Delhi Economy | Delhi Classifieds | Delhi Guide | Delhi History | Delhi Home Delivery | Delhi News | Famous Personalities in Delhi | Delhi Photos | Delhi Property | Delhi Transportation | Delhi Tourism and Travels | Travel to Delhi | Delhi Jobs | Restaurants In Delhi Archealogical Monuments | Markets in Delhi | Delhi Newspapers | Lakme Fashion Week | Places of Worship |