About Jammu and Kashmir
Jammu and Kashmir is one of the few states that has been able to avoid the full onslaught of commercialization over the last few decades.
The state has been able to preserve its earthly splendour but one of the down sides also is the state has a significant percentage of unemployed youth due to lack of job opportunities.
However in recent times, several consumer goods manufacturing companies have shown their interests to set up their units in this region. The economy of Jammu & Kashmir is largely dependent on farming and animal husbandry.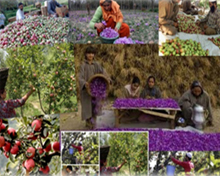 Agriculture of Jammu and Kashmir
Prior to the terrorist strikes since 1989 Jammu and Kashmir had a flourishing tourist industry. The numbers have dwindled since then but the figures have been improving in the last few years and things are indeed looking optimistic.
Agriculture
The majority of the people of Jammu and Kashmir practice agriculture of different styles some of which includes - terraced slopes with each crop being adapted to local conditions.
Rice, the staple crop, is planted in May and harvested in late September. Corn, millet, pulses (legumes such as peas, beans, and lentils), cotton, and tobacco are-with rice-the main summer crops, while wheat and barley are the chief spring crops.
Many temperate fruits and vegetables are grown in areas adjacent to urban markets or in well-watered areas with rich organic.
Animal Husbandry of Kashmir
Animal Husbandry
A good percentage of the local inhabitants of Jammu and Kashmir depend on animal husbandry for their livelihood. Animals like sheep, cow, goat, and hen are kept for commercial purposes. The government of Jammu and Kashmir has taken several steps to improve the economic sector of animal husbandry.
According to the official statistics the animal husbandry sector produces about three seventy million eggs, thirty lakh tones cow dung, forty lakh kilogram meat and sixteen lakh manure of the poultry animals.
Natural resources
The state of Jammu and Kashmir is blessed with good natural resources and is an important source of revenue for the state. The types of wood available from Kashmir include fir pine, spruce, deodar, chir, kali, etc. are of great economic value.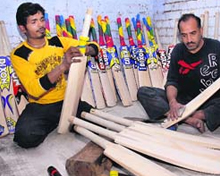 Sports goods industries of Jammu
The woods are useful for Match Industry, Sports goods industries, Sentonin Factory etc. Kasmiri wood is also a popular choice for making cricket bats which happens to be the most widely viewed sport in India.
Education
Education in the state of Jammu and Kashmir is relatively strong. The literacy rates of the state are comparable to the national average.
The two major institutes of higher education are the University of Kashmir at Srinagar and the University of Jammu, both founded in 1969.
In addition, agricultural schools have been established in Srinagar (1982) and Jammu (1999). A specialized institute of medical sciences was founded in Srinagar in 1982.