West Bengal Assembly Election Results 2016 (294):
In the 294-member house, the Trinamool finished with 211 seats -- substantially more than the two-thirds majority mark of 196, and the 184 seats it had bagged in 2011 when it came to power in alliance with the Congress. Trinamool supporters celebrated wildly, Banerjee said a campaign of slander and lies led to her party's sweeping win. "People do not like such campaigns.
West Bengal Assembly Election News 2016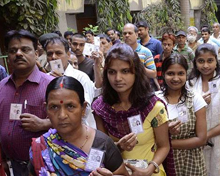 You can follow the West Bengal elections 2016 closely by following our news updates relating to the West Bengal polls.
With the new round of elections in West Bengal and the isuue of office of profit, there may be some interesting turn to the Bengal elections. Follow the pulse of the West Bengal Elections with us.
West Bengal Assembly Election News