Gurgaon

Avant Garde design of Companies
A sleepy suburb of Delhi in not so distant past, today Gurgaon is known for burgeoning information technology industry and has emerged as India's prominent commercial centre in recent years.
This has been complemented by the emergence of the avant-garde design of the offices of top companies, glitzy malls, chic shops, exciting cultural centres, elegant restaurants reflecting the modern aspirations of Indian middle class.
Also known as the millennium city, this cutting edge city in the state of Haryana attracts visitors for its exquisite cuisines, fulfilled parks, swanky malls, golf courses among others.
Gurgaon is the place where shopping malls vie for the customer's attention and time. Shopping at the Ambience Mall is a fun and wonderful experience.
This large-scale sophisticated shopping mall offers domestic as well as many famous international brands. The Ambience Mall also houses India's first indoor natural ice skating rink.
Gurgoan is also home to Amusement mall, Centre Plaza mall, DLF City Center Mall, DLF Star Mall, DLF South Point mall and Landmark Mall.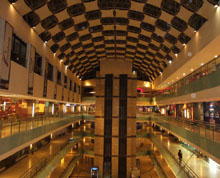 Ambience Mall Inside during Night
Notwithstanding its newfound attractiveness as a business destination, Gurgaon has a wealth of other attractions such as Heritage Transport Museum, Museum of Folk and Tribal Art, Kingdom of Dreams, Sheetala Devi Temple and Damdama lake.
Museum of Folk and Tribal Art has a collection of tribal art.
Fifteen km from Gurgaon is located the famous Sultanpur National Park which is known for its eclectic avian population both local and migratory.
Apart from Red-wattled lapwing and Sarus crane, the bird sanctuary is home to more than 250 species of birds.
Being situated so close to Delhi makes the park a much sought after weekend getaway from the capital of India.
Whether one is traveling for pleasure or business, Gurgaon has a wide array of accommodation options to choose from to suit all budgets.