Set This page as your Home Page
Olympics 2016
Olympic Games commonly known as Rio 2016, being held in Rio de Janeiro, More than 11,000 athletes from 206 National Olympic Committees are taking part of this game. With 306 sets of medals, the games features 28 Olympic sports. These sporting events are taking place at 33 venues in the host city as well as at five venues in the cities of Sao Paulo, Belo Horizonte, Salvador, Brasília, and Manaus.... » Read More
Indian Sports
With over a billion people around we have very few international stars in the Sports Arena. ThisismyIndia.com aims at bringing sports closer to the people by introducing various sports activities with details on how to pursue a career in sports.
History of Indian sports
India - known for its fanaticism for cricket and hockey; started its sports odyssey long back during the great Vedic Era of India. Initially, the development of sports (games) in India gathered momentum after its important role, in maintaining the physical health, was coined by the people of India. Hunting, swimming, boating, archery, horse riding, wrestling and fishing mark the stage of infancy of Indian Sports (Games). Then came the Martial Arts which was also a strong way of self defence apart from a vigorous physical exercise.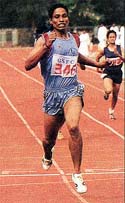 In India, sports (games) is seen as 'a way of realizing the body potential to its fullest'; also known as "Dehvada" in ancient India. The philosophical foundation of the sports (games) in India lies in the history of India dating back to Vedic Era in which the Atharva Veda said: ," Duty is in my right hand and the fruits of victory in my left". These words in the traditional mantra hold the same spirit as that of the Olympic oath that implies: ".......For the Honour of my Country and the Glory of Sport." The history of India also beckons of an interesting link between Greece (The Motherland of Sports in the world) and India which dates back to 975 B.C. when both the nations pioneered in the sports (games) like chariot racing and wrestling.
Naldehra Golf Club | Cricket | Indian Boxing | India Sports News | India Cricket News | India Tennis News | India Hockey News| Commonwealth Games | Asian Games | Olympics | SAF Games | Indian Football News
The golden history of sports in India is also evident in the immortal Indian epics like Ramayana, Mahabharata etc. Whereas during the period of Ramayana; hunting, archery, horse riding, swimming were the royal games; Mahabharata made a mark in the sports like dicing, gymnastics, wrestling, chess (Shatranj) and gulli danda. Puranas mention about the threatening game of rope fighting. The archeological excavations of Harappa and Mohanjodaro along with the religious manuscripts like Puranas and Vedas are the standing testimonials of this glorious history of Indian sports.
The historians believe that many sports (games) like hockey, archery, wrestling and chess originated in India, which are synonymous to strength and speed nowadays.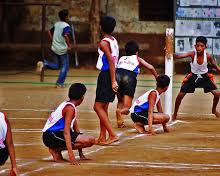 In the late Vedic Era, besides sports; the Yoga and Meditation, the inevitable parts of the toughest "Yogashastra" made India, acquire the seat of spiritualism, all over the world. This dignified discipline of Indian Sports finds its place in Bhagwat Gita too.
Today sports in India have achieved a zenith in terms of popularity and as a career option. Olympics, Commonwealth Games, Asian Games, SAF Games, Wimbledon and many other world sports tournaments see Indians as one of the most leading sports participants in the world. From Tendulkar, Paes, Bhupathi, Anand, Geet Sethi, Karthikeyan to Sania Mirza lead the present sports generation of India. Cricket, Hockey, Football, Weightlifting, Snooker, Kabaddi, Kho Kho and Archery are the sports of India that have been deep seated into an Indian psyche, whether of a sports person or a sports lover. Not only physical strength, power and satisfaction but also a strong alternative of recreation; sports in India have paved a long way towards the road of success and have made themselves a hallmark in the world of sports.


Updated On :
Sep 23,2017 2:34 pm
Atlanta (Georgia), Sep 23 (IANS) Americans Justin Thomas and Webb Simpson and Englishman Paul Casey share the lead, all with 133 strokes, after the second day of The Tour Championship at the East Lake Golf Club here. View More..

Updated On :
Sep 23,2017 2:30 pm
Siliguri, (West Bengal) Sep 23 (IANS) East Bengal will need a draw while Mohun Bagan have to win in order to clinch the Calcutta Football League (CFL) crown when the arch-rivals cross swords in a virtual knockout last league engagement at the Kanchenjunga Stadium here on Sunday. View More..

Updated On :
Sep 23,2017 2:02 pm
Rio de Janeiro, Sep 23 (IANS) Juventus full-back Alex Sandro has been drafted into Brazil's national squad for World Cup qualifiers against Bolivia and Chile, the Brazilian Football Confederation has announced. View More..

Updated On :
Sep 23,2017 12:58 pm
Munich, Sep 23 (IANS) Bayern Munich squandered a two-goal lead and shared the spoils with Wolfsburg following a 2-2 draw in their Bundesliga clash here. View More..

Updated On :
Sep 23,2017 10:44 am
Tokyo, Sep 23 (IANS) India's mixed doubles pair of Pranaav Jerry Chopra and N. Sikki Reddy lost in the semi-finals of the $325,000 Japan Open Superseries badminton championships here on Saturday. View More..

Updated On :
Sep 23,2017 6:28 am
Barcelona, Sep 23 (IANS) FC Barcelona coach Ernesto Valverde has said his squad will face Girona this weekend determined to maintain its perfect record. View More..

Updated On :
Sep 22,2017 10:08 pm
Thimpu (Bhutan), Sep 22 (IANS) India thrashed hosts Bhutan 3-0 in their second encounter of the ongoing SAFF U-18 Championship 2017 at the Changlimithang Stadium here on Friday. View More..

Updated On :
Sep 22,2017 10:04 pm
New Delhi, Sep 22 (IANS) An online betting racket was busted in Delhi and seven bookies arrested from north Delhi during the India-Australia cricket match a day earlier in Kolkata, police said on Friday. View More..

Updated On :
Sep 22,2017 10:02 pm
Chennai, Sep 22 (IANS) India's Shank Sarath Kumar and Rajiv Sethu improved their timings in their respective categories as the fifth round of the Asia Road Racing Championship, being hosted by the Madras Motor Sports Club, got off the blocks in style here on Friday. View More..

Updated On :
Sep 22,2017 10:00 pm
New Delhi, Sep 22 (IANS) U Mumba kept their play-offs hopes alive beating Dabang Delhi 30-28 in the opening game of the Delhi leg of the Pro Kabaddi League (PKL) season 5 at the Thyagaraj Sports Complex here on Friday. View More..

Updated On :
Sep 22,2017 9:58 pm
Yushan (China), Sep 22 (IANS) Home favourite Ding Junhui came from behind to beat compatriot Li Hang 5-3 in the quarter-finals of the Snooker World Open held here on Friday night. View More..

Updated On :
Sep 22,2017 9:02 pm
Turin, Sep 22 (IANS) Record Italian football champions Juventus on Friday announced a profit of 42.6 million euros ($50.96 million) in the club's accounts for the year ending June 30, 2017. View More..

Updated On :
Sep 22,2017 8:48 pm
London, Sep 22 (IANS) FIFA on Friday announced the final nominees for the Best FIFA Football Awards, including Real Madrid's forward Cristiano Ronaldo, Barcelona's star Lionel Messi and his former teammate Neymar for the Men's Player honour. View More..

Updated On :
Sep 22,2017 8:16 pm
Dubai, Sep 22 (IANS) Recovering from a middle-order collapse after a brilliant start, Hyderabad Hawks notched up their second consecutive win in the Indian Junior Players League (IJPL) beating Assam Rangers by two wickets at the Dubai International Cricket Stadium here on Friday. View More..

Updated On :
Sep 22,2017 8:10 pm
Slovenia, Sep 22 (IANS) India's young paddlers put up a spectacular show in Slovenia Junior and Cadet Open, winning an unprecedented gold and silver in the junior boys' team event and another silver in the Cadet girls's team competition. View More..

Updated On :
Sep 22,2017 8:04 pm
Kolkata, Sep 22 (IANS) Former I-League champions Mohun Bagan have hailed Rahim Ali after the young forward was selected in the India U-17 squad for next month's FIFA U-17 World Cup. View More..

Updated On :
Sep 22,2017 7:56 pm
New Delhi, Sep 22 (IANS) Rising golfer Tvesa Malik battled tough weather conditions and a challenging Delhi Golf Club golf course to clinch the 12th leg of the Hero Womens Pro Tour 2017 here on Friday. View More..

Updated On :
Sep 22,2017 7:28 pm
Noida, Sep 22 (IANS) Delhis Honey Baisoya successfully defended his title at the PGTI Players Championship at Noida Golf Course with an emphatic nine-shot triumph here on a rainy Friday. View More..

Updated On :
Sep 22,2017 7:24 pm
Kolkata, Sep 22 (IANS) The Board of Control for Cricket in India (BCCI) on Friday wrote letters to all state associations saying that the domestic schedule for junior and women's cricket matches has to be changed in order to accommodate teams from the North East states and Bihar for the upcoming season. View More..

Updated On :
Sep 22,2017 7:16 pm
Washington, Sep 22 (IANS) NBA referees can hand a heavier penalty to players who intentionally occupy the space where the shooters need to come down, a senior National Basketball Association (NBA) official confirmed. View More..