Set This page as your Home Page
Olympics 2016
Olympic Games commonly known as Rio 2016, being held in Rio de Janeiro, More than 11,000 athletes from 206 National Olympic Committees are taking part of this game. With 306 sets of medals, the games features 28 Olympic sports. These sporting events are taking place at 33 venues in the host city as well as at five venues in the cities of Sao Paulo, Belo Horizonte, Salvador, Brasília, and Manaus.... » Read More
Indian Sports
With over a billion people around we have very few international stars in the Sports Arena. ThisismyIndia.com aims at bringing sports closer to the people by introducing various sports activities with details on how to pursue a career in sports.
History of Indian sports
India - known for its fanaticism for cricket and hockey; started its sports odyssey long back during the great Vedic Era of India. Initially, the development of sports (games) in India gathered momentum after its important role, in maintaining the physical health, was coined by the people of India. Hunting, swimming, boating, archery, horse riding, wrestling and fishing mark the stage of infancy of Indian Sports (Games). Then came the Martial Arts which was also a strong way of self defence apart from a vigorous physical exercise.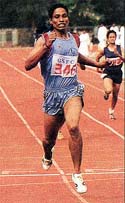 In India, sports (games) is seen as 'a way of realizing the body potential to its fullest'; also known as "Dehvada" in ancient India. The philosophical foundation of the sports (games) in India lies in the history of India dating back to Vedic Era in which the Atharva Veda said: ," Duty is in my right hand and the fruits of victory in my left". These words in the traditional mantra hold the same spirit as that of the Olympic oath that implies: ".......For the Honour of my Country and the Glory of Sport." The history of India also beckons of an interesting link between Greece (The Motherland of Sports in the world) and India which dates back to 975 B.C. when both the nations pioneered in the sports (games) like chariot racing and wrestling.
Naldehra Golf Club | Cricket | Indian Boxing | India Sports News | India Cricket News | India Tennis News | India Hockey News| Commonwealth Games | Asian Games | Olympics | SAF Games | Indian Football News
The golden history of sports in India is also evident in the immortal Indian epics like Ramayana, Mahabharata etc. Whereas during the period of Ramayana; hunting, archery, horse riding, swimming were the royal games; Mahabharata made a mark in the sports like dicing, gymnastics, wrestling, chess (Shatranj) and gulli danda. Puranas mention about the threatening game of rope fighting. The archeological excavations of Harappa and Mohanjodaro along with the religious manuscripts like Puranas and Vedas are the standing testimonials of this glorious history of Indian sports.
The historians believe that many sports (games) like hockey, archery, wrestling and chess originated in India, which are synonymous to strength and speed nowadays.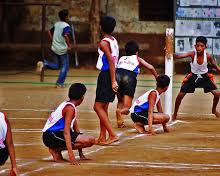 In the late Vedic Era, besides sports; the Yoga and Meditation, the inevitable parts of the toughest "Yogashastra" made India, acquire the seat of spiritualism, all over the world. This dignified discipline of Indian Sports finds its place in Bhagwat Gita too.
Today sports in India have achieved a zenith in terms of popularity and as a career option. Olympics, Commonwealth Games, Asian Games, SAF Games, Wimbledon and many other world sports tournaments see Indians as one of the most leading sports participants in the world. From Tendulkar, Paes, Bhupathi, Anand, Geet Sethi, Karthikeyan to Sania Mirza lead the present sports generation of India. Cricket, Hockey, Football, Weightlifting, Snooker, Kabaddi, Kho Kho and Archery are the sports of India that have been deep seated into an Indian psyche, whether of a sports person or a sports lover. Not only physical strength, power and satisfaction but also a strong alternative of recreation; sports in India have paved a long way towards the road of success and have made themselves a hallmark in the world of sports.


Updated On :
Sep 27,2016 6:46 pm
Seoul, Sep 27 (IANS) Indian shuttler Parupalli Kashyap qualified for the men's singles competition of the Korea Open Superseries after he won two qualifying matches here on Tuesday. View More..

Updated On :
Sep 27,2016 6:28 pm
Moscow, Sep 27 (IANS) The Russian Paralympic Committee (RPC) on Tuesday charged the International Paralympic Committee (IPC) with insisting on "vague requirements" before its membership could be reinstated. View More..

Updated On :
Sep 27,2016 6:16 pm
Vigo (Spain), Sep 27 (IANS) The Colectivo Nos ultras group, which brings together more than 100 football fan groups of Celta Vigo, declared on Tuesday their "dissatisfaction" and "rejection" of the sale of the Spanish club to a foreign investment group. View More..

Updated On :
Sep 27,2016 6:10 pm
London Sep 27 (IANS) Double Tour de France cycling champion Chris Froome has called for the World Anti-Drugs Agency and cyclings governing body UCI to urgently address the controversial use of Therapeutic Use Exemptions (TUEs) in the sport following the criticism that has been directed at his former teammate Bradley Wiggins over the issue. View More..

Updated On :
Sep 27,2016 5:42 pm
Kolkata, Sep 27 (IANS) Atletico de Kolkata may just have passed the environmental hurdle standing in their way of playing Indian Super League (ISL) matches at the Rabindra Sarovar Stadium, with the five-member expert panel formed by the National Green Tribunal all but giving the green signal. View More..

Updated On :
Sep 27,2016 5:22 pm
New Delhi, Sep 27 (IANS) Rookie Siddhi Kapoor showed glimpses of her immense talent and carded an impressive two-under 70 to grab the lead in the first round of the 14th Leg of the Hero Womens Professional Golf Tour at the Delhi Golf Club here on Tuesday. View More..

Updated On :
Sep 27,2016 5:16 pm
Munich, Sep 27 (IANS) Bayern Munich midfielder Thiago Alcantara has said that Wednesday's match against Atletico Madrid has nothing to do with revenge for the defeat and exit in last season's Champions League semi-final, pointing out it is a different football game. View More..

Updated On :
Sep 27,2016 5:14 pm
London Sep 27 (IANS) Two months after taking up the England football team head coach's job, Sam Allardyce is facing an investigation by the English Football Association following a newspaper sting in which he was secretly taped negotiating a 400,000 pounds (around $518,420) deal with reporters posing as Far East businessmen. View More..

Updated On :
Sep 27,2016 4:50 pm
Madrid, Sep 27 (IANS) Manchester City goalkeeper Claudio Bravo says he was excited to return to Camp Nou stadium to play against Barcelona, where he played last football season, on October 19 in the third round of the UEFA Champions League's group stage. View More..

Updated On :
Sep 27,2016 3:38 pm
Tokyo, Sep 27 (IANS) International Olympic Committee (IOC) President Thomas Bach says he "still does not understand" why Russian athletes were sanctioned at the 2016 Rio Olympic Games. View More..

Updated On :
Sep 27,2016 3:32 pm
Vitoria (Spain), Sep 27 (IANS) Alaves posted their first home victory of the football season here, beating Granada 3-1 to climb into ninth place in La Liga with nine points from six matches. View More..

Updated On :
Sep 27,2016 3:30 pm
Madrid, Sep 27 (IANS) Atletico Madrid and Bayern Munich will play a rematch of last season's Champions League semi-final when the two football sides meet at the Vicente Calderon Stadium here on Wednesday. View More..

Updated On :
Sep 27,2016 3:02 pm
Suzhou (China), Sep 27 (IANS) Only one month after claiming the men's 20-kilometre race walk title at the Rio Olympic Games, China's Wang Zhen has already set his sights on defending gold at the 2020 Tokyo Games. View More..

Updated On :
Sep 27,2016 2:58 pm
Ranchi, Sep 27 (IANS) If you want to become member of the Jharkhand State Cricket Association (JSCA), affiliated to the Board of Control for Cricket in India, based in the hometown of India limited-overs captain Mahendra Singh Dhoni, then you have to appear in a written examination. View More..

Updated On :
Sep 27,2016 2:50 pm
Cardiff, Sep 27 (IANS) World football's governing body FIFA's decision to scrap an anti-racism task force has drawn the ire of former Wales striker Nathan Blake who has branded the decision "shameful". View More..

Updated On :
Sep 27,2016 2:46 pm
Dubai, Sep 27 (IANS) India will reclaim the Test rankings top spot from Pakistan if they manage to win the second Test against New Zealand starting on Friday at the Eden Gardens in Kolkata. View More..

Updated On :
Sep 27,2016 2:44 pm
Dhaka, Sep 27 (IANS) Batsman Sabbir Rahman has been slapped with a fine and two demerit points for breaching International Cricket Council's (ICC) Code of Conduct after arguing with the umpire in Bangladesh's first One-Day against Afghanistan. View More..

Updated On :
Sep 27,2016 2:44 pm
New Delhi, Sep 27 (IANS) Indian para-athletes, who clinched four medals at the just-concluded Rio Paralympic Games, have made a passionate plea to the government for proper jobs and treatment at par with their able-bodied counterparts. View More..

Updated On :
Sep 27,2016 2:36 pm
Dhaka, Sep 27 (IANS) Bangladesh cricketer Mahmudullah has found himself batting in various positions in the national team but he has been most prolific batting at No. four in One-Day Internationals (ODIs). View More..

Updated On :
Sep 27,2016 1:24 pm
Wuhan (China), Sep 27 (IANS) US Open runner-up Karolina Pliskova of the Czech Republic beat compatriot Lucie Safarova 6-3, 7-5 to reach the third round of the Wuhan Open tennis tournament here. View More..