Boxing
History of boxing
Looking back to history, boxing was primary acknowledged as an Olympic sport in 688 BC. Participants educated on punching bag which is called a korykos. At that time, Fighters dressed in leather straps named as himantes over their hands, wrists, and sometimes breast, to guard them from wound. The belts left their fingers free.
Boxing was an admired amateur spirited sport in ancient Greece.
In prehistoric period, people of Rome also accepted boxing as a great sport. They often wore the cestus, a metal-studded leather hand casing with which they injured and sometimes murdered their opponents, sometimes as part of gladiatorial spectacles. But after the collapse of the Roman Empire this sport lost its significance up to some extent. It again became popular in the 18th century in London in the shape of bare-knuckle prizefights in which the contenders battled for cash and the spectators made bet on the upshot.
This brief historical information provide individual to become aware about this sport and understand that it is not a new game. It is accepted by people from centuries sometimes for money, other times to maintain physique and it is enjoyed by public.
Boxing in India
Boxing does not command as significant a following in India as wrestling which is a favourite in rural India since ancient times. In modern times it is also because of the lack of discernible international success. The Indian Amateur Boxing Federation and the Indian boxers have failed to make a mark in the world of Boxing.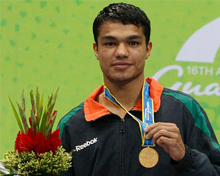 This is precisely the reason that even youngsters are not keen to follow boxing with no Local hero to follow. In the 2006 Colombo SAF Games, even though Indian boxers managed to bag four gold medals, Pakistan walked away with the top honours claiming seven gold medals. Also Cricket seems to be the all consuming sport in India and very few sports are able to emerge from its shadows.
Asian Games: Vikas Krishan Wins Boxing Gold for India
Teen sensation Vikas Krishan ended Indian boxing's 12-year-old gold medal drought in the Asian Games by winning the lightweight (60kg) title but Dinesh Kumar (81kg) settled for the silver after losing in the finals here on Thursday.
World Amateur Boxing Championships Rankings of Indian Boxers
| AIBA Rank | Name | Residence | Weight Category |
| --- | --- | --- | --- |
| 2 | Pinki Jangra | Hisar, Haryana | 45-48 Kgs - Women |
| 3 | M C Mary Kom | Imphal, Manipur | 51 Kgs - Women |
| 3 | Kavita Chahal | Bhiwani, Haryana | 81+ Kgs - Women |
| 3 | L Devendro Singh | Imphal, Manipur | 46-48 Kgs - Men |
| 3 | Shiva Thapa | Guwahati, Assam | 56 Kgs - Men |
In December 2014 Boxing, India declared its 1st Elite Men's Nationals in Nagpur which were held from January 9 to 15, where boxers Satish Kumar, Manpreet Singh, Sumit Sangwan, Mrunal Bhosale won medals.
2015 Olympic Schedule
|
Commonwealth Games
|
Asian Games
|
History Of Olympics
|
SAF Games
|
Sports News
|
Olympic Medal Tally 2015