Cricket India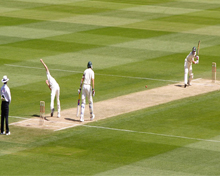 India is one of the cricket playing nation which has vital role in sport cricket around the world.cricket introduced in India in the middle of the 18th century.
Cricket is the national level and most popular game in India governed by the Board of Control for Cricket in India it includes the member of International Cricket Council and it organizes Test Cricket and One day International Cricket and T20 matches
India has won the worldcup championship in both ODI and T20 formats. In 1983 India wins it under the Kapil Dev after that India took the worldcup second time in this year under MS Dhoni and also India has won T20 world cup with same MS Dhoni and team .The other formats of Indian Cricket are Ranji Trophy Indian Premier League.




Test status acquired
1932
First Test match
India vs England at Lord's, London, 25–28 June 1932
Captain
Virat Kohli (Test)
Mahendra Singh Dhoni (ODI & T20I)
Coach
Current ICC Ranking
Test
5th (Rank)
ODI
2nd (Rank)
T20I
2nd (Rank)