Traffic in West Bengal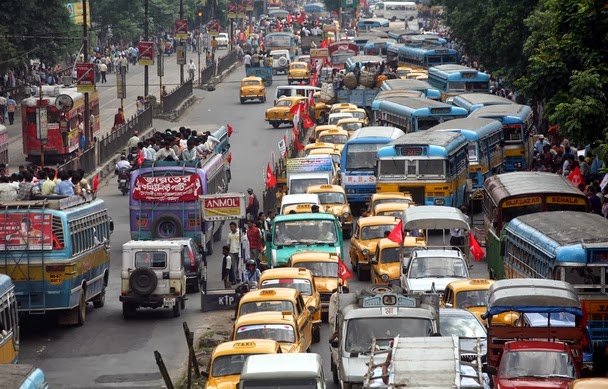 Political rallies, bandhs and Left Front sponsored shutdowns paralyse normal life in Kolkata on a regular basis. Despite the presence of a multi-modal transport system, traffic jam is a regular feature during peak hours on the arterial roads of Kolkata.
The transport system of Kolkata is a mix of modern mass rapid systems like Metro Rail and the old transport modalities like the rickshaws, taxis and government buses.
Kolkata is connected to the rest of India by the National Highways, the extensive network of the Railways, and also by air. Most traffic to Northeast India is routed via Kolkata.
Roads in Kolkata
Howrah Bridge and Vidyasagar Setu are two bridges connecting Kolkata with Howrah district over the Ganges. Vivekananda Setu is the third bridge over the river at the northern reach of the city near Dakshineshwar. The fourth one and the newest one is Nivedita Setu.
Since Kolkata suffers from traffic congestion like other metros, a network of expressways like Kona Expressway and Belghoria Expressway, flyovers and widening of southern stretch of Eastern Metropolitan Bypass are being created to ease up road traffic. Kolkata is connected to rest of India by the National Highways 2, 6, 34 and 117.
The Belghoria Expressway connects NH 34 with NH 2 and 6 via the Nivedita Setu while the NH 117 is connected to NH 6 by the Kona Expressway via the Vidyasagar Setu. Spurt in road accidents July 21, 2015.
Roads in Kolkata have never been safe as fatal accidents and congestions are common throughout the day. According to the data released by the National Crime Records Bureau (NCRB) for 2014, Kolkata has recorded the highest percentage increase in road accidents among all the major metro cities in India.
Compared to 2013, which had witnessed a total of 4,206 accidents, 2014 recorded a total of 4,789 accidents, a phenomenal jump of 13.9%. In all, 431 people lost their lives on Kolkata roads while another 4,832 people were left injured in 2014.
However, the fatalities in the city remain low when compared to other metros like Delhi (1,332 deaths), Bengaluru (729 deaths) and Chennai (1,046 deaths). The huge jump in road accidents in Kolkata in 2014 is worryingas it is nowhere near the state figures that have recorded a mere 3.4% jump (78,305 accidents in 2013 to 81, 510 in 2014).
The only other Bengal city that finds mention in the NCRB list - Asansol - has witnessed a 1.2% rise in road accidents.
Pedestrians worst hit
Due to growing encroachment of footpath on busy roads, pedestrians are forced to walk on the traffic-prone streets, lanes and highways leading to accidents. Traffic planners and police point to two basic reasons for the sudden jump in traffic accidents - road encroachment by hawkers and the rise of mixed vehicles (slow moving and fast moving) using the same flank of the road.
The road accident figures in Kolkata are all the more worrying since two other metros - Mumbai and Chennai - have done exceptionally well in bringing down the number of accidents. While Mumbai has brought down its total accidents by 26% in 2014, Chennai has managed to cut it down by another 2.5%.
Among the highest number of victims are those travelling on foot, the two-wheelers and even bicycles. While in 81 cases, two-wheelers were involved, bicycles were involved in 31 of them and buses in 31. In Kolkata, cars were involved in just 15 road accidents, the auto and trucks in two others.
Compare this to Delhi where cars were involved in 268 cases and Mumbai where cars caused 109 accidents in 2014.
Peak hour congestion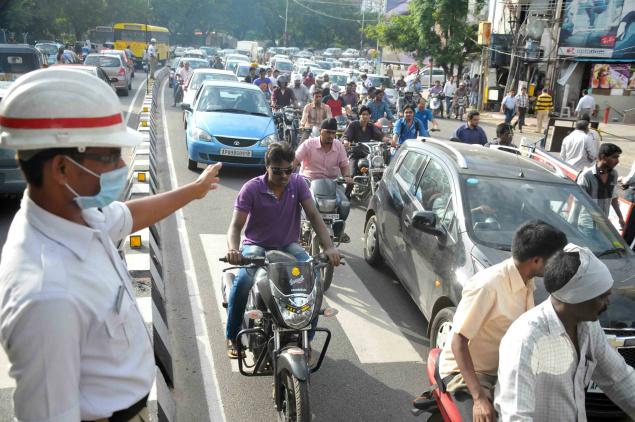 Most of the accidents take place when there is maximum traffic on Kolkata roads leading to peak hour congestion. While 774 accidents took place between 9 am and 12 noon, another 749 of them took place between 6 pm and 9 pm. However, that does not mean driving at night in Kolkata is safer.
Between 12 midnight and 3 am in the morning, a significant 368 accidents took place in 2014.
Researchers from Kalyani University concluded on their paper on accidents in Kolkata that the pedestrians are the largest victim group of fatalities and injuries. Pedestrians are even in danger at zebra crossings particularly from motorists.
The increasing vulnerability of pedestrians to road traffic accidents is largely due to the conflicts between pedestrian and vehicles, excess speed, careless driving and poor road visibility.
Ways to minimise accidents
The causes of accidents can be minimised to a greater extent by adopting the following measures:
Installing good signal system.
Preventing the U-turn.
Eliminating the irregular stopping of auto-rickshaws at intersections.
Installing road divider to prevent lane changing activities.
Introducing raised hump with vertical post.
Sidewalk for pedestrians
Control of road side parking.
Kolkata police say they are aware of the problems that lead to road accidents. They have introduced a number of changes since 2014 besides identifying the danger spots and specific reasons for the same at each of their traffic guards.
Kolkata Metro line
Kolkata was the first city in South Asia to have an underground railway system that started operations in 1984. It is considered to have the status of a zonal railway. It is run by the Indian Railways. The underground Metro is a very well maintained and clean system.
The existing Kolkata metro line is mostly underground which makes it different from Delhi Metro and Bengaluru Metro (Namma Metro) which are mostly overground. The underground line begins at Noapara in the north and continues south through Park Street, Esplanade in the heart of the city till the southern end in New Garia.
There are new Metro lines being built to serve other parts of Kolkata, including an East West corridor linking Howrah to Salt Lake Sector 5. Construction has started after being halted due to a legal issue. Other lines being constructed are Line 3 Behala - Joka area, Line 4 Dakhineshwar area and Line 5 New Garia Airport area. Some extensions are also planned. Trains run every 10–15 minutes from 7 am to 10.30 pm from Monday to Saturday and from 10 am to 10 pm on Sunday.
Fares are between Rs 5-25. Kolkata Metro has got commendable reviews due to its prompt service, affordable tickets, cleanliness and other facilities.
Govt bus services
Kolkata has an extensive network of government run and privately run buses. The ticketing system is not centralised one and one has to purchase separate tickets for buses, metros, trams and trains. Multiple government services like CSTC (Calcutta State Transport Corporation), CTC (Calcutta Tramways Company) and WBSTC (West Bengal Surface Transport Corporation) ply regular services in Kolkata.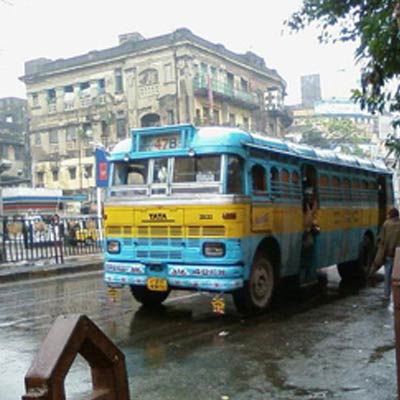 There are also various types of privately run buses. The private-owned buses are of two types, the regular ones and the mini-buses. The regular private buses are coloured light-blue and yellow. The mini-buses are of brown and yellow colour, and contain lesser number of seats.
The mini-buses were started in the late seventies as a relief for the office commuters from the overloaded buses by being a sitting-only service. But this has given way to severely overloaded and crowded mini buses (and other buses too), largely due to the massive population of Kolkata. The government-run buses are run by several authorities like CSTC, SBSTC, NBSTC, WBSTC and the CTC.
Government buses have no colour code and can be identified only by the appropriate symbol (CSTC or CTC or WBSTC) on their body. Usually these buses either have bigger chassis (CSTC, CTC and NBSTC) or smaller white chassis (WBSTC and SBSTC). Larger and longer buses have been introduced under the JNNURM scheme.
These buses are superior and they have LED display boards which show the route, source and destination and also the popular bus stops.
A/C buses for comfort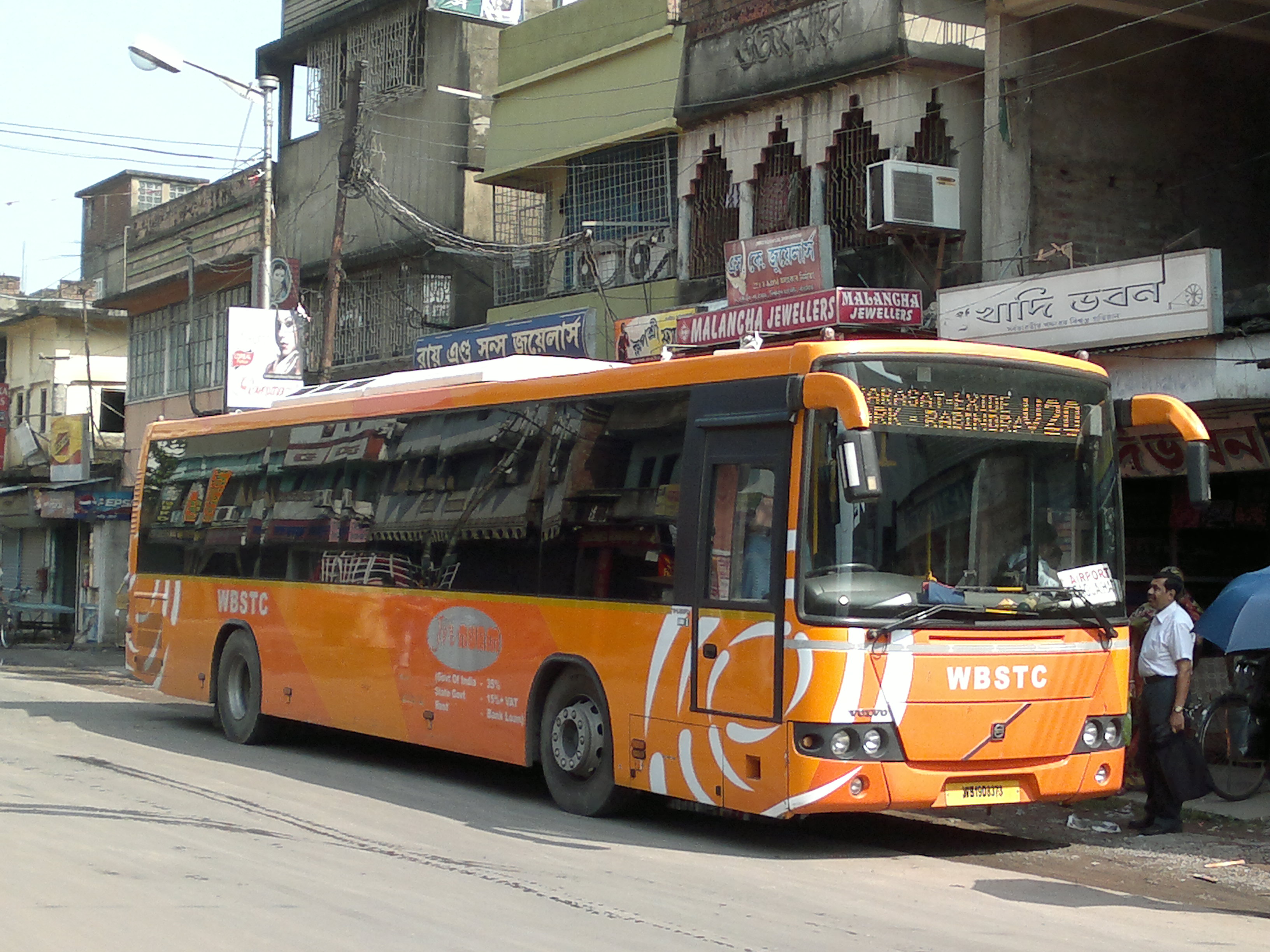 Air-conditioned buses were introduced by the WBSTC and CSTC. Under the JNNURM, these buses have been included as a part of travel comfort to commuters. Air-conditioned buses are operated by WBSTC directly and through outsourcing.
These buses are served by Tata Marcopolo and Volvo Low Floor buses. These buses connect places like the airport, Barasat, New Town, Rajarhat, Salt Lake Sector-V, Howrah station, Santragachchi (a station on the Howrah-Kharagpur railway line), Kudghat and Tollygunge.
The road network in Kolkata is vast. Air conditioned buses have also been launched by CSTC on 28 different routes across the city and suburbs. They are in blue and white livery and is a complete fleet of Volvo 8400 model and Ashok Leyland AC Jan Bus bought under JNNURM scheme.
Around 450 JanBus, world's first, has been launched from 30 July 2014. These buses have been manufactured by Ashok Leyland. Long distance buses starting from Kolkata to various places like Bakkhali, Digha, Siliguri and other cities originate from the central bus depot at Dharmatala (popularly known as Esplanade).
The tickets can be purchased on spot from the counters or from the conductor on the bus.
Kolkata taxis
The metered-cabs are mostly of the brand Ambassador manufactured by Hindustan Motors (now out of production). Once in a while, one or two Maruti Omnis, and Tata Indigo CS can be seen painted in yellow.
A/c cabs (known as "Blue-Arrow") and maroon cabs (running on compressed natural gas) have been introduced. Orix, a provider of auto services, has introduced an a/c radio taxi service in Kolkata with the name Kolkata Cab. Kolkata Cab has fleets consisting of Indigo Marina only, which has gained popularity among the residents because it has comfortable seats, GPS monitoring, digital tamper-proof meters, receipt printers and lost-and-found facilities.
Mega Cabs are also offering similar commuting facilities. Some other prospective radio taxis rolled into the city are Fast Track, Uber Black, Ola, Easy Cabs and Meru Cabs, which are quickly gaining acceptance due to regular strikes by the taxi unions.
The yellow cabs are all non-A/c and can be identified by its yellow livery and a glow light on top referring as taxi. From December 2013, Kolkata has been gifted with a new fleet of 'no refusal taxis'. Most of these taxis are A/c and are in white livery with a blue strip.
The fare is same as in that of yellow taxis (same rate as flashed on the meter), except if driven with A/c turned on, the passenger has to pay 25% on the displayed fare.
Kolkata tram
Kolkata is the only Indian city to have a tram network and the residents take pride in this legacy service dating back to colonial period. Trams are under the administration of the Calcutta Tramways Company, a government enterprise more popular as CTC. The trams are claimed to slow down other traffic leading to groups who demand abolishing the tram service for good.
The environment-friendliness and the old charm of the trams attract many people. The tram lines laid in some major roads are being renovated to maintain the tram lines on the same level plane as the rest of the road, thereby smootheningthe road. In places, the original central boulevards reserved only for the trams have been removed. The tram lines are thus brought in the same plane as that of the road.
The usable space of the road for vehicle movement has thereby considerably increased in Kolkata. With the embedding of tram tracks on the road surface, the overall surface has become smoother, easing the traffic to some extent. As the tracks run in the centre of the heavy traffic, commuters find it difficult in getting to the tram stops. Hence, less number of people are able to use the tram easily.
Mostly trams are found to be running with many seats vacant even during rush hours. This has caused reduction of revenue for Calcutta Tram Company. In many thoroughfares one flank of the road is used for parking cars on payment of fee. Thereby generating revenue to the government as well as providing space for car parking.
Hence, relaying tram tracks on the side of the road may not be feasible. Though trams are environment friendly, the main drawbacks of tram are that they are slow moving and occupy a lot of road space which itself is less in Kolkata. It will be better to keep trams in only some roads where problem of traffic jams are expected to be less.
One way to attract commuters is to improve the maintenance of the trams as well as the support of local traffic sergeants. Signals can be modified to stop when a tram is coming for its easy passage. Several initiatives have been started to improve the tram's popularity as well as increasing revenues.
Tram Museum is the latest addition to such schemes which also include heritage trams and meals on wheels trams i.e. with dining options.