Tamil Nadu Employment
Tamilnadu Employment Statistics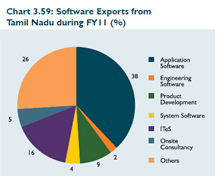 Despite being an industrialised state, there is clamour for government jobs and the life-long security it offers for those with minimum qualification and low basic skills. It is surprising to note that TN has the most number of people, at nearly 80 lakh, registered with employment exchanges though the economy has diversified thanks mainly to the wide spectrum of industrial segments offering career opportunities to the youth.
Some of the largest employers are textiles, construction, automobiles and auto components, leather, metals and forgings, chemicals, precision tools, software (and allied services), education and tourism cum hospitality sectors. But with more people being thrown out of agriculture, the size of the unorganised sector is increasing by the year.
The challenge before the government is to how and where to employ the lakhs of young graduates coming out of colleges, so that their productive work helps in speedy industrial growth of the state.
Worker Population Ratio Tamilnadu
According to the twelfth Plan (2012-17), at least four million new jobs are expected to be created by the end of this plan period in the state. The focus must be on revamping the skill development mission to inculcate the basic skills for entry level jobs in various sectors which will help at least 8 lakh people by 2017.
According to the Employment and Unemployment Survey for 2010 done by the Labour Bureau attached to the Union ministry, the labour force participation rate (LFPR) per 1000 persons is 446 for Tamil Nadu and 359 at the national level.
The worker population rate (WPR) per 1000 persons is 420 for Tamil Nadu whereas 325 at the national level. The unemployment rate is 60 for Tamil Nadu and 94 at the national level as per 2010 field survey done by the labour ministry.
Unemployment rate in Tamilnadu
According to the National Sample Survey (2009-10), the total population in the country was 1182 million (1.1 billion), of which Tamil Nadu accounts for 6.10%. Tamil Nadu contributes 7.74% of the total labour force in the country and 8.3% of the workforce.
In India, the number of persons unemployed was 40 million of which 1.9 percent were from Tamil Nadu.
Tamil Nadu was one among the nine states having unemployment rate lesser than that of all India. The unemployment rate in rural TN at 15 ranked 8th place among the states. Only nine states had lower unemployment rate in urban areas as compared to that of all India figure of 16 per 1,000.
With an UR 32 per 1,000 in urban areas, the TN ranked eighth and also one among the nine states having unemployment rate lower than India's UR at 34 (per 1,000) in urban regions.
History of Tamil Nadu | Tamil Nadu Geography | Tamil Nadu Culture | Tamil Nadu Economy | Tamil Nadu Temples | Tourism of Tamil Nadu | Tamil Nadu Education | Tamil Nadu Business | Tamil Nadu Employment | Industrial Scenario of Tamil Nadu | Infrastructure | Lifestyle in Tamil Nadu | Traffic in Tamil Nadu | Tamil Nadu Elections | Tamil Nadu Election Results | Tamil Nadu Map | Tamil Nadu Flood pictures | Tamil Nadu News

Madurai | Mahabalipuram | Kanyakumari | Chidambaram | Trichy | Yercaud | Pondicherry | Ooty |