Buy Elvy Porcelain Flora Dinner Set Online India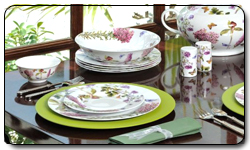 Planning to invite the newlyweds for lunch? Or your boss has called up that he is coming for the Sunday lunch at your home? But worried about how to serve with the regular plates and dishes already available with you? Elvy Porcelain Flora Dinner Set is the solution for all your little things related to such lunch at your home.
The design printed on this dinner set is so grand that, it will add more colour and vigour to your Sunday brunch. The boss would obviously not stop to compliment you for this product, it so stylish and stunning that it will give a five star hotel effect to your dining area. If the newlyweds are coming for the lunch, they would also feel that they have got married again and having their marriage lunch for the second time.
After a big pressure and tiredness you not have to worry about the washing work, as this set is made up of Porcelain which adds perfect toughness to the set that the oil stains would be easily washable, so all you have to do is just stack the plates and put into the Dishwasher remove and wipe out with a clean and dry cloth and you again have the recently purchased Dinner Set.
Elvy Porcelain Flora Dinner Set consists of
24-pieces, with
6 – Dinner Plates
6 – Side Plates
6 – Bowls
1 – Large Vegetable Bowl
2 – Oval Platters
1 – Casserole with lid
1 – Napkin Holder
Elvy Porcelain Flora Dinner Set Details
Item Name
Elvy Porcelain Flora Dinner Set
Unit
24 Pcs Set
Price
Rs. 14995