Buy Superware Blue Hill Dinner Set Online India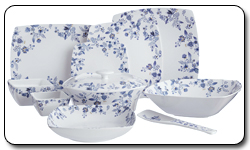 This beautiful Superware Blue Hill Dinner set is made up of heavy duty melamine ware, which is a heat resistant till 120 deg. Celsius and can be used to head the food in Microwave. Special quality materials are used in manufacturing of this Dinner Set which makes it of high durability and Scratch Resistant.
Different method is used to apply the design patter to the base glass to make it long lasting and stain proof, so that it does not fade away even after years of use and can also be used on a daily basis. It is also easy to clean and Dishwasher safe, easily stackable as it is Break Free and Chip Resistant.
The printed design on Superware Blue Hill Dinner Set is of food grade colour, non toxic and hygienic. This square shaped dinner set comes up with 38-pieces, so you have not to worry if have invited a big family for dinner. Even you can carry this to picnic or family outings as it is easily stackable, break free and chip resistant, so all the home makers you need not to worry if you have a sudden picnic along with your kids.
Just stack this set and put it in your carrier and get ready for the exciting fun at the picnic.
Superware Blue Hill Square Dinner Set Details

Item Name
Superware Blue Hill Dinner Set
Unit
38 Pcs Set
Price
Rs. 8499