Word Power Made Easy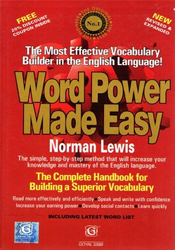 Word Power Made Easy is a comprehensive vocabulary‑building system created by legendary grammarian Norman Lewis that provides a simple, step‑by‑step method to increase your knowledge and mastery of the English language.
Word Power Made Easy is the best and quickest means to a better vocabulary in the English language. As you complete the exercises in this book, you will learn how to tell if you're using the right word as well as how to pronounce and spell it. You will also learn how to avoid illiterate expressions and how to speak grammatically, without making embarrassing mistakes.
Book Details
Book Name
Word Power Made Easy
Author Name
Norman Lewis
Unit
1 Pcs
Price
Rs. 100