Who Will Cry When You Die?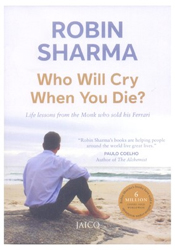 We have been living a perfect life, but have we wondered who will cry when you die? Yes this book gives 101 ways of worry-free life. There are many chapters in this book like Discover your calling, You're your Monkey Mind, Look for the higher meaning of your work, Learn to be Silent, Have a Living Funeral, Listen to Music Daily, Become the CEO of Your Life.
Many more lessons which we are already aware about, but we hardly follow. An enormous book to put your daily routine with a mindset to gain a lot of things out of your life rather that the regular routine of just earn for your daily needs.
A book which straight away gives your ideas on life management from experts who have been experimental in improving many lives globally. The author of this book Robin Sharma was ranked seventh in International Leadership Professional Gurus of 2012.
This books is specially for those who are dreaming for better days but are unable to fullfil because of lack of time and energy, this book will surely help to find the right path in your journey for inner peace also the readers will be satisfied with the life's achievement. This is the first edition of Who will Cry when you die? published in 2006 now available in paperback.
Book Details
Book Name
Who Will Cry When You Die?
Author Name
Robin Sharma
Unit
1 Pcs
Price
Rs. 86