Two Years, Eight Months and Twenty Eight Nights : A Novel Online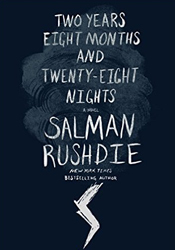 This novel by veteran author Salman Rushdie is about the stable testament explained by reciting a story. What if in future, suddenly the New York City is hit by storm and strange things begin to happen? A gardener who is loved by everyone is unable to keep his feet on ground.
What if at a Mayor's office, a baby is able to identify the corrupts and they are punished with blemishes and boils? Both the situations are completely out of mind and beyond our imagination, such fights between light and dark, across more than one thousand nights where beliefs are challenged and words turn poison, silence has no cure, and noise might be cursed to hide.
Such incidents inspired by wonder tales of east, two years, eight months and twenty-eight nights is ironic; with completes mess, rivalries, disloyalty has been penned down in this novel. Rated to the full points by the viewers now this can ordered online and availed at your doorstep with easy payment options to ease your convenience.
Book Details
Book Name
Two Years, Eight Months and Twenty Eight Nights : A Novel
Author Name
Salman Rushdie
Publisher Name
Hamish Hamilton (10th September 2015)
Paperback
304 pages
Unit
1 Pcs
Price
Rs. 389