APJ Abdulkalam: Turning Points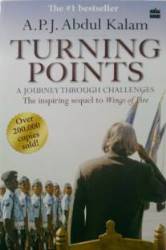 Turning Points: A Journey Through Challenges is a book, which elaborates a vision for country to become a prosperous and developed nation. Written by Former Indian President Dr APJ Abdul Kalam in the 2012, this book tries to explain the dream and his vision of the eminent scientist.
Being a sequel to his autobiography, Wings of Fire, this book vividly described the events the period of 2002-2007, where Kalam was the President of India. Among the programme initiated by the former President it also includes Kalam's important projects like PURA which aims to push urban amenities to rural areas. The author also highlights the significance of villages which play a proactive role in shaping the country's economy.
It should be noted that 2002 to 2007, the period were the country made several advances in the science and technology is also the time when Kalam was President of India. The book sheds light on a personal and public life of a scientist who rose to be the first citizen of the country, who made several successful efforts to materialize his goal for making India a prosperous nation. Published in June 1st, 2012, the book is must have for those who wish to know about the dream, Kalam had in India.
Book Details
Book Name
APJ Abdulkalam: Turning Points
Author Name
APJ Abdulkalam
Unit
1 Pcs
Price
Rs. 164