I Too Had a Love Story, Book 1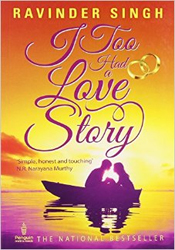 I Too Had A Love Story is a debut novel of Ravinder Singh, where he narrates his own love story how he loved, lost and found something else instead. The book starts with the reunioun and takes to the tumultuous journey of finding love in 21st century, it leaves a question of the truth in a love marriage where both of them have not yet met each other.
After facing so many of difficulties of the modern world, the story makes us know more about the destiny of the couples. Romantic and Humorous, this book is for those who wonder on how relationships are successful in this fast life of metros. In short a modern world love story described in a simple manner with no much deep sentiments, this is a reprint edition published in 2012 is available in paperback.
To avail this book at your doorstep, you may place an online order and make easy payment as per your convenience. You can even find many more such books at a discounted price rather that available in stores.
Book Details
Book Name
I Too Had a Love Story, Book 1
Author Name
Ravinder Singh
Unit
1 Pcs
Price
Rs. 87