Life is What You Make it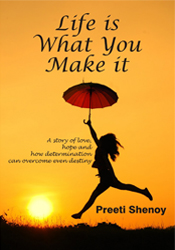 Life is What You Make It, is a story of young girl Ankita Sharma who is smart and lives her life as she likes. Ankita is born in a middle class family in a time when Doordarshan was the only source of entertainment and wiritng love letters was a general trend, every youth dreams of living a college of life.
Just like any other person, Ankita also got admission to MBA Institute based in Mumbai. Here begins the main story , where Ankita's happiness is touching sky untill a sudden twist in her life where she is left disturbed just because of her own fault. After six months Ankita is seen in a Mental Asylum, What would have happened to Ankita?, Why she is in Mental Asylum?, What was her fault that led her to found herself in Mental Asylum? all these would be the questions arising your mind after reading all about this book.
This is the highlight of this book, that what if your life suddenly goes upside down and takes you to the worst condition? will you stand to face the situation or run away from it? this story is a an example for such situation. Set in eighties, in two cities, Life is what you Make it is a facination account of growing up, courage, acceptance and how an unachieveable spirit can overcome the shots that destiny throws at you. Basically it is a love story that makes use question our identity and the concept of rationality.
Book Details
Book Name
Life is What You Make it
Author Name
Preeti Shenoy
Unit
1 Pcs
Price
Rs. 48