Alessia74 Women's Clutch Cream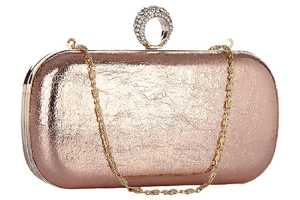 Clutches have always been a kind, which must match to your dress as per the occasion. This clutch just reminds same, it would match perfect with a black coloured gown for a Valentine party.
If your lady love is supposed to wear a black coloured outfit on the Valentine's party, just don't wait to gift this clutch on this valentine. It is the latest form of clutch which is in huge demand and goes perfect for any occasion.
It can be carried as clutch or it has a chain strap and can be carried like a hand bag too.
This Cream coloured clutch can be availed online with 55% discount. So just do not wait to for Valentine's Day to come, just be ready with this clutch to gift your lady love. This is going to be your best of moment when she will open this clutch wrapped with a gift cover. You may order this online with easy payment options as per your convenience.
Product Details
Synthetic material cream colored clutch
3 inches x 5.5 inches x 7 inches ( H x L x W)
Snap closure
This product has 6 months warranty
Alessia74 Women's Clutch Cream Details
Item Name
Alessia74 Women's Clutch Cream
Unit
1 Pcs
Price
Rs.1,299.00