Mahi Swarovski Zirconia Collection Choker Necklace Set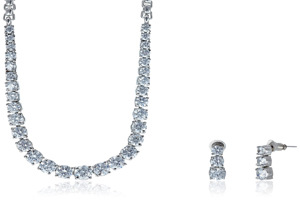 Girl's love jewellery! Yes this is a universal truth, when it comes to shopping the very first thing a girl would buy is Jewellery. However there are many kinds of Jewellery and Necklace is one of them.
That too if it is an expensive stone studded then it is like icing on a cake, Swarovski is the brand which is famous for stones, the jewellery studded with these stones just look awesome.
Your lady love would surely like it, and if you are not planning to gift her anything this Valentine's, you have a chance to surprise her with this Necklace Set. The White coloured Necklace set is simple one made up of Brass Alloy and the stones studded with Rhodium plating.
The Necklace set comes with stylish Jewellery box with Swarovski Zirconia Tag so as soon as you receive this Necklace set just Gift pack and present it in a romantic manner. Please do not wait to order this set at you are going to buy this with almost 67% discount.
Product Details
Stone : Made with Swarovski Zirconia (Cubic Zirconia by Swarovski)
Plating : Rhodium Plated
Metal : Brass Alloy
Comes in a elegant jewellery box with a Made with Swarovski Zirconia Tag for Authenticity.
Certificate shown in the image is for view purpose only. It is not shipped with the product.
Choker Necklace Details
Item Name
Mahi Swarovski Zirconia Collection Choker Necklace Set
Unit
1 Pcs
Price
Rs. 4,999.00