Tamanna Biography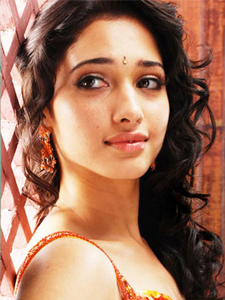 Name: Tamanna Bhatia
Date of Birth: December 21, 1989
Family: Father - Santtosh Bhatia Mother - Rajni Bhatia and a brother Anand Bhatia.
Debut Film (Hindi): Chand Sa Roshan Chehra
Debut Film (Tamil): Ileana In Kedi
Debut Film (Telugu): Sri

Tamannaah Bhatia is an enticing actress and a top ranking heroine in the South Indian film industry. She has belted out many super hit movies and has a huge fan following.
Tamanna was born on 21 December 1989 in Mumbai, in the family of Santhosh and Rajani Bhatia. Her father is a financial consultant. She has an elder brother, Anand.
Tamannaah completed her early education in Maneckji Cooper Educational Trust School, Juhu and took BA degree from National College, Mumbai.
More On Kollywood
Kollywood Upcoming Movies
Kollywood Stars Biography
Kollywood Stars Latest Event Gallery
Kollywood Top 10 Songs
She came to limelight through the music video of Abhijeet Sawant, the winner of first Indian Idol. Tamannaah entered into films through Bollywood film 'Chand Sa Roshan Chehra' in 2005. After that she headed to the South Indian film industry. She made her acting debut in the Telugu film Sri in 2005 and in 2006 she acted in the first Tamil film, Kedi.
She was chosen to act in two college-life-based drama films, 'Happy Days' in Telugu and 'Kalloori in Tamil. These movies released in 2007 were highly successful and Tamannaah got acclamation for her excellent performance.
After that she played dominant role in many blockbuster films like Padikathavan (2009), Ayan (2009), Paiyaa (2010) and Siruthai (2011). Tamannaah made a successful comeback in Tollywood in 2011 with the romance film '100% Love' for which she grabbed many awards.
She acted in super hit movies like as Racha (2012), Cameraman Ganga Tho Rambabu (2012) and Thadaka (2013). She acted in the Telugu historical film Badhrinaadh in 2011 opposite Allu Arjun that flopped.
She also starred in Tamil action film Hari's Venghai (2011) opposite Dhanush that was not so successful. Tamannaahis is honoured with many awards for her performances in Indian cinema. She won the CineMAA Award for Best Actress and received nominations at various other award ceremonies.
Tamanna Latest News
Updated On :
Apr 27,2019 3:18 pm
New Delhi, April 27 (IANS) Zohra Sehgal didn't earn the epithet of Bollywood's 'laadli' for nothing. On her 107th birth anniversary on Saturday, actress-filmmaker Pooja Bhatt recounted an incident involving the talent, whose endearing wit and charm continues to live on. View More..

Updated On :
Apr 25,2019 1:22 pm
Mumbai, April 25 (IANS) Eleven years after his death, a prominent road square named after the legendary National Award winning playback singer Mahendra Kapoor here, was unveiled by actor Jeetendra along with other celebrities, according to an announcement on Thursday. View More..

Updated On :
Apr 18,2019 10:22 am
New Delhi, April 18 (IANS) Decades before Deepika Padukone chose to play a girl with an acid-scarred face on the big screen, Zeenat Aman and Rekha essayed strong women with disfigured faces in films, a medium where the heroine has typically lent glamour. View More..

Updated On :
Apr 16,2019 11:16 am
Mumbai, April 16 (IANS) As the news of a fire at the Notre Dame broke out, Bollywood celebrities like Rishi Kapoor, Nimrat Kaur and Arjun Kapoor among many others took to social media to voice their heartache on seeing the iconic cathedral in flames. View More..

Updated On :
Apr 07,2019 1:28 pm
Chennai, April 7 (IANS) Actor-filmmaker Aamir Khan says that southern megastar Chiranjeevi, whom he accidentally ran into at an airport in Japan, will always be an inspiration for him. View More..

Updated On :
Apr 05,2019 1:02 pm
Mumbai, April 5 (IANS) Global make-up legend Bobbi Brown has picked Indian stars Tamannaah Bhatia and Malaika Arora as her muses for her maiden India tour this month. View More..

Updated On :
Mar 24,2019 4:52 pm
New Delhi, March 24 (IANS) Down with two releases already in 2019, Tamannaah Bhatia has a growing kitty of projects across genres and languages. The actress says being a part of epic two-part drama "Baahubali" not just made her adventurous physically, but also brave in terms of decision making in life. View More..

Updated On :
Mar 16,2019 7:56 am
Mumbai, March 16 (IANS) Actress Tamannaah Bhatia has signed up for two new projects. One is a Telugu film, and one in Tamil. View More..

Updated On :
Mar 15,2019 2:08 pm
Mumbai, March 15 (IANS) Bollywood celebrities including Amitabh Bachchan, Anupam Kher and Hansal Mehta among others have expressed their sadness over the collapse of a portion of an overhead pedestrian bridge outside the Chhatrapati Shivaji Maharaj Terminus here. View More..

Updated On :
Mar 02,2019 2:18 pm
Chennai, March 2 (IANS) Actress Tamannaah Bhatia, who has a no on-screen kissing clause in her film contracts, is ready to break the policy for actor Hrithik Roshan. View More..

Updated On :
Feb 26,2019 2:06 pm
Mumbai, Feb 26 (IANS) The Indian film fraternity lauded the Indian Air Force (IAF) strike on Pakistan terror camps on Tuesday morning with full fervour, saluting the bravery of the real-life heroes who carried out the mission. View More..

Updated On :
Feb 14,2019 7:26 pm
Pasadena, Feb 14 (IANS) Amazon Prime Video is expanding its India slate of original series. View More..

Updated On :
Jan 24,2019 6:00 pm
Mumbai, Jan 24 (IANS) On National Girl Child Day on Thursday, Indian film celebrities Prosenjit Chatterjee, Yami Gautam and Tamannah Bhatia among others, urged everyone to educate and empower the girl child for a brighter future. View More..

Updated On :
Jan 22,2019 8:28 pm
Patna, Jan 22 (IANS) A Bihar court on Tuesday ordered filing of an FIR against Gujarat Chief Minister Vijay Rupani and state's Congress MLA Alpesh Thakore for the violence against migrant workers from Bihar in Gujarat. View More..

Updated On :
Jan 18,2019 9:14 pm
Pune, Jan 18 (IANS) Boxers Ankit Narwal, Vanshaj and Preeti Dahiya played a key role for Haryana who reaped as many as eight gold, eight silver and 15 bronze medals from boxing in the Boys' Under-17 and Girls Under-17 categories at the at the Khelo India Youth Games (KISG) here on Friday. View More..

Updated On :
Dec 31,2018 7:24 pm
Mumbai, Dec 31 (IANS) Actress Parul Yadav, who is playing the lead role in the Kannada remake of the Bollywood film "Queen", says from removing the accused from his position to creating collective consciousness among people regarding sexual harassment at the workplace, #MeToo movement is a positive change in every workplace including film industry. View More..

Updated On :
Dec 29,2018 1:56 am
Mumbai, Dec 29 (IANS) Actress Parul Yadav, who is playing the lead role in the Kannada remake of Kangana Ranaut-starrer "Queen", says that she is excited to show the film to the Bollywood actress. View More..

Updated On :
Dec 21,2018 3:32 am
Mumbai, Dec 21 (IANS) Actress Priyanka Chopra and her singer husband Nick Jonas hosted their third wedding reception in Mumbai on Thursday. The newlyweds partied with some of the top Bollywood stars at Taj Lands End Hotel. View More..

Updated On :
Dec 20,2018 1:52 pm
Mumbai, Dec 20 (IANS) The teasers for the Tamil, Telugu, Malayalam and Kannada remakes of Kangana Ranaut's Hindi hit "Queen" will be unveiled simultaneously on Friday. View More..

Updated On :
Dec 15,2018 5:02 pm
Mumbai, Dec 15 (IANS) Telugu-Tamil actor Sundeep Kishans latest release "Next Enti" may not have performed as well as expected. But he is unfazed. View More..