Surya Biography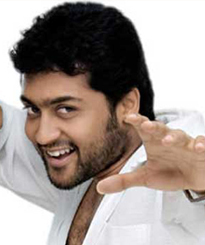 Saravanan commonly known as Surya is a successful actor in Tamil film industry. He has performed as a lead actor in over 28 films of various genres.
Surya was born to famous Tamil actor Sivakumar and his wife Lakshmi in Chennai. He is the eldest among his siblings. Surya did his schooling from St. Bede's School in Chennai and completed his B.Com from Loyola College.
He worked for few years in the garment industry before joining films. Surya started film career with NerrukkuNer, (1997) with Vijay a highly acclaimed film. He got success in "Friends" where he again acted with Vijay.
More On Kollywood
Kollywood Upcoming Movies
Kollywood Stars Biography
Kollywood Stars Latest Event Gallery
Kollywood Top 10 Songs
His film Nandha, directed by Bala rocked at box office and Surya grabbed his first filmfare award for best actor in this film.
Surya worked with Vikraman in the film UnnaiNinathu which was highly successful. This was followed by MounamPesiyadhe which also achieved box office success.
Surya acted as police officer in KaakhaKaakha that was a blockbuster.
In Perazhagan, Surya had double role, one as a boxer and the other a handicapped phone booth keeper. His role as the handicapped was highly applauded by audience and he received the Filmfare Award for Best Actor for his performance.
In 2005, Surya gave excellent performance in the super hit movies Aaru and Ghajini. Ghajini was his third hit and earned over Rs.200 million at the box office.

His acting talent was seen in Bollywood film Rakta Charitra directed by Ram Gopal Varma, a two-part political drama.
Surya has been the ambassador for TVS Motor, Aircel and Sunfeast. He has endorsed Saravana Stores, Bharathi Cements and EmamiNavaratna products and Malabar Gold. He had signed fresh deal with Nescafé, Zandu Balm and with Close-Up (toothpaste).
He is also engaged in social work. His Agaram Foundation aids children who are drop out of school. He made a short commercial video on child poverty, labour and lack of education with assistance from Tamil Nadu Education Ministry.
Suriya is also an active memember of "Save The Tigers" campaign and "REACH", a NGO helping TB patients. Surya has established a production company called Studio Green with his cousin K.E.Gnavelraja for producing and distributing a few of his own and his brother Karthi's films.
Surya is married to Jyothika Saravanan who is celebrity in Tamil industry. They have two children, a daughter and a son.
Surya Latest News
Updated On :
Mar 26,2019 8:42 am
Bengaluru, March 26 (IANS) The BJP on Tuesday named its Karnataka Yuva Morcha General Secretary Tejaswi Surya as candidate for the prestigious Banagalore South Lok Sabha constituency, which goes to poll on April 18. View More..

Updated On :
Mar 25,2019 12:18 am
Mumbai, March 25 (IANS) Veteran Yuvraj Singh (53 off 35) and Krunal Pandya's quickfire cameo went in vain as Delhi Capitals outclassed Mumbai Indians by 37 runs in their campaign opener at the Wankhede Stadium here on Sunday. View More..

Updated On :
Mar 24,2019 7:50 pm
Mumbai, March 24 (IANS) Mumbai Indians skipper Rohit Sharma won the toss and opted to field in their Indian Premier League (IPL) 2019 campaign opener against Delhi Capitals at the Wankhede Stadium here on Sunday. View More..

Updated On :
Mar 24,2019 12:00 pm
Dehradun, March 24 (IANS) The Congress has announced candidates for all the five Lok Sabha seats in Uttarakhand. View More..

Updated On :
Mar 23,2019 5:02 pm
Mumbai, March 23 (IANS) After a disappointing last season, three-time champions Mumbai Indians (MI) will be looking to start afresh when they take on Delhi Capitals in their opening game of the Indian Premier League (IPL) season 12 at the Wankhede Stadium here on Sunday. View More..

Updated On :
Mar 20,2019 2:54 pm
Shimla, March 20 (IANS) Floriculture in Himachal Pradesh is to get a boost as the Dr Y.S. Parmar University and Forestry's research station has been designated as the 'lead centre of dahlia testing' in the country, the university said on Wednesday. View More..

Updated On :
Mar 19,2019 9:32 am
Amaravati, March 19 (IANS) The Telugu Desam Party (TDP) on Tuesday announced its candidates for all the 25 Lok Sabha seats in Andhra Pradesh for the coming general elections. View More..

Updated On :
Mar 18,2019 4:54 pm
Bhubaneswar, March 18 (IANS) Biju Janata Dal (BJD) President and Odisha Chief Minister Naveen Patnaik on Monday declared the first list of nine Lok Sabha and 54 Assembly candidates. View More..

Updated On :
Mar 16,2019 5:52 pm
Dehradun, March 16 (IANS) Congress President Rahul Gandhi on Saturday met the family members of three martyrs who died in separate incidents in Jammu and Kashmir. View More..

Updated On :
Mar 15,2019 6:14 pm
New Delhi, March 15 (IANS) Congress leader Mallikarjun Kharge has refused the government's offer to attend the scheduled meeting of the Lokpal Selection Committee on Friday, saying there was no provision for a "Special Invitee" to attend the meet. View More..

Updated On :
Mar 14,2019 10:48 pm
Hyderabad, March 14 (IANS) Three more persons, including Telugu film comedian Surya Prasad, were arrested on Thursday in the murder case of Florida-based NRI businessman Chigurupati Jayaram, police said. View More..

Updated On :
Mar 14,2019 3:08 pm
Lucknow, March 14 (IANS) Authorities in Uttar Pradesh's Banda district have launched a probe into the death of a nine-month-old baby allegedly after she was given polio drops, officials said on Thursday. View More..

Updated On :
Mar 14,2019 2:20 pm
New Delhi, March 14 (IANS) The only team to win the Indian Premier League (IPL) thrice, defending champions Mumbai Indians will be gunning for their fourth title and make up for a poor run in the last season when the 2019 edition gets rolling later this month. View More..

Updated On :
Mar 12,2019 1:54 am
Mumbai, March 12 (IANS) Actor Abhimanyu Dassani, who is gearing up for the release of his debut film "Mard Ko Dard Nahi Hota", feels that he doesn't belong to film industry as her mother Bhagyashree Patwardhan Dassani was part of Hindi film industry long ago and now people know him because of the trailer of his forthcoming action-comedy film. View More..

Updated On :
Mar 05,2019 10:12 pm
New Delhi, March 5 (IANS) The Supreme Court on Tuesday acquitted six people, three of whose death sentence was upheld by it in 2009 and three others, all sentenced to death by the apex court in the same case. View More..

Updated On :
Mar 05,2019 6:40 pm
Mumbai, March 5 (IANS) A short film titled "Meera", on women's safety, will be released on International Women's Day on March 8. View More..

Updated On :
Mar 02,2019 10:02 pm
Kurnool, March 2 (IANS) Senior Congress leader and former Union minister Kotla Suryaprakash Reddy and his family members on Saturday joined Andhra Pradesh's ruling Telugu Desam Party (TDP). View More..

Updated On :
Feb 28,2019 8:56 pm
New Delhi, Feb 28 (IANS) The eight-member search committee for recommending names for chairman and eight other members of the Lok Pal is likely to submit recommendations to Prime Minister Narendra Modi on Friday in what is seen as a move to make the announcements before the electoral process kicks in. View More..

Updated On :
Feb 27,2019 6:42 pm
Hyderabad, Feb 27 (IANS) Birthday celebrations turned into tragedy as four students of a college drowned in a lake in the Suryapet district of Telangana on Wednesday. View More..

Updated On :
Feb 27,2019 3:18 pm
Thiruvananthapuram, Feb 27 (IANS) Popular actor Jayasurya shared the best actor Kerala State Film Award along with upcoming actor Soubin Shahir, while Nimisha Sajayan walked away with the best actress honour here. View More..