Sneha Biography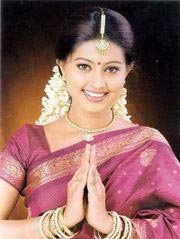 Sneha alias Suhasiniis is a charming heroine of Southern Indian film industry. The peculiar thing about her is she looks gorgeous even when she performs without makeup.
Sneha was born on 12 October 1981 in Mumbai and brought up in Dubai. She was noticed in a cultural show in Dubai by Malayalam film director Fazil.
So she made debut in Malayalam film 'Engane Oru Nila Pakshi' opposite Kunjako Boban in 2000. Even though this film failed at box office Snha was noticed by directors of Tamil and Telugu industries.
More On Kollywood
Kollywood Upcoming Movies
Kollywood Stars Biography
Kollywood Stars Latest Event Gallery
Kollywood Top 10 Songs
She immediately got offer in Susi Ganesan's 'Virumbigiren' released in 2001, where she acted opposite to Prashanth. Then she acted in 'Ennavale' (2001) with Madhavan and this was her commercially hit film.
She worked in Lingusamy directed 'Aanandam' that was highly praised by the audience. She came in limelight with films such as 'PunnagaiDesam' and 'Pammal K Sambandam' (2002).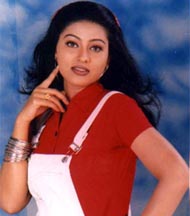 But her films 'Paarthale Paravasam', 'Yeh Nee Romba Azhaga Irrukey' and 'King' did not do well. Her fortunes turned around in the same year in 'April Maadhathil', which was a super hit film.
In 2004, she gave three hits 'Jana', 'Vasool Raja MBBS' and 'Autograph'. In 2005, she did two films 'Chinna' and 'ABCD'. She had a complicated role in 'Chinna' but her performance as a widow in 'ABCD' was praised.
Sneha grabbed two Filmfare Awards for Best Supporting Actress for her performances in Unnai Ninaithu (2002) and Autograph (2004). She was nominated thrice for Filmfare Best Actress Award.
She has also received the Tamil Nadu State Film Award for Best Actress twice; for Virumbugiren, Aanandham, Punnagai Desam in 2001 and for Pirivom Santhippom in 2008. She was honoured with a Nandi Award for her Telugu film Radha Gopalam (2005) and the Kalaimamani award in 2004.
Sneha is also involved in health promotion programs. In 2011, she promoted polio eradication programme organised by the Pondicherry Rotary Club.
On May 11, 2012, Sneha got married to her boy friend Prasanna.
Sneha Latest News
Updated On :
Apr 27,2019 9:00 pm
Jaipur, April 27 (IANS) Saturday turned into 'star war day' in Rajasthan with many Bollywood stars campaigning for candidates of different parties. Saturday was the last day of campaigning in the state. View More..

Updated On :
Apr 24,2019 6:46 pm
Mumbai, April 24 (IANS) Sensex ended above the psychological mark of 39,000 after it gained sharply during the end of the trade session on Wednesday, closing with a 489 points gain. View More..

Updated On :
Apr 22,2019 5:30 pm
New Delhi, April 22 (IANS) The fourth edition of Serendipity Arts Festival, held annually in Goa, will be a people's festival, aiming at "bringing back the magic of art into the mundane realities of life", industrialist and founder patron Sunil Kant Munjal said on Monday. View More..

Updated On :
Apr 20,2019 5:24 pm
New Delhi, April 20 (IANS) The curatorial panel for the fourth edition of the Serendipity Arts Festival, an eight-day multidisciplinary arts event held in the Goan capital of Panaji, has been announced and includes leading names from various arts disciplines. View More..

Updated On :
Apr 17,2019 4:20 pm
New Delhi, April 17 (IANS) Of the five seats in Tamil Nadu that the Bharatiya Janata Party is contesting, it is locked with the Congress on two and Communist Party of India (CPM), Indian Union Muslim League (IUML) and DMK on one each. View More..

Updated On :
Mar 18,2019 4:54 pm
Bhubaneswar, March 18 (IANS) Biju Janata Dal (BJD) President and Odisha Chief Minister Naveen Patnaik on Monday declared the first list of nine Lok Sabha and 54 Assembly candidates. View More..

Updated On :
Mar 03,2019 2:56 pm
Kathikhera (Hapur, Uttar Pradesh), March 3 (IANS) It's 9 a.m., and as most Kathikhera locals head to the fields, the village's seven women prepare their two-room pad-manufacturing factory unit for the day. An avenue for employment and financial gains, the unit has turned around the lives of not just these young harbingers of menstrual health, who make low-cost biodegradable pads, but also the many rural women who have now switched from cotton cloth to sanitary pads. View More..

Updated On :
Feb 26,2019 1:40 pm
Film: "Period: End Of Sentence", Oscar winning Netflix documentary; Director: Rayka Zehtabchi; Rating: *** View More..

Updated On :
Feb 25,2019 5:44 pm
Mumbai, Feb 25 (IANS) India's top performers in the world of motorsports were on Monday felicitated during the 2018 FMSCI annual awards function here with Chennais Raghul Rangasamy winning the coveted 'Upcoming Motorsports Person Of The Year Award'. View More..

Updated On :
Feb 25,2019 2:46 pm
Chennai, Feb 25 (IANS) Since her birth 35 years ago M.A. Sneha, an advocate in Tirupathur, has remained without any caste or religion. View More..

Updated On :
Feb 23,2019 9:40 pm
Bengaluru, Feb 23 (IANS) Women pilots flew high in the skies above the Yelahanka air base, as part of 'Women's Day' celebrated here on Saturday at the ongoing Aero India air show. View More..

Updated On :
Feb 14,2019 7:24 pm
Guwahati, Feb 14 (IANS) Two-time champion P.V. Sindhu began her quest for a third title with a win at the Yonex-Sunrise 83rd Senior National Badminton Championships here on Thursday. View More..

Updated On :
Feb 11,2019 10:58 pm
Guwahati, Feb 11 (IANS) Rio silver medallist P.V.Sindhu and former national champion Sameer Verma were on Monday marked as the top seeds of the women and men's singles, respectively, as the 83rd Senior National Badminton Championships 2018-19 gets underway here on Tuesday. View More..

Updated On :
Feb 05,2019 1:54 am
Mumbai, Feb 5 (IANS) Actress Sneha Ullal believes that presently the entertainment industry is celebrating womanhood in the right manner and that is why she wants to come back to the business. View More..

Updated On :
Feb 01,2019 7:06 pm
Mumbai, Feb 1 (IANS) Actress Sneha Ullal, who has become the brand ambassador of a perfume brand, says that a woman has more substance and is not just a pretty face. View More..

Updated On :
Jan 31,2019 10:44 pm
Mumbai, Jan 31 (IANS) Anticipation of announcements from the interim budget as well as expectations of healthy quarterly results led the equity market to rally more than 1.65 per cent as a massive build-up of short positions was witnessed on Thursday. View More..

Updated On :
Jan 24,2019 10:36 pm
Kolkata, Jan 24 (IANS) With gender issues taking the centre-stage in India, one must take note of those women who paved their way in Bollywood, but were not usually highlighted, journalist-cum-author Mallika Kapur said here on Thursday. View More..

Updated On :
Jan 23,2019 5:56 pm
New Delhi, Jan 23 (IANS) India's multifarious folk dances, including those from Tamil Nadu, Arunachal Pradesh and Maharashtra, are all set to enthrall the audience on Republic Day here on Saturday, as their performers make their way from regional community spaces to a national cultural platform like no other. View More..

Updated On :
Jan 15,2019 10:16 pm
Pune, Jan 15 (IANS) Srihari Nataraj emerged as the most prolific gold medal winner, as he added two more on Tuesday, to reach a total of seven at the Khelo India Youth Games. View More..

Updated On :
Jan 08,2019 1:40 pm
Hyderabad, Jan 8 (IANS) Telugu superstar Ram Charan, who has been trained under the guidance of Salman Khan's fitness trainer Rakesh Udiyar for the upcoming film "Vinaya Vidheya Rama", says he will flaunt a Rambo type of body in the film. View More..