Sneha Biography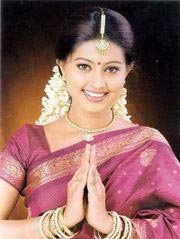 Sneha alias Suhasiniis is a charming heroine of Southern Indian film industry. The peculiar thing about her is she looks gorgeous even when she performs without makeup.
Sneha was born on 12 October 1981 in Mumbai and brought up in Dubai. She was noticed in a cultural show in Dubai by Malayalam film director Fazil.
So she made debut in Malayalam film 'Engane Oru Nila Pakshi' opposite Kunjako Boban in 2000. Even though this film failed at box office Snha was noticed by directors of Tamil and Telugu industries.
More On Kollywood
Kollywood Upcoming Movies
Kollywood Stars Biography
Kollywood Stars Latest Event Gallery
Kollywood Top 10 Songs
She immediately got offer in Susi Ganesan's 'Virumbigiren' released in 2001, where she acted opposite to Prashanth. Then she acted in 'Ennavale' (2001) with Madhavan and this was her commercially hit film.
She worked in Lingusamy directed 'Aanandam' that was highly praised by the audience. She came in limelight with films such as 'PunnagaiDesam' and 'Pammal K Sambandam' (2002).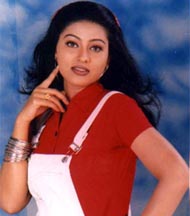 But her films 'Paarthale Paravasam', 'Yeh Nee Romba Azhaga Irrukey' and 'King' did not do well. Her fortunes turned around in the same year in 'April Maadhathil', which was a super hit film.
In 2004, she gave three hits 'Jana', 'Vasool Raja MBBS' and 'Autograph'. In 2005, she did two films 'Chinna' and 'ABCD'. She had a complicated role in 'Chinna' but her performance as a widow in 'ABCD' was praised.
Sneha grabbed two Filmfare Awards for Best Supporting Actress for her performances in Unnai Ninaithu (2002) and Autograph (2004). She was nominated thrice for Filmfare Best Actress Award.
She has also received the Tamil Nadu State Film Award for Best Actress twice; for Virumbugiren, Aanandham, Punnagai Desam in 2001 and for Pirivom Santhippom in 2008. She was honoured with a Nandi Award for her Telugu film Radha Gopalam (2005) and the Kalaimamani award in 2004.
Sneha is also involved in health promotion programs. In 2011, she promoted polio eradication programme organised by the Pondicherry Rotary Club.
On May 11, 2012, Sneha got married to her boy friend Prasanna.
Sneha Latest News
Updated On :
Feb 23,2019 9:40 pm
Bengaluru, Feb 23 (IANS) Women pilots flew high in the skies above the Yelahanka air base, as part of 'Women's Day' celebrated here on Saturday at the ongoing Aero India air show. View More..

Updated On :
Feb 14,2019 7:24 pm
Guwahati, Feb 14 (IANS) Two-time champion P.V. Sindhu began her quest for a third title with a win at the Yonex-Sunrise 83rd Senior National Badminton Championships here on Thursday. View More..

Updated On :
Feb 11,2019 10:58 pm
Guwahati, Feb 11 (IANS) Rio silver medallist P.V.Sindhu and former national champion Sameer Verma were on Monday marked as the top seeds of the women and men's singles, respectively, as the 83rd Senior National Badminton Championships 2018-19 gets underway here on Tuesday. View More..

Updated On :
Feb 05,2019 1:54 am
Mumbai, Feb 5 (IANS) Actress Sneha Ullal believes that presently the entertainment industry is celebrating womanhood in the right manner and that is why she wants to come back to the business. View More..

Updated On :
Feb 01,2019 7:06 pm
Mumbai, Feb 1 (IANS) Actress Sneha Ullal, who has become the brand ambassador of a perfume brand, says that a woman has more substance and is not just a pretty face. View More..

Updated On :
Jan 31,2019 10:44 pm
Mumbai, Jan 31 (IANS) Anticipation of announcements from the interim budget as well as expectations of healthy quarterly results led the equity market to rally more than 1.65 per cent as a massive build-up of short positions was witnessed on Thursday. View More..

Updated On :
Jan 24,2019 10:36 pm
Kolkata, Jan 24 (IANS) With gender issues taking the centre-stage in India, one must take note of those women who paved their way in Bollywood, but were not usually highlighted, journalist-cum-author Mallika Kapur said here on Thursday. View More..

Updated On :
Jan 23,2019 5:56 pm
New Delhi, Jan 23 (IANS) India's multifarious folk dances, including those from Tamil Nadu, Arunachal Pradesh and Maharashtra, are all set to enthrall the audience on Republic Day here on Saturday, as their performers make their way from regional community spaces to a national cultural platform like no other. View More..

Updated On :
Jan 15,2019 10:16 pm
Pune, Jan 15 (IANS) Srihari Nataraj emerged as the most prolific gold medal winner, as he added two more on Tuesday, to reach a total of seven at the Khelo India Youth Games. View More..

Updated On :
Jan 08,2019 1:40 pm
Hyderabad, Jan 8 (IANS) Telugu superstar Ram Charan, who has been trained under the guidance of Salman Khan's fitness trainer Rakesh Udiyar for the upcoming film "Vinaya Vidheya Rama", says he will flaunt a Rambo type of body in the film. View More..

Updated On :
Dec 25,2018 6:20 pm
Mumbai, Dec 25 (IANS) The objective of "Main Kuch Bhi Kar Sakti Hoon" is to address attitudes and practices on issues that impact womens sexual and reproductive health, says show's producer. View More..

Updated On :
Dec 17,2018 11:18 pm
Panaji, Dec 17 (IANS) The Serendipity Arts Festival, which has now become a buzzword in the Goan arts and public engagement scene, and is seeing thousands attend its 90+ projects, closed its third day with the hip-hop and rap performance of L.A. based Grammy nominated musician Raja Kumari, curated by Sneha Khanwalkar. View More..

Updated On :
Dec 14,2018 5:14 pm
Panaji, Dec 14 (IANS) Turning the spotlight on Indias rich tradition of music, dance, theatre, culinary arts, crafts, and visual arts through 90 diverse projects, the third edition of the Serendipity Arts Festival will open on Saturday with the participation of over 1,500 artistes. View More..

Updated On :
Dec 04,2018 7:54 pm
New Delhi, Dec 4 (IANS) The Supreme Court on Tuesday directed that criminal cases against present and former members of Parliament and state Assemblies, involving offences punishable with life imprisonment or death should be taken up by the special or designated courts on priority. View More..

Updated On :
Nov 28,2018 8:56 pm
New Delhi, Nov 28 (IANS) Indias foremost female racer Mira Erda is set to create history, making the list of over 50 elite drivers who will get a shot at the ambitious W Series next year. View More..

Updated On :
Nov 28,2018 4:22 pm
Mumbai, Nov 28 (IANS) "Main Kuch Bhi Kar Sakti Hoon" is set to return with its third season. With a new slogan "Main Desh Ka Chehra Badal Doongee", the shows protagonist Sneha Mathur plans to tackle fresh issues, including access to hygiene and sanitation. View More..

Updated On :
Nov 13,2018 8:28 pm
New Delhi, Nov 13 (IANS) Double centuries by Hyderabad and Bengal skippers -- Akshath Reddy and Manoj Tiwary -- against Tamil Nadu and Madhya Pradesh, respectively lit up the second day of the ongoing Ranji Trophy competition on Tuesday. View More..

Updated On :
Nov 13,2018 7:16 pm
Bhubaneswar, Nov 13 (IANS) Odisha's health sector received investment commitments worth Rs 2,750 crore, while the MSME sector got about Rs 1,177 crore worth of proposals during the third day of the 'Make in Odisha' Conclave on Tuesday. View More..

Updated On :
Oct 26,2018 6:22 pm
New Delhi, Oct 26 (IANS) Amid a rock music battle, demonstrations and walks through a traditional herb-based northeastern cuisine mark the onset of a three-day cultural fiesta that kicked off at the Indira Gandhi National Centre for the Arts (IGNCA) here on Friday. View More..

Updated On :
Oct 23,2018 2:30 pm
Lucknow, Oct 23 (IANS) An Israeli post-rock band will perform at the Indian Institute of Technology (IIT) Kanpur on Friday, an official of the Israeli embassy said on Tuesday. View More..