Priyanka Chopra Biography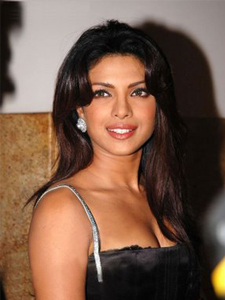 Name: Priyanka Chopra
Nickname: Sunshine, Mimi, Yanka & Priyucka Cobra
Date of Birth: 18, July 1982
Zodiac Sign: Cancer
Height: 5'9" (1.75m)
Hobbies: Singing & Writing poetry
Debut Film: Thamizhan (Tamil, 2002)
Family: Father Capt. Dr. Ashok Chopra, mother Dr. Madhu Chopra, has a younger brother.
Priyanka Chopra is most stunning and sexiest heroine in Bollywood. Her talent glitters and she holds the status of the most glamorous actress in Indian films.
Priyanka Chopra was born 18th July 1982. Her father was Capt. Dr. Ashok Chopra and mother's name Dr. Madhu Chopra. She attended at La Martinière Girls College in Lucknow. She was a as a resident student at Maria Goretti College in Bareilly. She completed her tenth standard from Boston, Massachusetts.
More On Bollywood
Bollywood Upcoming Movies
Bollywood Stars Biography
Bollywood Stars Latest Event Gallery
Bollywood Top 10 Songs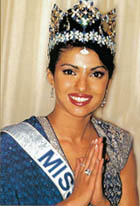 At that time, she was dreaming to become a software Engineer or a Criminal Psychologist. However, she entered the profession of modelling. She utilized her talent to become a good model.
In 2000, she took part in Beauty Pageant and was runners-up in India. She was crowned Miss World 2000 at the international Beauty Pageant contest.
After that she entered into the film industry and played lead roles in numerous movies.
They are; Mujhse Shaadi Karogi (2004), Krrish (2006) and Don (2006), Fashion (2008), Kaminey (2009), What's Your Raashee? (2009), 7 KhoonMaaf (2011), and Barfi (2012).
She received the best actress award at the Times of India Film Awards in Vancouver, for her representation of an autistic woman in the movie "Barfi."
In thriller movie, Saat Khoon Maaf, Pryank performed seven exceptional roles. Each of her roles was applauded by viewers and came in the category of memorable films.
Priyanka Chopra has a versatile character. She has participated in many social events. In 2010, she was chosenas a UNICEF Goodwill Ambassador for child rights.
Additionally, she also has interest in social work as she is associated with NGOs that handles issues of violence against women. She also contributes funds for causes that educate girls.

Apart from modelling and acting Priyanka is inclined towards music. She released her first single 'In My City' for the trip l. Priyanka Chopra is among the one of the promising actresses of Bollywood who has an image of a performer.
She is the one who is capable of having an array of skills, giving good performance at each of them. Her fans always love to see her in a new roles in each her new releases.
Priyanka Chopra Latest News