Amitabh Bachchan Biography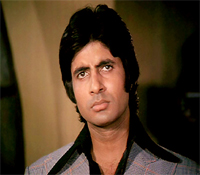 Amitabh Bachchan, a great personality and mega star in Bollywood since four decades. This renowned actor was born in the holy city of Allahabad, UP and son of prominent Hindi poet Dr. HarivanshRaiBachchan and Teji Bachchan.
He took college education in art stream from Nainital's Sherwood School and later he studied in Kirori Mal College in Delhi University.
Before entering to film industry, he was employed as freight broker for the shipping firm, Bird and Co., based in Calcutta. He left the job to choose career in acting.
He tied knot with famous actress Jaya Bhaduri in 1973 as per Bengali tradition. They both have two kids, daughter Shweta and son Abhishek who is also a popular bollywood star.
Amitabh first appeared in film Saat Hindustani in 1969 in which he got national film award but it could not generate much revenue. He was highly praised in the film "Anand" that was a bumper hit at box office. In this movie he appeared in supporting role with the superstar of that time Rajesh Khanna. He won a Filmfare Best Supporting Actor Award for his excellent performance.
After Anand, Amitabh did some good films such as Reshma Aur Shera (1971) and Parwaana (1971) but were unsuccessful at box office. In the era of 70s, Amitabh created his image as "angry young man" and that image still linger on. His first box office hit was Zanjeer directed by by PrakashMehra in which Amitabh had lead role. His other hits were 'Laawaris', 'Coolie', 'Naseeb', 'Silsila', 'Sharabi' and 'Jaadugar. All these movies had good theme and people can never forget his superb acting. He played lead role in 'Shahenshah that shivered the whole country and majority of Indian became fan of Amitabh.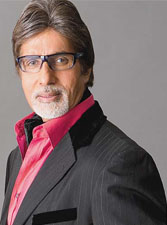 When he was at the peak of acting career, Amitabh entered in the politics and elected member of the Indian Parliament from the year 1984 to 1987.
Bachchan established a company named Amitabh Bachchan Corporation, Ltd. (A.B.C.L.) in 1996. It was India's premier entertainment company in 2000 and this company launched products and services covering the entire range of the India's entertainment industry.
In 2000, Amitabh Bachchan hosted very popular television show Kaun Banega Crorepati and earned applauds for his marvellous performance as a host. This show is still television and Amitabh is hosting with great enthusiasm and energy to entertain the viewers.
Amitabh gave highly praised performance in award winning film Paa which enhanced his image in Indian as well as international film arena.
Recently he played a lead role in political film Satyagraha produced by Prakash Jha. It is based on the current political situation of India where Bachchan protested against flawed government system of India. His highly motivated acting was appreciated by the Indian viewers.
The speciality of this mega star is that he is continuously working in cinema to give his best and maintaining the popularity.
Amitabh Bachchan Latest News
Updated On :
Apr 29,2019 10:08 pm
Mumbai, April 29 (IANS) Bollywood superstar Shah Rukh Khan took his young son AbRam to a polling booth on Monday while casting his vote as the little one was confused between "boating" and "voting". View More..

Updated On :
Apr 29,2019 3:40 pm
Mumbai, April 29 (IANS) The Bachchans, the Roshans, the Khans, the Devgns and a stream of other Bollywood celebrities voted in the fourth phase of the Lok Sabha elections here in Mumbai on Monday and urged others to step out and make their vote count. View More..

Updated On :
Apr 29,2019 12:48 pm
Mumbai, April 29 (IANS) Actors Abhishek Bachchan and Ranbir Kapoor engaged in some 'bromance' here after a football match. View More..

Updated On :
Apr 28,2019 5:44 pm
Mumbai, April 28 (IANS) Actor Akshay Kumar, roped into the Hindi remake of the Tamil film "Kanchana" along with actress Kiara Advani, kick started the first schedule of the movie on Sunday. View More..

Updated On :
Apr 28,2019 10:38 am
The phenomenon of film actors joining forces with politicians is not a new thing. In the South, it happened much earlier while the Hindi film actors took the cue a bit late. One of the reasons the Hindi film industry kept away from politics for long was that the rulers and, as such, politicians were seen as enemies of film folk. Not one, there were many Swords of Damocles hung over the film industry by the rulers and usually used as tools. View More..

Updated On :
Apr 27,2019 4:42 pm
Mumbai, April 27 (IANS) It would have been a star-studded Christmas at the Bollywood box office this year with a clash between Ranbir Kapoor, Alia Bhatt and Amitabh Bachchan-starrer "Brahmastra" and Salman Khan's "Dabangg 3". But the makers of "Brahmastra" have shifted its release date to summer 2020. View More..

Updated On :
Apr 26,2019 6:42 pm
Mumbai, April 26 (IANS) Salman Khan-starrer "Dabangg 3" has been locked for release on December 20, and it may clash with the first part of Karan Johar's mega trilogy "Brahmastra". View More..

Updated On :
Apr 26,2019 10:54 am
Mumbai, April 26 (IANS) Megastar Amitabh Bachchan says the social media is the modern generation atomic bomb as users can easily voice their opinions and have the capability to give a perspective to any move be it political or otherwise. View More..

Updated On :
Apr 24,2019 12:30 pm
Mumbai, April 24 (IANS) Bollywood actress Parineeti Chopra has been roped in for the Hindi remake of the American film "The Girl On The Train". She has called it a "thrilling ride". View More..

Updated On :
Apr 23,2019 6:44 pm
Mumbai, April 23 (IANS) Ranbir Kapoor isn't on social media, but the Bollywood star sent the virtual world in meltdown with a 'groupfie' with his fans. View More..

Updated On :
Apr 23,2019 11:24 am
Mumbai, April 23 (IANS) Ditching the luxuries of a business class, superstar Aamir Khan took everyone by surprise as he was spotted travelling in the economy class of domestic budget airline IndiGo. View More..

Updated On :
Apr 21,2019 4:00 pm
Mumbai, April 21 (IANS) Keeping up with the relaxed Sunday vibes, megastar Amitabh Bachchan on Sunday treated his fans and followers with jokes on social media. View More..

Updated On :
Apr 20,2019 2:56 pm
Lucknow, April 20 (IANS) The Samajwadi Party (SP) on Saturday announced its candidates for the Phulpur and Allahabad parliamentary constituencies in Uttar Pradesh for the 2019 Lok Sabha elections. View More..

Updated On :
Apr 19,2019 11:38 am
Mumbai, April 19 (IANS) Leading actors Amitabh Bachchan, Aamir Khan and Ranbir Kapoor have featured in a tribute song dedicated to the 40 slain CRPF troopers who died in a terror attack in Pulwama, Jammu and Kashmir, in February. View More..

Updated On :
Apr 18,2019 11:44 am
Mumbai, April 18 (IANS) Megastar Amitabh Bachchan has called director K. Bhagyaraj, who has completed 40 years in cinema, a prolific personality in the Tamil region. View More..

Updated On :
Apr 17,2019 11:42 am
Mumbai, April 17 (IANS) As Amitabh Bachchan personal blog completed 11 years on Wednesday, the megastar has prayed for its continuity. View More..

Updated On :
Apr 16,2019 11:30 pm
Mumbai, April 16 (IANS) Amitabh Bachchan is encouraging common people to try their luck by participating in the upcoming season of the TV quiz show 'Kaun Banega Crorepati-11.' View More..

Updated On :
Apr 16,2019 12:04 pm
Mumbai, April 16 (IANS) Megastar Amitabh Bachchan and Rishi Kapoor have wished luck to actress Dimple Kapadia's nephew Karan Kapadia, who is all set to make his Bollywood View More..

Updated On :
Apr 15,2019 6:50 pm
Mumbai, April 15 (IANS) Megastar Amitabh Bachchan has lent support to a fire safety campaign called Chalo India, urging citizens to be aware about fire hazards and precautions. View More..

Updated On :
Apr 14,2019 9:42 am
Films, when released, are sensitive to any and everything that may affect its potential. The box office is sensitive to just about everything that happens outside of a film auditorium. Say, a strike, an unrest, cricket, festivals and so on. Not to forget the television, video, CD, DVD and, now, OTT, the small screen content streaming. View More..