About Tamil Nadu
This land of Tamil-speaking people has an ancient civilisation dating back to Sangam era (300 BCE to 3 Century A.D.) and the denizens are proud of their language and historical roots.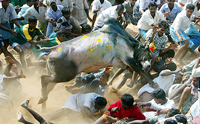 Jallikkattu
The home to Dravidians who as a race are different from Aryans (reference to fair skinned North Indians who had migrated from Central Asia) take immense pride in their cultural heritage filled with rich architecture, religious activities and farming practices dating back to centuries.
In geography, TN is the eleventh largest state in India and sixth most populous state (over 7 crore Tamils as per 2011 Census). According to the Human Development Index, the state was ranked sixth in terms of growth parameters like health, education and other services.
With state government focusing on job creation and speedier industrliasation, TN emerged as the second largest economy contributing $160 billion to nation's GDP in 2012. Having the highest number of enterprises and small businesses, the state is home to second largest employment providers in the country (9.97%) while its population share stands at just 7%.
According to a report submitted by Raghuam Rajan (presently RBI Governor) in 2013, TN has become the third most developed state based on a matrix system formulated in a "Multidimensional Development Index".
Madras Presidency
Situated in the south eastern corner of the Indian sub-continent, it is a gateway to Dravidian heartland where the entire South India more or less came under the administrative control of the then Madras Presidency after Independence.
Over the course of reorganisation of Indian states, the Telugu speaking region out of Madras Presidency was carved out to form a new state of Andhra Pradesh in 1953. Further in 1956, portions of Madras were given away to the new state of Kerala and Mysore division was attached to Karnataka due to their linguistic affinity.
The British coinage of Madras Presidency was renamed Tamil Nadu in 1968. The state was rocked by anti-Hindi stir and series of protests, agitations against the Centre's move to impose the national language here with strident demand for renaming the state as "Land of Tamils" – Tamil Nadu.
With the fear of political agitations and mass movements going out of hand, the Centre gave permission to rename the state as Tamil Nadu after much hesitation.
Ever since the Dravidian parties (DK, DMK and AIADMK, their offshoots) came to the political centre stage, there is always a dichotomy between the Centre and state with latter not willing to be just a rubber stamp to the many controversial decisions being taken in Delhi for the sake of national unity.
History of Tamil Nadu | Tamil Nadu Geography | Tamil Nadu Culture | Tamil Nadu Economy | Tamil Nadu Temples | Tourism of Tamil Nadu | Tamil Nadu Education | Tamil Nadu Business | Tamil Nadu Employment | Industrial Scenario of Tamil Nadu | Infrastructure | Lifestyle in Tamil Nadu | Traffic in Tamil Nadu | Tamil Nadu Elections | Tamil Nadu Election Results | Tamil Nadu Map | Tamil Nadu Flood pictures of | Tamil Nadu News

Madurai | Mahabalipuram | Kanyakumari | Chidambaram | Trichy | Yercaud | Pondicherry | Ooty |
Web Development company in Chennai