Set This page as your Home Page
Olympics 2016
Olympic Games commonly known as Rio 2016, being held in Rio de Janeiro, More than 11,000 athletes from 206 National Olympic Committees are taking part of this game. With 306 sets of medals, the games features 28 Olympic sports. These sporting events are taking place at 33 venues in the host city as well as at five venues in the cities of Sao Paulo, Belo Horizonte, Salvador, Brasília, and Manaus.... » Read More
Indian Sports
With over a billion people around we have very few international stars in the Sports Arena. ThisismyIndia.com aims at bringing sports closer to the people by introducing various sports activities with details on how to pursue a career in sports.
History of Indian sports
India - known for its fanaticism for cricket and hockey; started its sports odyssey long back during the great Vedic Era of India. Initially, the development of sports (games) in India gathered momentum after its important role, in maintaining the physical health, was coined by the people of India. Hunting, swimming, boating, archery, horse riding, wrestling and fishing mark the stage of infancy of Indian Sports (Games). Then came the Martial Arts which was also a strong way of self defence apart from a vigorous physical exercise.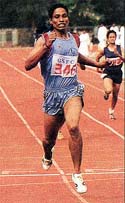 In India, sports (games) is seen as 'a way of realizing the body potential to its fullest'; also known as "Dehvada" in ancient India. The philosophical foundation of the sports (games) in India lies in the history of India dating back to Vedic Era in which the Atharva Veda said: ," Duty is in my right hand and the fruits of victory in my left". These words in the traditional mantra hold the same spirit as that of the Olympic oath that implies: ".......For the Honour of my Country and the Glory of Sport." The history of India also beckons of an interesting link between Greece (The Motherland of Sports in the world) and India which dates back to 975 B.C. when both the nations pioneered in the sports (games) like chariot racing and wrestling.
Naldehra Golf Club | Cricket | Indian Boxing | India Sports News | India Cricket News | India Tennis News | India Hockey News| Commonwealth Games | Asian Games | Olympics | SAF Games | Indian Football News
The golden history of sports in India is also evident in the immortal Indian epics like Ramayana, Mahabharata etc. Whereas during the period of Ramayana; hunting, archery, horse riding, swimming were the royal games; Mahabharata made a mark in the sports like dicing, gymnastics, wrestling, chess (Shatranj) and gulli danda. Puranas mention about the threatening game of rope fighting. The archeological excavations of Harappa and Mohanjodaro along with the religious manuscripts like Puranas and Vedas are the standing testimonials of this glorious history of Indian sports.
The historians believe that many sports (games) like hockey, archery, wrestling and chess originated in India, which are synonymous to strength and speed nowadays.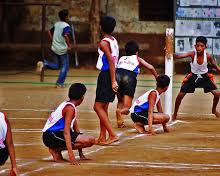 In the late Vedic Era, besides sports; the Yoga and Meditation, the inevitable parts of the toughest "Yogashastra" made India, acquire the seat of spiritualism, all over the world. This dignified discipline of Indian Sports finds its place in Bhagwat Gita too.
Today sports in India have achieved a zenith in terms of popularity and as a career option. Olympics, Commonwealth Games, Asian Games, SAF Games, Wimbledon and many other world sports tournaments see Indians as one of the most leading sports participants in the world. From Tendulkar, Paes, Bhupathi, Anand, Geet Sethi, Karthikeyan to Sania Mirza lead the present sports generation of India. Cricket, Hockey, Football, Weightlifting, Snooker, Kabaddi, Kho Kho and Archery are the sports of India that have been deep seated into an Indian psyche, whether of a sports person or a sports lover. Not only physical strength, power and satisfaction but also a strong alternative of recreation; sports in India have paved a long way towards the road of success and have made themselves a hallmark in the world of sports.


Updated On :
Nov 18,2018 10:18 pm
Ahmedabad, Nov 18 (IANS) Pawan Sehrawat produced a terrific raiding performance as he led Bengaluru Bulls to 45-32 win over Jaipur Pink Panthers in Inter Zone Challenge Week of Pro Kabaddi League here on Sunday. View More..

Updated On :
Nov 18,2018 8:32 pm
Kampala, Nov 18 (IANS) Uganda's national football team, Cranes, on Sunday travelled to Nigeria for an international football friendly against the hosts slated for November 20. View More..

Updated On :
Nov 18,2018 8:32 pm
Dubai, Nov 18 (IANS) Francesco Molinari on Sunday crowned his best-ever season as he became the first Italian golfer to be the Race to Dubai champion. View More..

Updated On :
Nov 18,2018 7:46 pm
Jakarta, Nov 18 (IANS) Indonesian men's doubles players Marcus Fernaldi Gideon and Kevin Sanjaya Sukamuljo on Sunday won the final match of Hong Kong Open thrashing their Japanese rivals Takeshi Kamura and Keigo Sonoda. View More..

Updated On :
Nov 18,2018 7:46 pm
Managua, Nov 18 (IANS) Haiti defeated Nicaragua 2-0 here to stay perfect in the opening stage of the inaugural Concacaf Nations League tournament. View More..

Updated On :
Nov 18,2018 7:44 pm
New Delhi, Nov 18 (IANS) Veteran boxer M.C. Mary Kom entered the quarter-finals while Sarita Devi lost her bout to crash out of the World Women's Boxing Championship here on Sunday. View More..

Updated On :
Nov 18,2018 7:08 pm
Greater Noida, Nov 18 (IANS) On a day of dramatic twists and turns, the Chennai duo of Karthik Tharani and Raghul Rangasamy clinched the coveted Euro JK 2018 and LGB Formula 4 titles respectively in the 21st JK Tyre FMSCI National Racing Championship at the BIC here on Sunday. View More..

Updated On :
Nov 18,2018 6:46 pm
Macao, Nov 18 (IANS) Five people were injured in a crash on the last day of the 65th Macao Grand Prix on Sunday, the organisers confirmed. View More..

Updated On :
Nov 18,2018 6:38 pm
Sydney, Nov 18 (IANS) Abraham Ancer on Sunday became the first Mexican golfer to win the Australian Open tournament here, guaranteeing him a spot in next summer's British Open. View More..

Updated On :
Nov 18,2018 5:56 pm
Brisbane, Nov 18 (IANS) India's head coach Ravi Shastri on Sunday said all-rounder Hardik Pandya will be missed during the tough Australian tour starting from Wednesday as he provides proper balance to the side. View More..

Updated On :
Nov 18,2018 4:50 pm
Bhubaneswar, Nov 18 (IANS) Hockey India on Sunday announced ticket sales for the opening ceremony of the Odisha Hockey Men's World Cup to be held on November 27 and World Cup Celebrations event on November 28 at Barabati Stadium. View More..

Updated On :
Nov 18,2018 4:28 pm
Belgrade, Nov 18 (IANS) Serbia remain atop Group 4 in the League C of the UEFA Nations League after beating group runners-up Montenegro 2-1 here. View More..

Updated On :
Nov 18,2018 3:38 pm
Rome, Nov 18 (IANS) Milan's centre-back, Italian international Alessio Romagnoli, is to be sidelined due to a calf injury, according to an official statement from the Italian Serie A club. View More..

Updated On :
Nov 18,2018 3:38 pm
Rome, Nov 18 (IANS) Juventus midfielder Sami Khedira has sprained his left ankle during training, the Serie A side said. View More..

Updated On :
Nov 18,2018 3:38 pm
Buenos Aires, Nov 18 (IANS) A superb late goal from forward Christian Espinosa handed Boca Juniors a 1-0 home victory over Patronato in the Superliga Argentina. View More..

Updated On :
Nov 18,2018 3:06 pm
Rio de Jaeiro, Nov 18 (IANS) Defending champions Corinthians ended a three-game winless streak with a 1-0 victory over relegation-threatened Vasco da Gama in Brazil's Serie A championship. View More..

Updated On :
Nov 18,2018 3:04 pm
London, Nov 18 (IANS) Alexander Zverev became the first German tennis player since 1996 to make it to the title match of the season-ending ATP Finals, after stunning Swiss star Roger Federer 7-5, 7-6 (7-5) in the semifinal. View More..

Updated On :
Nov 18,2018 2:58 pm
London, Nov 18 (IANS) Serbian World No. 1 Novak Djokovic brushed aside Kevin Anderson 6-2, 6-2 here to reach the championship match of the ATP Finals, giving himself the chance to play for a record-tying sixth title at tennis' elite season-ending event. View More..

Updated On :
Nov 18,2018 2:58 pm
Montevideo, Nov 18 (IANS) Colombia and Spain drew 1-1 in their second Group D match, while Canada beat South Korea 2-0 and thus qualified for the quarterfinals of the U-17 Women's World Cup in Uruguay. View More..

Updated On :
Nov 18,2018 2:58 pm
Rome, Nov 18 (IANS) The Portugal football squad tied Italy 0-0 at San Siro Stadium and so added the point it was lacking to move on to the finals of the UEFA Nations League, to be contested in June 2019. View More..