Indian Gift Portal Mum & ME : For Mother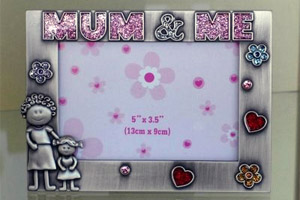 All of us love Mother a lot, Mother is the precious gift that God has made on earth. She is the one who works 24/7 without even a sigh of relief, her kids create nuisance up to such an extent that some time it becomes unbearable for a mother to handle her kids. Still her love is unconditional for her kids.
. But we as her child must gift her once in a while to make her happy; it should be not just like because you need some favour from your mother so you are gifting her. It should be just to have a glimpse of smile of your mother; this photo frame is exactly the one make your mother smile.
Upon looking at this frame she will immediately insert a photo of yours to place it at such a corner that whenever she is missing her kids she can have glimpse of your snap in this frame. Although there may be several gadgets which can store snaps, but he photo frames will always be the first choice to store unforgettable snaps.
So this frame dedicated only to sweetest mothers can be availed by placing an order online with easiest payment options for your convenience.
Convey your love memories with this attractive embossed Border picture frame.


Dramatically scaled boldly hued and designed with a modern beveled edge this metal frame is a standout piece of home decor and a worthy vessel for snapshots art and more.
Product Details
Item Name
Indian Gift Portal Mum & ME : For Mother
Item model number
ch-PF8951
ASIN
B00J2TRLGG
Unit
1 Pcs
Picture Size
5 inches x 3.5 inches
Price
Rs. 580.00