Seekh Kabab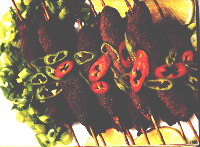 Normally, Seekh Kebab is cooked on an open charcoal fire. It can be baked in the oven. We can also use Bamboo skewers in place of metal skewers. This recipe can be made with mutton or beef as well.
Seekh Kabab Ingredients
Well Ground Lamb - 900 gms
Finely Chopped onions - 1 cup
Minced Garlic - 1/4 cup
Finely Chopped Ginger - 1 inch
Ground Cumin Powder - 1 tablespoon
Ground Coriander - 1 tablespoon
Ground Cloves - 1/2 teaspoon
Ground Cinnamon - 1 teaspoon
Ground Lal Mirch Powder - 1 teaspoon
Lime Juice - 1 Tablespoon
Salt - 1-1/2 teaspoon
Bamboo Skewers (water soaked): 10
Seekh Kabab Method
Mix all the ingredients together and squeeze like dough.
Leave it to rest for two hours.
Pinch about 4 ounces off the mixture.
Cover the Bamboo skewer with the mixture about 1/4" thick along the length.
The meat will look like a cigar which has been pierced length wise by the skewer. Preheat oven to 375º F.
Bake for 25 minutes.
Serve hot.
Other Kabab Recipes
| Seekh Kabab Recipe | Shami Kabab Recipe | Chicken Kabab Recipe | Egg Kabab Recipe | Hara Bhara Kabab Recipe |
| Beef Kabab Recipe | Samak Or Fish Kabab Recipe |