Vidya Balan Biography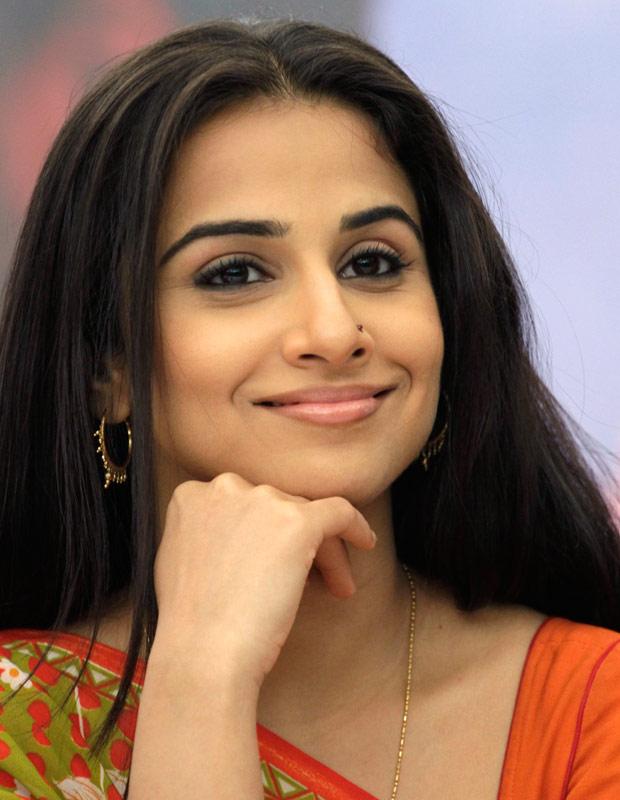 Name: Vidya Balan
Date of Birth: 1, January 1978
Family: Father - P R Balan (Vice-President of ETC channel), Mother (House maker), Elder Sister.
Debut Film: Parineeta (2005)

Vidya Balan is immensely talented actor and a successful heroine in Bollywood. She prefers acting in film that has real life characters and has the unique ability to portray such characters convincingly on screen.
Vidya Balan was born on January 1, 1978. She attended St Xaviers College Mumbai and completed her graduation in sociology.
Vidya started her career playing roles in television ads and music videos. She figured in Euphoria, Shubha Mugdal and PunkajUdhas's music video. She did many commercials ads that were very successful.
More On Bollywood
Bollywood Upcoming Movies
Bollywood Stars Biography
Bollywood Stars Latest Event Gallery
Bollywood Top 10 Songs
Her acting career began with Bengali film BhaloTheko in 2003. She made debut in Hindi cinema with 'Parineeta' in 2005. The movie was a hit at the Box Office and she won a Filmfare Award for Best Actress (Debut).
Her next successful movie was LageRaho Munna Bhai which was a super duper hit. This movie exhibited her acting talent and potential to do challenging roles.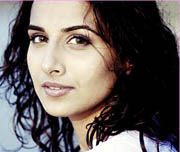 She also did films like Guru, Salaam-e-Ishq, Bhool Bhulia and Eklavya, that were successful. Her acting in film Paa with megastar Amitabh Bachchan and Abhishek Bachchan is unforgettable.
Her film Dirty Pictures released in 2012 was commercially very huge hit. She was well appreciated for her bold, stunning and glamorous looks in this film. Vidya Balan is the recipient of one National Film Award, five Filmfare Awards, and five Screen Awards.
This include Anand Lok Puraskar award for Best Actress, 2005 Star Screen Award of Most Promising Newcomer, 2005 Stardust Superstar of Tomorrow, 2005 Filmfare Best Debut Award, 2005 Zee Cine Award Best Female Debut and 2005 International Indian Film Academy Award.
Vidya Balan has made a distinct position for herself through her acting talents in Indian cinema. She has a promising persona and can speak several languages such as Tamil, Malyalam, English, Hindi, and Bengali. She is married to Siddharth Roy Kapur, the CEO of UTV Motion Pictures.
Vidya Balan Latest News
Updated On :
Feb 16,2018 1:42 pm
Mumbai, Feb 16 (IANS) Ace designer Sabyasachi Mukherjee says he would like veteran cine icon Rekha to be his muse for a fashion show this year. View More..

Updated On :
Feb 08,2018 6:06 pm
Mumbai, Feb 8 (IANS) Malayalam film director Kamal is not a worried man even though his biopic on the very fiery author-poet Kamala Das has ignited debates and protests, as well as attracted an attempt to stop the film legally for propagating "love jihad" -- a charge that Kamal vehemently denies. View More..

Updated On :
Jan 30,2018 11:38 am
Jaipur, Jan 30 (IANS) It is an automatic. natural but immediately apparent point of difference that may only be skin-deep but creates huge social and economic inequality and has spurred a whole industry of cosmetics that promises to remedy it -- for a price and a larger cost in esteem and opportunity. View More..

Updated On :
Jan 21,2018 2:20 am
Mumbai, Jan 21 (IANS) Actor Irrfan Khan won the Filmfare Best Actor in Leading Role (Male) award for "Hindi Medium" while Vidya Balan bagged the Filmfare Best Actor in Leading Role (Female) Award for "Tumhari Sulu" at the 63rd Jio Filmfare Awards here. View More..

Updated On :
Jan 20,2018 6:36 pm
Mumbai, Jan 20 (IANS) Director Ravi Jadhav is happy to get an 'A' certificate from the Central Board of Film Certification (CBFC) for "Nude" without any cuts, and says he couldn't have hoped for a better treatment for his controversial Marathi film. View More..

Updated On :
Jan 18,2018 5:38 pm
Mumbai, Jan 18 (IANS) Salman Khan's "Tiger Zinda Hai" shook the Bollywood box office from slumber by registering record-breaking business last year, and "Newton" got global acclaim by becoming India's official entry for the Best Foreign Language Film at the Oscars 2018. But the two films failed to earn a nomination in the main categories for the 63rd Jio Filmfare Awards 2018. View More..

Updated On :
Jan 16,2018 8:00 am
Mumbai, Jan 16 (IANS) Actors Abhishek Sharma, Trupti Khamkar and Ajoy Chakraborty, who featured in "Tumhari Sulu", will reunite for a short film titled "My Mother's Wedding". View More..

Updated On :
Jan 10,2018 7:04 pm
Mumbai, Jan 10 (IANS) Acclaimed actress Vidya Balan will play former Prime Minister Indira Gandhi onscreen in a project based on journalist-author Sagarika Ghoses book "Indira: Indias Most Powerful Prime Minister". View More..

Updated On :
Dec 29,2017 6:18 pm
New Delhi, Dec 29 (IANS) India is riding the fashionable wave inspired by Bollywood as 2017 saw movie buffs buying trends inspired by their favourite stars online, says an annual fashion report by e-commerce site Flipkart. View More..

Updated On :
Dec 22,2017 7:20 pm
Mumbai, Dec 22 (IANS) Actresses Ratna Pathak Shah, Bhumi Pednekar, Swara Bhaskar, Vidya Balan and Zaira Wasim say they were forced to face their fears through their roles in films and theatre. View More..

Updated On :
Dec 19,2017 4:24 pm
Mumbai, Dec 19 (IANS) Actor Sushant Singh Rajput finds actress Sonakshi Sinha's self-made sketches 'beautiful'. View More..

Updated On :
Dec 12,2017 5:02 pm
New Delhi, Dec 12 (IANS) Actress Neha Dhupia is enjoying being in a phase of her career wherein she is working with talent like Vidya Balan. View More..

Updated On :
Dec 08,2017 1:30 pm
Mumbai, Dec 8 (IANS) Veteran actress Sharmila Tagore, who turned 73 on Friday, says her days are fuller than she can cope with because even though she is not seen on the big screen much, cinema has never been her be-all and end-all. View More..

Updated On :
Dec 03,2017 3:02 pm
Los Angeles, Dec 3 (IANS) "MasterChef Australia" judge Matt Preston admires Indian actress Priyanka Chopra for her stand against US President Donald Trumps "migration restrictions", and says she is on an "inspirational ride". View More..

Updated On :
Nov 24,2017 6:04 pm
Mumbai, Nov 24 (IANS) It is easy to rave about a film that champions the middle-class housewife's cause with such intense enthusiasm. "Juice" is the new film -- or short film if you must insist -- by Neeraj Ghaywan, who made the wonderful "Masaan", and also a heartwarming ad on the life of a transgender mother. View More..

Updated On :
Nov 19,2017 5:44 pm
New Delhi, Nov 19 (IANS) Actress Gauahar Khan, known for speaking her mind without fear, says if she ever faces sexual harassment she will be vocal about it. View More..

Updated On :
Nov 19,2017 12:12 pm
Mumbai, Nov 19 (IANS) Acclaimed theatre and film actor Manav Kaul landed a role in his latest film "Tumhari Sulu" only after he auditioned for it. He says he has no ego about it because it's a process that lets a director gauge if an actor fits a character. View More..

Updated On :
Nov 17,2017 10:50 pm
Tumhari Sulu, Starring Vidya Balan, Manav Kaul, Neha Dhupia, Vijay Mourya View More..

Updated On :
Nov 17,2017 1:28 am
Film: "Tumhari Sulu"; Director: Suresh Triveni; Cast: Vidya Balan, Manav Kaul, Neha Dhupia, Malishka Mendonza; Rating: *** View More..

Updated On :
Nov 15,2017 1:06 pm
Mumbai, Nov 15 (IANS) Celebrated photographer and film producer Atul Kasbekar geared up for the release of his home production "Tumhari Sulu" which features Vidya Balan as the protagonist -- a middle-aged housewife -- saying the image of a hero has changed in modern Indian cinema. View More..